A first bald eagle encounter
I became interested in bald eagles while writing a novel set at Blackwater National Wildlife Refuge. Blackwater, near Cambridge, MD, is a designated sanctuary for migratory birds, a relative midway point along what is known as the Atlantic Flyway. I thrive on immersing myself in the settings I write about, so I enjoyed visiting Blackwater frequently. I'd study a different landscape feature that corresponded with my story each time. However, it wasn't until my most recent visit that I had my first eagle encounter.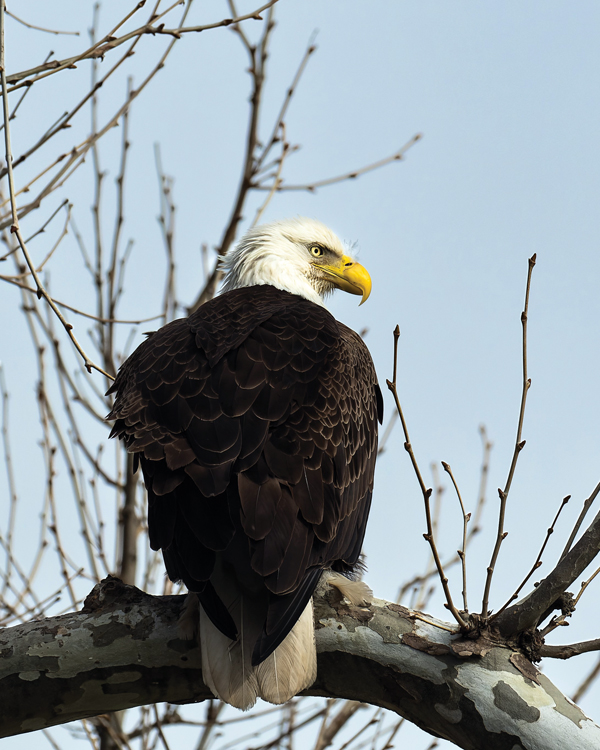 I scanned the treetops for eagle nests as I drove along Blackwater's scenic Wildlife Drive. They're not difficult to spot; the large, dark masses of leaves and sticks stand out among the branches of the Loblolly pines. Average nests are four to six feet in diameter and three feet deep. I saw a few nests in the trees as I inched my car through the pine forest, but no roosting eagles. Wildlife Drive opens to a marsh and bay past the forest. Stands of tall pines mingle with tree-lined islands in the distance. While creeping along in my car, I saw two eagles land in a solitary tree in the water. I pulled over and reached for my binoculars to get a better look.
The mighty eagle's cry that we know from the movies is far from what they actually sound like. Their call sounds closer to a musical piping chitter, something you might expect from a fancy bird with colorful plumage. I observed the eagles with my binoculars high up in the tree, looking at each other, cocking their heads, and chittering excitedly. Listening to their conversation felt like sharing a private moment with them.
Three wildlife photographers pulled over nearby. We struck up an easy conversation. I asked about the eagles. They delivered, sharing facts, tips for spotting them, and where I could see more. I was glad for the insider knowledge and took a few notes. I learned that bald eagles are no longer an endangered species. Our region is home to one of the largest populations in the country. They prefer rural areas near the Bay and its many rivers. Spring and autumn are especially good viewing seasons when migrating bald eagles from other parts of North America visit.

Continuing along the Wildlife Drive, I saw a large treetop nest across the water. I was excited at the possibility of seeing an eagle come home to roost. None did. Instead, I was treated to a gorgeous sunset beyond the trees.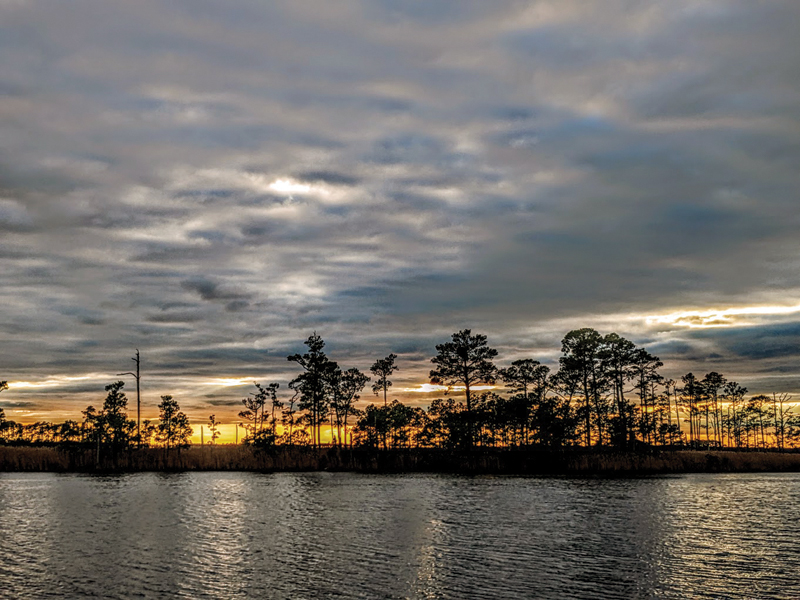 The photographers noted the Conowingo Dam on the Susquehanna River as a popular winter viewing and photography spot for eagles. They warned me that the area was cold and windy, and spectators had to be patient while waiting to see them. This wasn't part of my novel research; Blackwater's eagles sparked my curiosity, and I wanted to see more of them in the wild. A few days later, I dressed warmly and packed a good pair of binoculars.
I wasn't prepared for the dam's upbeat atmosphere and camaraderie. I knew there would be photographers, but I didn't expect to find crowds of them. The parking lot was almost full. The mood in the viewing area overlooking the dam was quite festive. Photographers were chatting. Some were having lunch. I saw photographers wave to people they knew. Everyone was friendly. When eagles appeared overhead, the first to spot them would call out, and everyone would rush to peer through their long telephoto lenses.
After mostly keeping to myself since the pandemic, my experiences meeting others at Blackwater and Conowingo felt like I was part of something larger. We were all gathered for the same purpose: the collective hope that we'd bare witness to bald eagles soaring high over the water and swooping down from the air to dive for fish. My novel is complete, but my journey with eagles has only begun.
by T.J. Butler