IMET strives to bring lab work into the real world
Have you ever heard of IMET in Baltimore? Well, maybe you've explored Baltimore's Inner Harbor and found yourself wondering what is going on inside the distinct building with a white tented roof near Pier 6. If so, Samantha Heyn has answers. Heyn works with the Communications and Outreach team for the Institute of Marine and Environmental Technology, or IMET, a partnership between the University of Maryland Baltimore County (UMBC), the University of Maryland Center for Environmental Science (UMCES), and the University of Maryland Baltimore (UMB).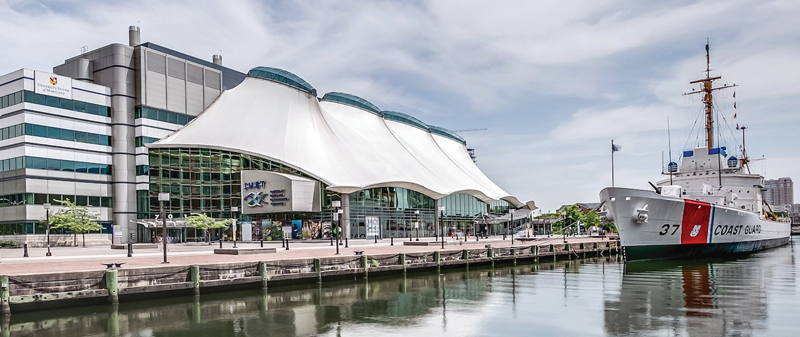 IMET is a research institute composed of 22 faculty-run laboratories, each focusing on a different topic including harmful algal blooms, water quality, sustainable aquaculture, and the blue crab genome. In addition to research, IMET strives to "bring lab work off the bench and into the real world," says Heyn, by working with faculty, students, staff, and start-ups in a business incubator to turn their research into tangible products.
IMET's mission is "to develop approaches to protect and restore coastal marine systems and their watersheds, sustainably use resources in ways to benefit human well-being, and to integrate research excellence with education, training, and economic development," Heyn explains. "I started working at IMET in 2021 and was instantly struck by how much hope I felt speaking with the scientists, students, and staff here," she says. "I think we hear a lot of negative news these days and it's easy to feel helpless and hopeless. Coming to work here, my eyes were opened to all the work IMET scientists are doing to not only protect our planet in the future but mitigate environmental damage that has been done in the past." Heyn hopes that her work can help people connect the landmark building to the research and work happening within.
For Bay sailors and boaters, that work is especially relevant. Dr. Eric Schott's research into shellfish health and the ecosystem services provided by suspension feeding organisms "could help Baltimore achieve its goal of a swimmable and fishable harbor." In 2021, Dr. Sook Chung successfully completed a five-year project to sequence the entire blue crab genome, which could better inform fisheries policies. And IMET's research into recirculating aquaculture "could help replenish Chesapeake Bay fisheries and the ecosystem itself," all of which contribute to building a more resilient Bay for everyone, sailors included.
If you're intrigued by the work that IMET is doing, they have an open house on Saturday, May 6 from 1 to 4 p.m., where you can enjoy hands-on science activities for kids, meet the scientists, and learn more about their research. You can also check out imet.usmd.edu or sign up for monthly newsletters.
By Kelsey Bonham