Where the Wild Things Are (in Your Backyard)
Most likely, the wild things are right in your backyard, poking around while you sleep. They may be drinking out of your birdbath or treating your compost like an all-you-can-eat buffet.
While a suburban property seems like an unlikely location for wildlife, it is not uncommon for critters to traverse your yard or garden, especially at night. When a wildlife camera is standing sentry, poised to take photos and videos day and night, you may learn what is eating your prized lettuce, pattering around your deck, or tunneling under your porch or Chesapeake Bay dock.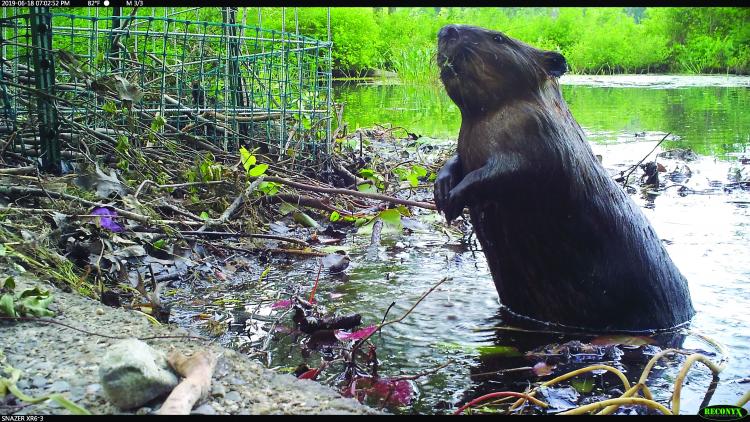 Wildlife highways exist in more places than you would think, said Sally Naser. As the director of conservation restriction stewardship for the Massachusetts' Trustees of Reservations, one of her job duties is setting up cameras on conservation-restricted properties to share photos of wildlife with the current property owners, which she has been doing since 2013. She has captured a momma bear and cubs, curious bobcats who appear to be taking selfies, beavers, herons, weasels, fishers, foxes, owls, and herons.
Naser explains a challenge is when the originator of the conservation restriction moves on, successive owners are not always keen on the restriction's terms and may not share the same conservation ethics. Years ago, she came up with the idea to show owners with photos the animals that use their land.
"It's such a tangible thing. One look at a mother bear and cubs frolicking… and they get it. Or (to see) a bobcat that frequents their yard; they understand."
She has become a guru of sorts of wildlife cameras and offers consulting services on choosing the right camera and accessories and help and advice with site selection.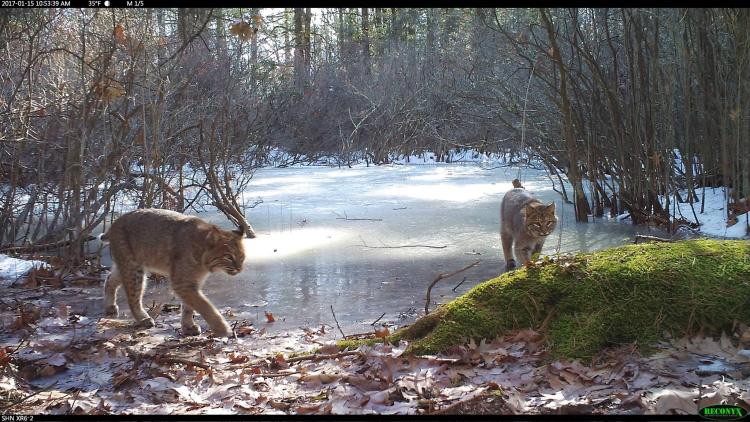 While much of Naser's time is spent in woods and wetlands, she said wildlife is all around us.
"Even just a ribbon of woods, or streambed that connects to a forest, is used as a corridor for animals. Coyotes, fox, and many other species frequent urban edges," she said.
The primary market for wildlife cameras was for hunters, but they have become scientific tools to study animal behavior. In recent years, camera quality has improved, and prices have dropped, making them attractive to curious homeowners.
They are small, motion- or heat-triggered, weatherproof cameras that take videos, photos, or both. These easily operated devices are popular with nature lovers and researchers and increasingly with curious homeowners. Images taken in daylight are in color, while night photos, using infrared lights that minimally affect animals, are in black-and-white.
While garden and lawn photobombers are more apt to be squirrels, deer, racoons, an opossum in search of ticks and insects, even foxes, their presence still evokes a sense of excitement, she said.
"It's all about connectivity," Naser said.
On the Chesapeake Bay, she said cameras could be set up to capture osprey or heron nests, for those lucky enough to live on the water's edge. She does warn to be prepared to see what some may find disturbing: a heron eating a frog, or an owl swooping in and stealing eggs from the nest.
If you're looking to purchase a camera, she said you can buy a "decent" model for $60 to $70. According to Naser, Browing and Spartan make good models. Stay away from the low-end models whose results won't be as satisfying, and that aren't as durable. If you want the camera to last five or more years, be prepared to spend $150. And if you are in bear territory, especially in Western Maryland, invest in a bear box to protect the camera.
Set up is trial and error, and the height depends on the animals you are looking to capture. She said to fix the camera in a location with the least amount of human or even dog scents that may keep animals away.
If you have an edge of your backyard that meets natural un-mowed vegetation, place your camera there, or near any water source, even a man-made fountain or bird bath.
"You'd be surprised that what may come up to take a drink," she said.
Naser is always happy to advise people on purchasing their first trail cam. Find her at facebook.com/crwildlifecams, on Instagram @crwildlifecams, or at crwildlifecam.com.
~By Carrie Gentile