Facing Challenges Head On With the Severn River Association
Working to reduce stormwater pollution in the Severn River, which runs into the Chesapeake at Annapolis, is an ongoing battle, but one that the Severn River Association (SRA) meets head on. In 2020, the Severn River experienced an extensive dead zone over six square miles and a severe outbreak of a Mahogany Tide threatening the waterway's heath and killing 50 percent of underwater grasses, yet SRA remains vigilant in restoring the river to former days when fish and crabs were abundant. In 2021, we're seeing these things pop up yet again.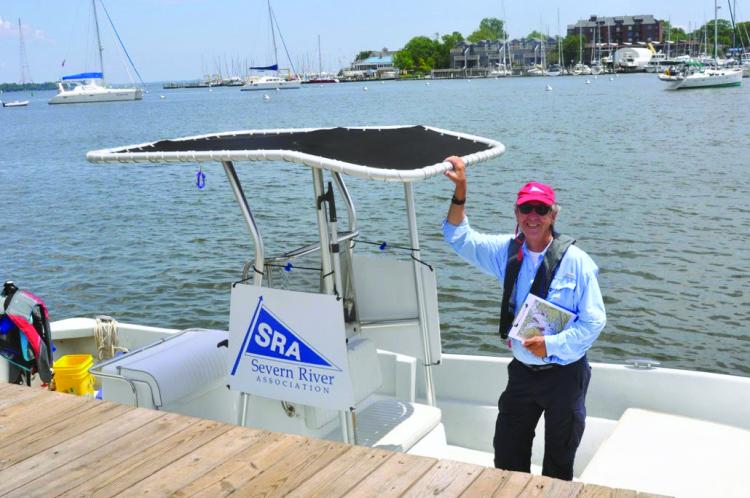 "The whole idea is to educate people, but first we need to prove there is a problem. We are collecting data to emphasize what's going on and telling the river's story. And then we can tell why it's happening and what you can do," executive director Tom Guay said.
"The goal is to turn the Severn back into a sustainable fishery one day and a place where you can swim all the time. Whether it will it be 100 years from now or 20 years from now depends on how aggressive we get," he said.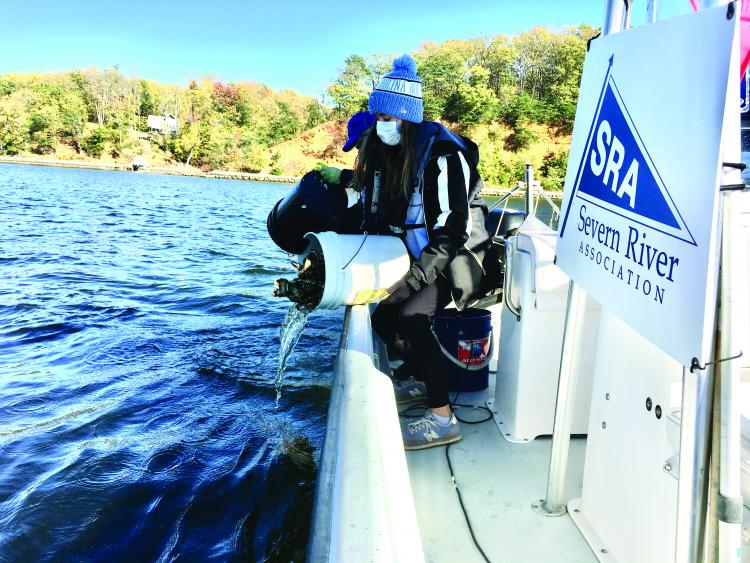 Before diving into the association's programs for 2021 and how you can help, it may be helpful to explain why Anne Arundel County rivers are suffering. Guay said while the dead zones in the Chesapeake Bay itself are shrinking, that is not the case with Anne Arundel County rivers including the Magothy, Severn, West, Rhode, and South.
Guay said, "The big story the last two years is that the Severn suffers from an extended and growing problem of a large dead zone," where fish and crabs suffocate because there is not enough oxygen in the water, i.e. less than 2.0 mg/liter. Hypoxia, also referred to as a dead zone, occurs when large amounts of nitrogen enter the watershed by rainfall. The pollutants cause large algae blooms that suck necessary oxygen out of the water column when they decompose, smothering marine life. It runs the length of the river through Round Bay almost to the Route 50 Bridge. Two years ago, the oxygen-depleted area was five square miles and grew last fall to 6.25 square miles.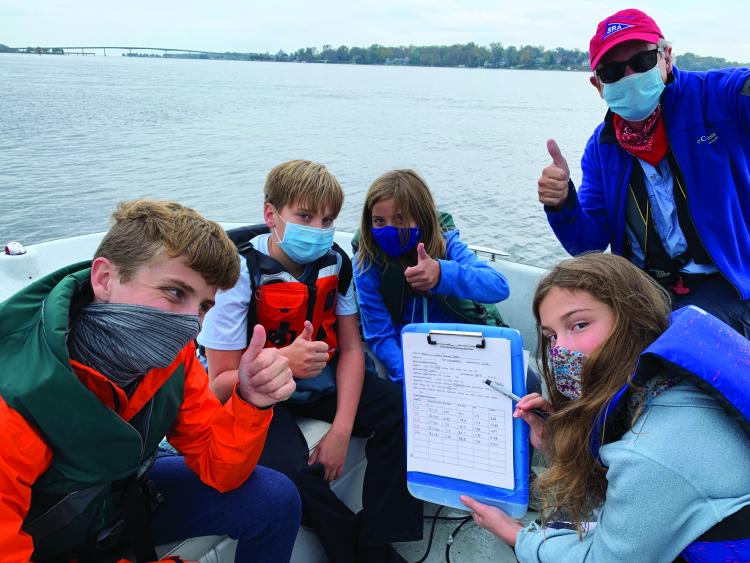 "It is not a threat to humans, but it can suffocate aquatic creatures if they can't swim away," Guay said.
In the spring of 2020, an intense algae bloom turned the river into an angry orange hue with limited clarity. "That was really bad news," he said. "It blocked the sun and killed half of the river's underwater grasses."
Although the group does not track crab counts, anecdotally he said it could take all day to get five to six good crabs, where a few years ago, underwater grasses and crabs were everywhere.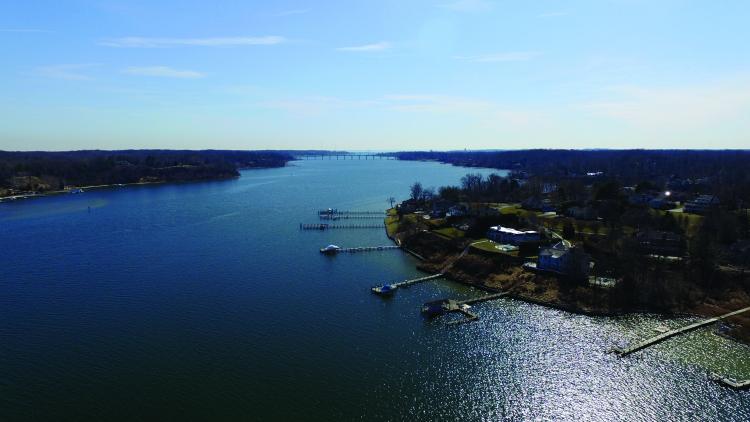 Why the river is worse off can be blamed on suburbanization and the increased areas of impervious surfaces, he said. "We're losing forest cover and replacing it with pavement and development at a more intense pace, especially in the northern areas of the county from Severna Park, Millersville to Fort Meade and Arundel Mills in Hanover, near the Severn's headwaters. The residents in these areas don't see it because they don't have access to the river and are not directly affected, he said.
With their work cut out for them, SRA is currently readying to launch several programs to help educate the public and monitor the water quality. "After we tell people what is happening with data, and why, we can educate them on what they can do to help mitigate runoff, such as installing rain barrels on gutters, creating rain gardens, or by leaving trees standing.
"Trees are amazing sponges. They soak up the rainwater in your yard and rain gardens help capture rainfall so it can percolate into the soil to lessen your impact. From a development perspective, we want no net increase to impervious surface. Instead of clearcutting forests to create impervious surface, we'd like to see redevelopment of already-concreted areas."
In its third year, SRA's robust water quality program will expand to 50 stations this summer in 17 creeks. Guay said, "It's the most comprehensive water quality monitoring program we've ever had on the Severn River."
"The whole point is to get a picture of what is going on with our river by tracking it every week," he said.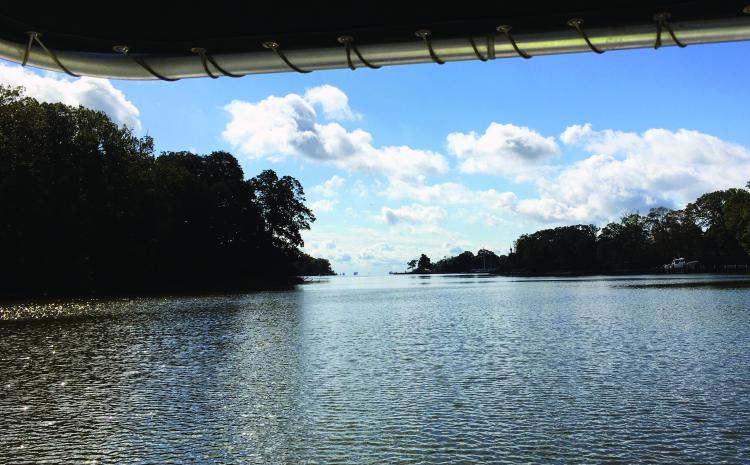 The program is manned by volunteers who agree to a three-hour cruise and use professional equipment to take readings in several locations for oxygen, PH, temperature, clarity, and salinity. The readings are taken every meter to track the stratification of the river. The data is shared among the scientific, regulatory, and academic communities via the Chesapeake Data Explorer website.
All the numbers are read out loud, so the whole team can talk about it, Guay said. "By saying it aloud and writing it down, everyone on the boat becomes involved and familiar with what is going on in the river," he said. "Then, they understand and can talk about it with their family, community, and friends and help spread the word."
New this year is the production of creek-by-creek report cards. Each community will get a picture of what shape their creek is in.
As in past years, SRA will offer students a chance to learn about water-quality monitoring through their Floating Classroom initiative, for fourth graders and up. They take kids out for three hours at a time, and they'll use water-quality monitoring equipment to check on oxygen levels, pH, temperature, salinity, and clarity. They'll also sample, identify, and map our underwater grasses, check on oysters, and review other habitat for the creatures that share the river with humans.
If you want another excuse to use your kayak, the group seeks volunteers to search and document underwater grasses as part of the SAV Navy. The goal is to build a profile of types and locations of the grasses and share the data with the department of natural resources. Guay said, "It's a fun thing to do. People can do it with family; go out in a kayak for a few hours."
For a complete list of all of SRA's programs including its oyster planting projects and other important work, go to severnriver.org.
~By Carrie Gentile