Bringing Together Women Sailors June 7-9, 2019
Chesapeake women, pull together a team and head to New York Harbor for the Lady Liberty Regatta, June 7-9. Since starting in 1989, this three day event has focused on bringing together women sailors from all across the U.S. The host club, Manhattan Yacht Club, will provide the boats (J/24's). You just have to bring your team and favorite spinnaker. Here is the skinny:

1. Entries:
Any team of U.S. women sailors can apply to participate. This is an amateur event for women sailors, and unlimited crew substitution of similar weight will be allowed during the regatta.
Prizes will be awarded to the top five teams.
2. Entry Fees & Deadlines:
The entry fee of $350 covers the cost of the boat charter. There is a $500 damage deposit, which will be refunded to teams at the end of the regatta, unless your team causes damage to one of the J/24 sailboats.
Deadline for Entries is May 15. https://myc.org/racing-home/lady-liberty-regatta/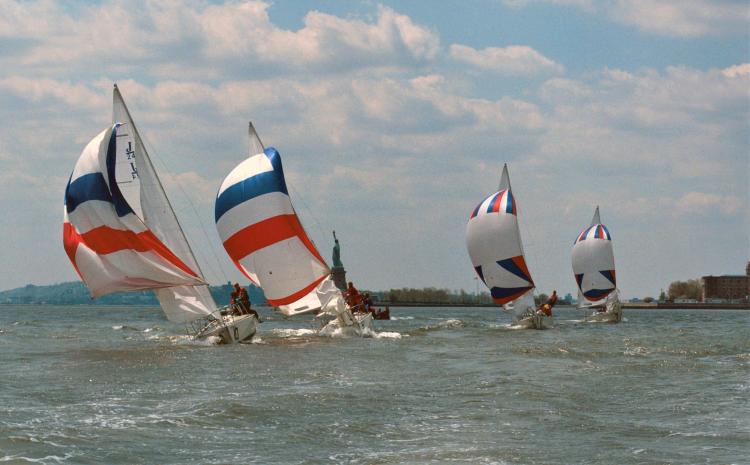 3. Rules:
The regatta will be raced according to the International Racing Rules of Sailing as adopted by U.S. Sailing and modified by the Sailing Instructions. Races will be held in New York Harbor. All races will start and finish from the Honorable William Wall, Manhattan Yacht Club's floating clubhouse anchored north of Ellis Island. Courses will be windward-leeward. Inflatable marks will be set by Race Committee. Because the starting location is fixed, races may start upwind or downwind. The Low Point Scoring System will be used. If five or more races are completed, each team may discard one race.
4. Yachts and Equipment:
This regatta will be raced on identical J/24 sailboats provided by Manhattan Yacht Club. The mainsails, genoas and jibs, plus sheets and all other equipment except spinnakers will be provided. Teams may bring their own J/24 Class spinnakers. No other equipment may be brought aboard. Teams will rotate boats after each race.
5. Schedule of Events:
Friday, June 7, 2019 (optional)
1000 to 1600 - Practice sailing permitted in the harbor.
1600 - Practice Race
Saturday, June 8, 2019
1100 – Race 1 followed by Races 2 & 3
Sunday, June 9, 2019
1100 - Race 4 followed by Races 5 & 6
Sponsored by the New York Harbor Sailing Foundation, whose mission is to foster and promote amateur sailing of national and international importance in New York Harbor.
Register here or for more information or request entry, please email Manhattan Yacht Club, or call (212) 786-3323.