How Do Couples Make This Sailing Thing Work?
In honor of Valentine's Day, February 14, 2020, we asked several successful sailing couples to share their stories and advice to couples just starting their sailing journey together. Here are their responses: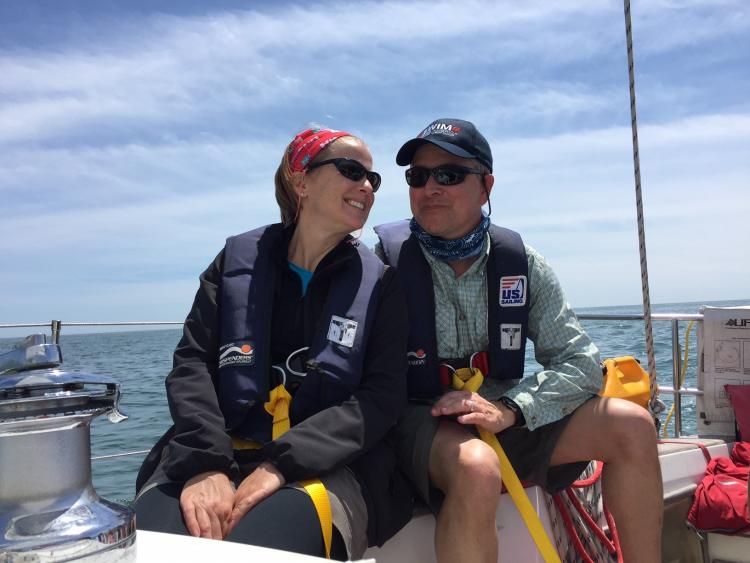 Bill and Linsley Carruth
Short sailing bio of you as a couple?
Met racing J/22s at the Downtown Sailing Center in Baltimore. Now married and sailing our J/105 Peregrine in Annapolis and occasionally chartering in beautiful parts of the world.
One romantic story of you on a boat together?
Bill wisely waited until we were on solid land (and had a shower) to propose during our sailing trip to the Cyclades in Greece. Several months later we were married on the USS Constellation in Baltimore with our spinnaker trimmer serving as minister.
One not at all romantic story of you on a boat together?
Our first attempt at Med-mooring resulted in a cut anchor line, lots of screaming French people, Bill diving the harbor in Amorgos to try to retrieve the cut anchor, a hired Greek diver, Linsley bribing the screaming French people with wine, and some elevated blood pressure. As tends to be the case on boats, after much stress all worked out in the end.
What do you do best as boat partners?
Dividing and conquering. We stay on our own ends of the boat while racing. Bill drives and Linsley does foredeck. We like to say the four crew between us keep us happily married. After some screams from the bow, our crew have a tendency to tell Bill that Linsley says she loves him. While true, "love" is not typically the four-letter word that came out of her mouth during a windward douse.
What would your advice be to a couple just embarking on their sailing journey together?
We have adopted Rules 44.1 and 44.2 of the Racing Rules of Sailing to govern our marriage. When one of us "fouls" the other, you can be exonerated by doing a 720. When Bill got out of the car in traffic and spun around twice there was no way to not bust out laughing and stop being annoyed. This approach to life seems to work on and off the water.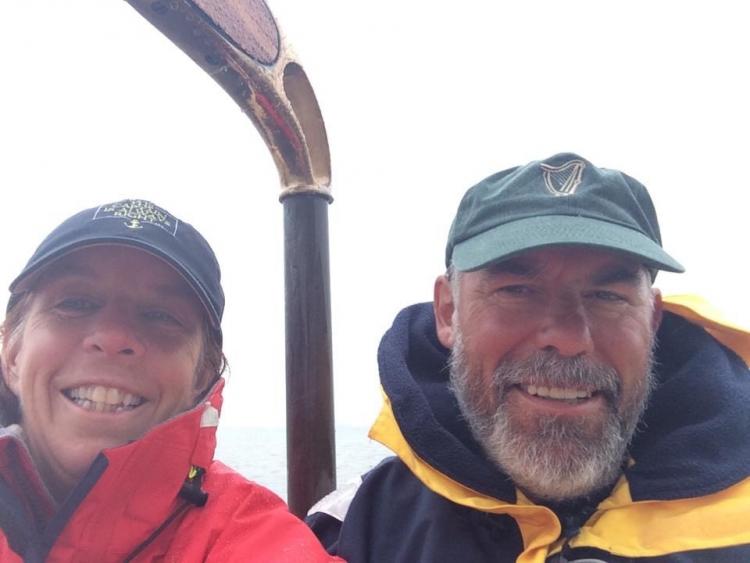 Brian & Tara Flanagan, S/V Scout, 38' Pearson Invicta Yawl
Brian and I have been together for 10 years and married for eight. We decided to take early retirement and set offcruising to warmer waters. Brian had the most experienced sailing background, and I had not sailed since high school. Spending our free time sailing on our boat on Long Island Sound and New England waters, we learned to sail as a team.
In 2013, we started the refit of our boat to make her more liveaboard friendly, sold our house, condo, cars, and most of our belongings in Connecticut to set sail for our 1-5-year plan. We dropped our lines in October 2014, cruising grounds include the East Coast of the US including the ICW, Florida Keys, The Bahamas, and Gulf Coast of Florida. Our 1-5-year plan has now become indefinite. To break up our liveaboard life, we are lighthouse caretakers in the summer months and to keep financing our cruising dreams, we both work for the Annapolis Boat Shows.
Most Romantic Story
My husband and I decided to elope on our boat during our two-week summer vacation in 2012. We left our homeport of Bridgeport, CT, and planned to sail to Block Island, RI, to be married by a Justice of the Peace on the bow of our boat.
We made all our arrangements by phone and this was our first experience of why sailing to a schedule is always frowned upon. The weather fronts kept us behind our journey from the very beginning, and we started to become concerned about arriving in Block Island on a Monday to get the marriage certificate for the ceremony on Tuesday.
Everything worked out and we arrived on time. On Tuesday morning, Brian realized he didn't have flowers or any romantic trinket to give me on our wedding day, so he dressed our boat, Scout, with the signal flags up the mast making sure the T & B were at the top! We were married on the bow of the boat in shorts and bare feet, with newly met cruisers in the Salt Pond as our witnesses. We were even given five gallons of fresh water from one of the witnesses, after five years living on our boat, this water is truly a precious commodity.
Not Such a Romantic Story
We were in our first season of cruising south and had picked up a mooring in St Augustine, FL. We had gone ashore for some entertainment and laundry, and as the afternoon progressed, the weather quickly deteriorated. The last launch out to the mooring field was at 5 pm, but Brian was enjoying himself with our group of friends and did not really listen to my warnings about the weather. He said he would catch a dinghy ride out later and I should go back to the boat on the launch to be with the dogs.
As the cold front picked up steam, it was obvious Brian was not going to make it back to the boat that night. It was the first time I was alone on the boat during a storm, and it was a doozie! I was petrified, and Brian was on shore sleeping in a friend's cockpit. It was not a good time in our marriage; I was beyond upset and Brian was more than humble. It took until we reached Miami before I let him forget how very angry I was. This is when we realized if we do not work as a team, this cruising life won't last long.
Best Part as Boat Partners
After many repairs and difficult situations on the boat, we learned how each of reacts to a bad situation and how we individually can bring out the best of each other. Brian is very technical and works out problems within his thoughts, whereas, I am a big picture, need to talk out problems to understand what is going on.
Brian usually gives me a specific task to complete, and I figure out the next steps from there. A good example was when we were in the Bahamas going through a cut with very rough seas. Once we made it out of the cut, we blew an alternator belt. Brian needed to change the belt while I was freaking out. Brian's response was to be me in charge of keeping the boat hove to avoiding the cliffs while he was below changing the belt. By keeping my mind busy, he was able to fix the technical issue.
Advice to Future Boat Partners
The best advice is both people need to be active in the partnership. Speaking strictly from a cruising perspective, it works best when each of us know what is going on with the boat at any given time. To make this a lifestyle, there can't be a passenger onboard; both people need to be part of the working crew. This doesn't mean both need to know how to repair a diesel engine, but both should know the basic workings of the system to understand what it entails to fix it.
In our marriage, Brian fixes anything that includes diesel/gas, and I am more than happy to oversee the head, boat beautification, and navigation, and we both work on the weather together. Both of us need to contribute to the success of our journey!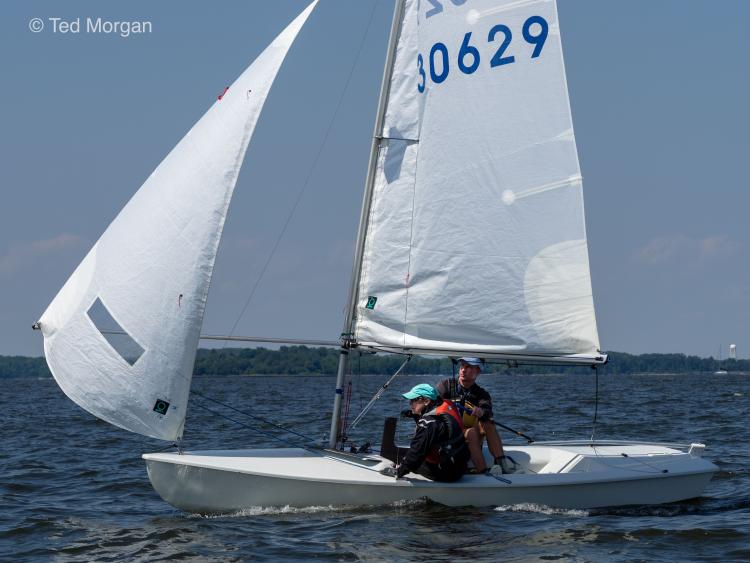 Gavin and Holly O'Hare
Short sailing bio as a couple?
Gavin and Holly met at the 1994 Snipe North Americans hosted by Severn Sailing Association (SSA). Gavin was passing through while in the Navy, and Holly was the running the Jr. program. Their first date was at Davis' Pub post regatta.
As a couple they have sailed snipes and many other classes for 25 years. A few years ago they managed to win the Snipe Masters. They have been shut out of the coveted Snipe Nationals Top Married Couple twice. Though this summer Snipe Nationals are at SSA so hoping its light. (aka light air O'Hares). This could be our year.
One romantic story on a boat?
We got engaged on the Maid of the Mist on the Canadian side surrounded by many tourists. It was funny... they all took our picture on their personal cameras. For some odd reason... Gavin always thought he would get engaged on the Mist, and I just happened to be the girl he was there with. Something said for being from Erie. He gave me the half model attached one Christmas. Partners in sailing and life.
One not-so-romantic story on a boat?
We have had many not so romantic moments. We were sailing the Interclub (IC) Midwinters a few years back, and as we were rounding the mark, Gavin started yelling at me to pull in the jib. I turned around and reminded him there is no *** jib on an IC, and I never sailed that boat again.
We learned by witnessing one couple berate each other for years and now no longer together and one wife jump off the boat right before the finish and swam ashore in protest. There are very few couples with our longevity still sailing in the class. We both love to race together but only if we are having fun.
What do you do well as boat partners?
We never do well when we argue. We do our best when we don't talk much around the course. All these years we know each other's timing. Most times Gavin trusts my judgment, and I trust his quick reactions. We generally agree to the big picture before the start and plan our tactics before each mark. As long as we don't second guess each other we do quite well. My job is to look around and call tactics, and his job is to make the boat go fast and not hit anyone.
Advice to sailing couples just starting their journeys?
Trust each other and no yelling. Yelling never works out on a boat. I wish we could transfer that to the rest of our lives.