Posted September 30, 2020
Events and Deals for Sailors in Lieu of the U.S. Sailboat Show
With the U.S. Sailboat Show canceled in 2020, SpinSheet will keep the dream alive by sharing events, videos, and new boat previews, especially during the time the show would have unfolded: October 8-12. Here are some events and more for sailors: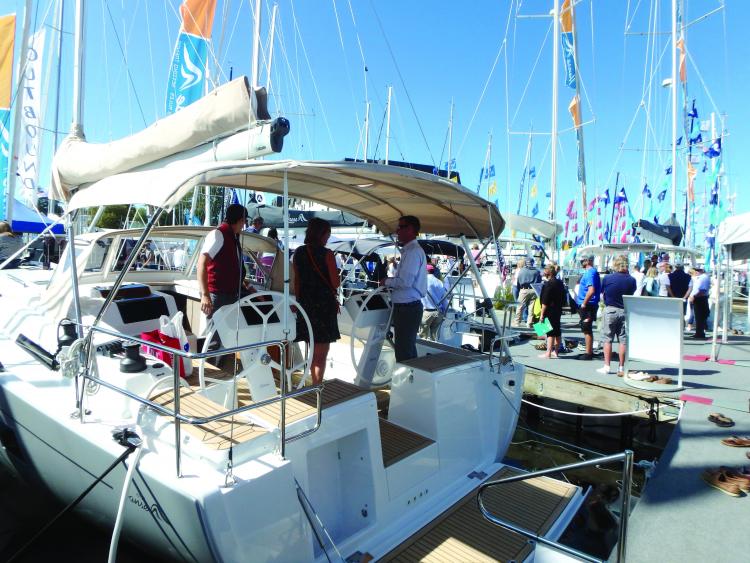 Demo Days: October 1-9
J. Gordon & Co. in Annapolis invites you to see product demos between October 1-9. Among the products sailors may learn about are: Spectra watermaker, D-400 wind generator, Vacuflush, Furuno, General Ecologies water filters, Rogue Wave WIFI antennas, and more.
Find J. Gordon & Co. at 726 Second Street, Annapolis. Visit the website at jgordonco.com or call (410) 263-0054.
Virtual Walk the Docks: October 1-2 and 8-9
Many sailors attended the multi-dealer Walk the Docks event in Annapolis at the end of September. North Point Yacht Sales will continue to share excitement about new boats in a virtual format, featuring new sailboat and powerboat models. The staff at North Point will launch new boat walkthrough videos, interview industry professionals, and answer sailors' questions live.
Also see new sailboats in person by appointment October 8-11 (powerboats October 1-4). Learn more at northpointyachtsales.com or call (410) 280-2038 with questions.
Extended Walk the Docks: October 3-4
Crusader Yachts has decided to extend their part of September's in-person and by-appointment Walk the Docks event October 3-4. New boats will be in the water for sailors to see, and Crusader experts will be on hand to answer questions and show visitors around. Among the new boats to tour will be: Legacy 36 Power Yacht, Jeanneau Sun Odyssey 349, Jeanneau Sun Odyssey 410, Jeanneau Sun Odyssey 440, Excess 11 Catamaran, and Excess 12 Catamaran.
Get To Know Jeanneau Tour and Excess Catamaran Open House: October 9-11
Jeanneau America, Crusader Yachts, and Norton Yachts invite you to Horn Point Marina in Annapolis to climb aboard some of their best-selling models in the comfort and safety of a smaller, more exclusive gathering. Space is limited, so register in advance. Visits are by appointment only; sea trials are available upon request. Featured boats include: Sun Odyssey 349, 410, 440, and 490 and Jeanneau Yachts 54. As well as, Excess 11 Catamaran, and Excess 12 Catamaran.
Bluewater Boat Show: October 9-11
Hosted annually by David Walters Yachts, this year's event will feature a wide variety of boats of the highest caliber including pre-owned brokerage yachts for all budgets, size, and preference as well as new boats by Hylas, Italia Yachts, and Brig. Demonstration sails are available!
Click here for more or call 410-571-2955.
Helly Hansen Sailing Apparel Sale: October 1-19
Stock up on past season sailing styles at Helly Hansen Annapolis between October 1-12. You'll find an assortment of inshore and offshore sailing gear and sailing footwear all at 50 percent off. Additionally, the Crew Midlayer Jacket— the brand's best-selling midlayer jacket in a waterproof, windproof, breathable fabric—is on sale for $119.99 (while supplies last). Visit the store at 132 Main Street, Annapolis, MD from 10 a.m. - 6 p.m. daily.
Musto Annapolis Fall Sale: October 1-19
The only Musto store in North America is having a sale you don't want to miss. Shop between October 1-12 to get 30 percent off all summer styles, including sailing shorts, lifestyle shorts, t-shirts, polos, and more. Stop by 118 Main Street, Annapolis, MD from 10 a.m. - 7 p.m. daily.
A Boat Show Sale: October 8-10
Head over to Bacon Sails and Marine Supply for its Boat Show Sale October 8-10. Outdoors is the way to go in 2020, so the sale will be in the parking lot from 9:30 a.m. to 5:30 p.m. Thursday and Friday and 9 a.m. to 5 p.m. on Saturday.
Find Bacon's at 116 Legion Avenue in Annapolis. Visit baconsails.com or call (410) 263-4880.
10% Off Rolly Tasker: All of October
Get 10 percent off all Rolly Tasker sails in the month of October. Click here for more.
18-month Membership for the Price of 12
Join the Chesapeake Boating Club in October and get 18 months for the price of 12. Click here for more.
20% off Winter Online Seminars
J World Annapolis if offering 20% off winter online seminars. Schedule to be available soon. Click here for more.
Beer and Book Signing at Forward Brewing: October 11 Rescheduled for October 18
Join SpinSheet and Forward Brewing for a book-signing with David Gendell, author of the new book "Thomas Point Shoal Lighthouse." From 4-6 p.m. Dave will sign his new book on the front porch. (Books will be available for purchase with cash, check, or venmo). Visitors may enjoy an outdoor beverage, snack, and/or an early dinner at Forward (418 Fourth Street, Annapolis, 21403). All are welcome!
Missing the Tee Shirt Booth? Find Fun 2020 Apparel
Anyone who's ever visited the SpinSheet booth at the Sailboat Show has passed by the main gate and the ever popular apparel booth, manned by sailors Jessica Rice Johnson, her husband Richard, and daughters Molly and Emma. This family's circumnavigation was chronicled in SpinSheet, so we always look forward to seeing their friendly faces…and their attractive, creative designs on the tee shirts.
The Flying Fish Printworks team designed the "2020 Annapolis No-Boat-Show Gear Official Online Store" at flyingfishprintworks.com. Starting October 1, you may purchase attractive, sailing-inspired tees and other apparel with a quirky pandemic twist. We all need bright colors, fun designs, and a little fun in our lives, right?
SpinSheet's Boat Show Breakdown Party! October 12
Because we can't all be together in a big crowd watching the boats exit the show, as is our usual Columbus Day tradition, we're having a party on Facebook Live… you're all invited! Many readers have joined the fun of our SpinSheet Happy Hours on Friday nights, where we compare drinks, talk to sailing experts, and don't take ourselves too seriously. In that same spirit, we're having a party.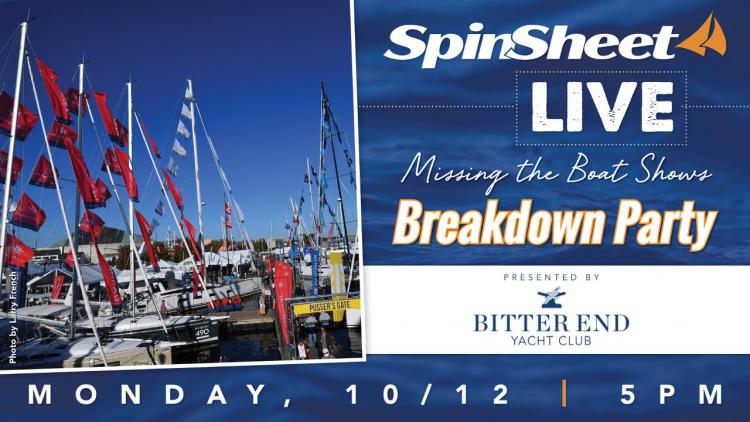 Grab a rum drink or a mocktail and join us at 5 p.m. on Monday, October 12, to talk about the cool new boats out this year, charter trips to the British Virgin Islands and other sailing adventures we usually plan at the show, and past breakdown party memories. We'll have some special guests join us… and as always, we welcome questions and fun reader comments during the program.
More SpinSheet Coverage: Videos and More
From the end of September, when several open houses take place, through Columbus Day, when the Sailboat Show would have closed its gates, Team SpinSheet will work hard touring and testing new sailboats, interviewing regional experts, and doing video and Facebook Live events. We will post all of the content to spinsheet.com, Facebook, Instagram, and YouTube, so join the fun as we make the most of this no-boat-show season!
All year long, find events for sailors here.