Ten things to do while Annapolis, plus recommendations on where to eat
Sailors who visit Annapolis for the U.S. Sailboat Show may be interested in learning where George Washington strolled in what was briefly the capital of the United States (1783-84), but we're guessing they're more interested in where to eat, grab a beer, and explore and relax in our historic city. With that in mind, find our 2021 list of 10 things to do in our capital city in autumn, followed by some SpinSheet staff recommendations: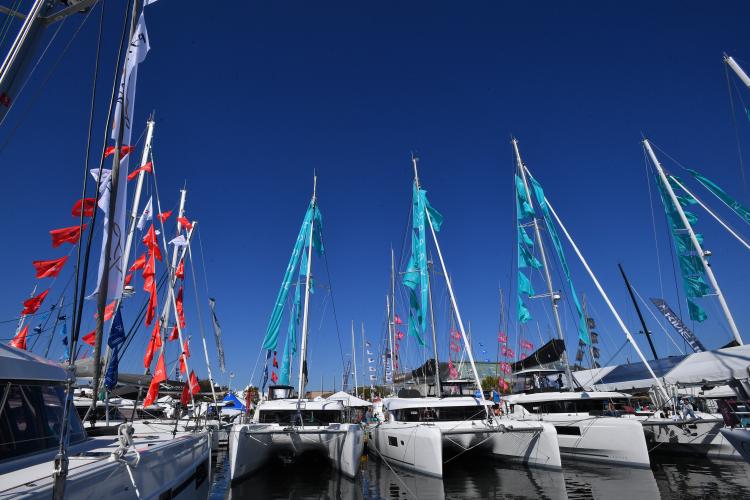 Take a taxi Annapolis-style… by water! Even the locals feel the warm and fuzzies when we take a water taxi across Spa Creek or into Back Creek and see how pretty Maryland's capital is from the water. Find the "taxi stop" right outside the boat show gates next to the Annapolis Waterfront Hotel in the Yacht Basin. The cost is $4 to $9, depending on your destination; for cashless payment, download the Where in Annapolis app and click on the water taxi icon at the bottom right.
Dine al fresco. One thing the City of Annapolis got right during the pandemic was populating its sidewalks with outdoor dinner tables. Most restaurants in town offer an option for outdoor dining, and most of it is on a first-come, first-served basis. Note that boat show time tends to be the busiest two-week period of the year for downtown restaurants, inside and outside, so attempting to schedule your restaurant meals at off-peak hours may help, as will patience. Find SpinSheet staff favorites listed below.

Stroll the U.S. Naval Academy. The public may stroll around the USNA Yard, if they first pass through security with a valid photo ID (18 years old and up). Anyone with a locally prepared DBIDS or a DOD credential, including military retirees and dependents, may drive onto the USNA. All others will need to walk in through Gate 1. The Visitor Center alone is worth the trip, and it houses a gift shop and tour information. If you do not have the time or energy for a tour, we recommend at least walking out to the sea wall and taking in the view; it's right next to the boat show yet has a distinctly different vibe and a view across the narrowest part of the Chesapeake to the Eastern Shore: usna.edu/visit.

Stretch your legs. The Maritime Republic of Eastport, just a short walk across the Eastport Bridge, is a great place to escape the madness of the boat show. At the end of almost every street there is a "street-end park" with a bench beside the water, or you can try the docks at the Annapolis Maritime Museum at the end of Second Street. Although it's mostly a residential neighborhood, in Eastport you'll find restaurants, maritime businesses, and marinas.

Learn about our maritime history. Also in Eastport, at the Annapolis Maritime Museum between 10 a.m. and 3 p.m. you may discover the permanent exhibit designed to engage visitors with the ecology of the Chesapeake Bay and local maritime heritage. The exhibits focus on three thematic sections: Bay health, oyster economy, and Annapolis waters. Interactives invite visitors to learn, play, and experience the local maritime history and ecology. Visitors can step up to a large-scale, four player digital game, interact with a lifelike hologram of a Bay waterman, or board one of three boats to experience the Bay in a virtual reality setting.

See the harbor as watermen did. Long before fiberglass sailboats populated Annapolis Harbor, the waters were filled with working fishermen and oystermen aboard sail-powered skipjacks. During the U.S. Sailboat Show, Annapolis Maritime Museum invites guests to explore the harbor aboard the restored Skipjack Wilma Lee for heritage and sunset tours.

Visit our new monument. While walking down Compromise Street during the boat show, be sure to stop by our new Guardians of the First Amendment Memorial in honor of the five Capital Gazette journalists who were victims of mass shooting June 28, 2018. The memorial's five pillars represent the five lives lost in the shooting: Gerald Fischman, Rob Hiaasen, John McNamara, Rebecca Smith, and Wendi Winters. The rounded wall displays a panel showing the First Amendment. Find it by walking past the Annapolis Summer Garden Theater on your way to Pusser's.
Take a nature break. Only three and a half miles from downtown Annapolis on Hillsmere Drive, Quiet Waters Park offers great walking and running trails, a dog park, and stunning views of the South River, including gazebos that make terrific brown-bag lunch spots. If you'd like to explore a quiet cove, you may rent a standup paddleboard or kayak through Capital SUP (capitalsup.com). In the summertime, the park hosts live Saturday night concerts on the lawn, and in winter, a family-friendly ice-skating rink.
Listen to live music. You'll find live music in Annapolis at numerous bars and restaurants and on a nice day outside next to the Market House. Two venues we recommend: for outdoor music, check out the beer garden at 1747 Pub at Reynold's Tavern, where you will find live music (quiet enough for conversation) most evenings. For a concert-room experience, Ram's Head on Stage offers several shows at the time of the U.S. Sailboat Show: Chris Jacobs Band (October 14), Mark Bryan (Hootie & The Blowfish) with The Screaming Trojans (October 15), The Smithereens with guest vocalist Robin Wilson of Gin Blossoms (October 16), Boney James (October 17), and Davy Knowles (October 18).
Snap a sunset selfie. For selfies in the golden hour, one of the best places to pose when the sun dips below the horizon is on the Eastport Bridge. If you take a good bridge photo, send it to

[email protected]

, and we will share it on SpinSheet's social media.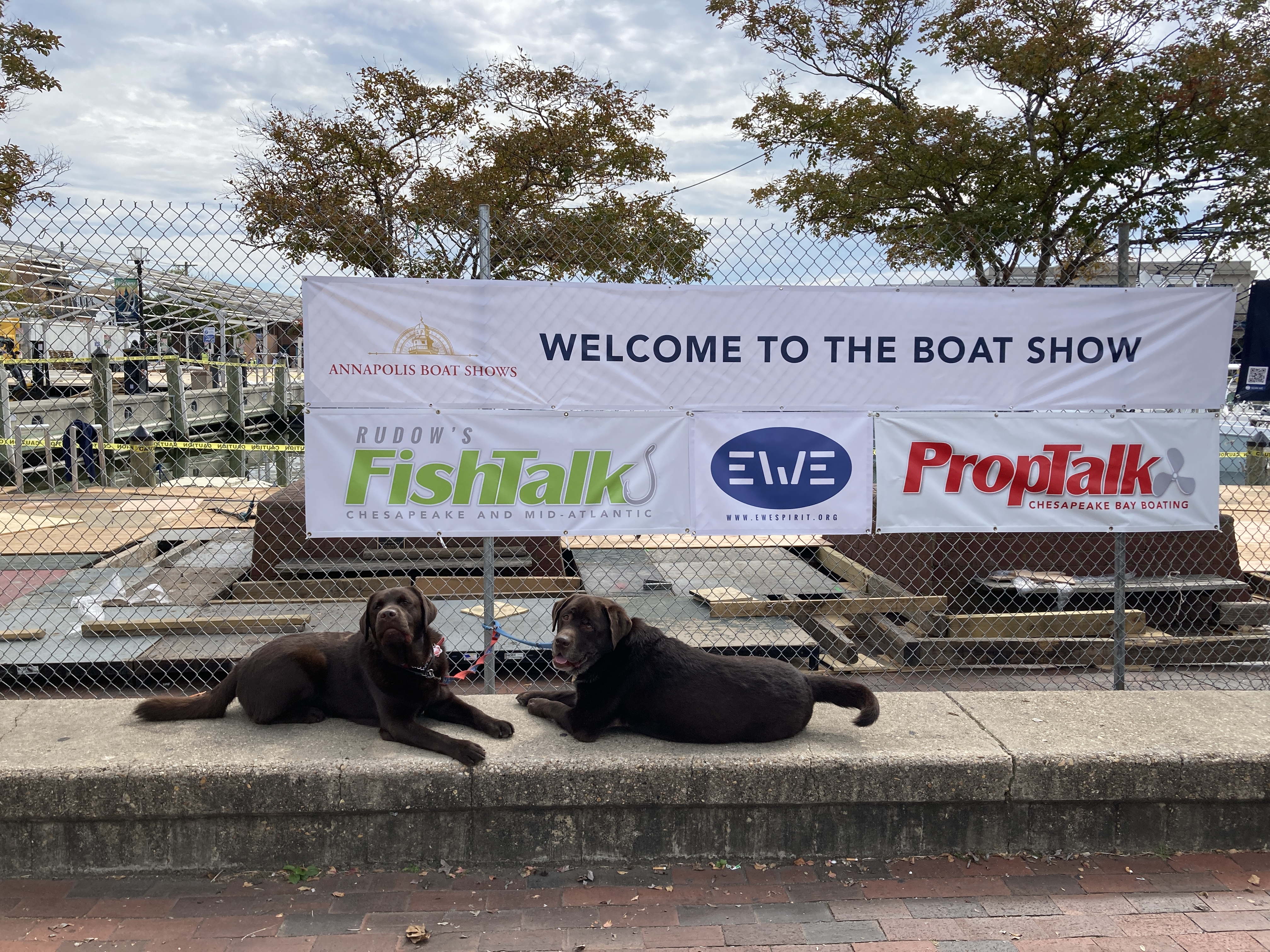 Where the Locals Eat
If you hope to escape the crowds in downtown Annapolis, here are some staff favorite restaurants and watering holes outside the fray. We've measured the following distances from Annapolis City Dock:
.8 mile away—Boatyard Bar & Grill, walkable. Big menu, great food, raw bar, and they host the best fishing tournament of the year.
.8 mile away—Forward Brewing, walkable. At this locally owned nano-brewery and restaurant try the Boat Beer and fish spread.
One mile away—Bread and Butter Kitchen, directly across the harbor from the show and walkable. Great breakfast sandwiches, tasty daily lunch specials, good gyros and wraps, all made from fresh, local ingredients. Must wear a mask inside; outdoor tables have a great view. Closes at 3 p.m.
One mile away—Davis' Pub, walkable. Crab pretzel, crab cakes, burgers, and daily specials worth a try. Dogs welcome outside.
1.1 miles away—Eastport Kitchen for breakfast and lunch everyday and dinner Thursday through Saturday; walkable and also good parking options. Best burger in town, as well as yummy sandwiches and salads. Food is served deli-style during the day, and in the evening, they dim the lights and serve you at your table. Beer and wine at dinner.
1.2 miles away—Leeward Market and Cafe, walkable and near the Annapolis Maritime Museum. Good for breakfast sandwiches and pizza and salad at lunch. They have ice cream and monster chocolate chip cookies. Closes at 3 p.m.
1.5 miles away—Evelyn's of Annapolis, walkable and also ample street parking. Fresh and delicious breakfast and lunch food in scenic West Annapolis. Closes at 3 p.m. If it's too creoded, try the Bean Rush Cafe on block away.
2.7 miles away—Dark Horse Annapolis, not easily walkable, good parking. Want nachos, beer, and a burger while you watch sports? Nothing fancy here, but there are TVs. Live music on Saturday nights.
3.4 miles away—Grump's Cafe, not easily walkable; good parking out front; across the street from Quiet Waters Park. Try the chicken and waffles, shrimp and grits, burgers, and specialty sandwiches. They serve milkshakes and beer. Seriously.
8 miles away—Lures Bar & Grill, which has a fishing vibe and offers an array of craft beers. We recommend the Nacho Chachos and shrimp tacos.