Riding Out Hurricanes Here and There: Dominican Republic or the Chesapeake
Trying to reason with hurricane season is getting harder and harder to do. Storms are coming on stronger each year, and they don't always follow the rules or lines drawn by marine insurance providers.
I remember squinting at the Google Earth images of Luperón, Dominican Republic, from my cell phone in the Bahamas, trying to determine if it would be a suitable hurricane hole for my cruising family. Eight months later we were squinting at satellite images of Hurricane Fiona looming closer and closer while we waited aboard our sailing catamaran in the eerie still of Luperón harbor.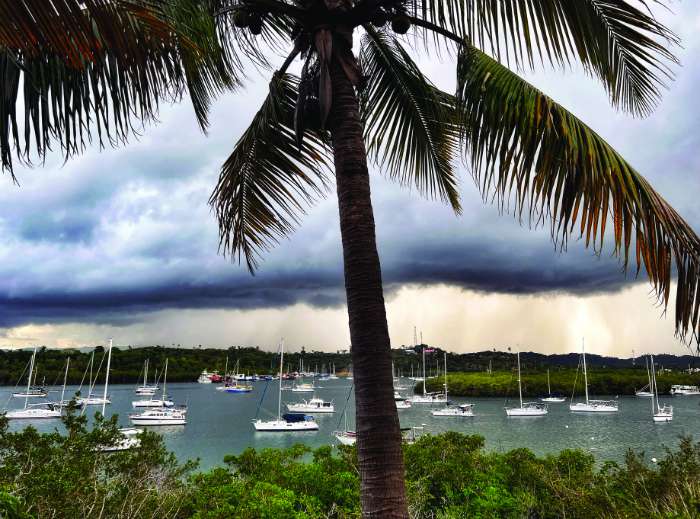 We've weathered a handful of tropical storms and even hurricanes in the Chesapeake. But that was home. Those were waters we knew inside out with our eyes closed, and we knew exactly what our boat could expect in all conditions.
Our summer spot here in the Dominican Republic is completely surrounded by mountains. When the wind blows from any direction, it's safe in here. This reminds me of our corner of Back Creek in Annapolis, except the protection comes from large trees, condos, homes, and small hills. Compared to the open water outside, you're sitting flat and comfortable at your slip or at anchor in both places.
Our little Dominican harbor is pretty packed with boats, also like Back Creek. I remember spending many pre-storm days looking after and securing the boats around us in Annapolis. In both places, there are many unattended boats because people know it's a safe place to leave a vessel for the season. Part of our routine pre-storm checklist is to look for loose objects that can become projectiles and clear them from decks, add dock lines where needed, and try to predict the risk of the boats around us damaging ours if things get bad.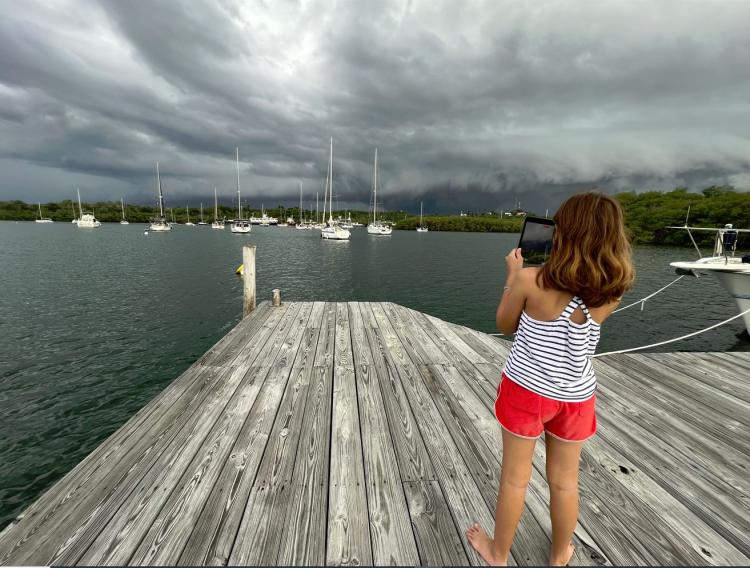 Before Fiona we cleared the clutter around our own decks and helped our neighbors do the same. We daisy-chained the mainsail cover and gave the genoa some extra wraps. We got some extra drinking water, made sure we had plenty of fresh food, and bought some gas for the generator, just in case. Then, we waited, and watched, and waited, and watched.
We leaned heavily on PredictWind because other weather sources just didn't show the level of detail we needed to see to figure out exactly what we should expect in our little harbor. Checking U.S.-based news you'd think the hurricane was hitting Puerto Rico, just doing nothing, and magically appearing again at the Turks and Caicos. The Dominican Republic was not well covered by news.
With our weather apps we watched the large dark gray swirl inch across the screen so close you could reach out and shake hands with it. While the land around us is high ground, it's also a very narrow strip between us and the open ocean. We listened to the angry surf crashing against the shore on the other side.
My kids loved the storm. They knew enough from living aboard their entire lives to understand that we were perfectly safe where we were. And they know that tropical systems suck the trade winds away when they move on, meaning that about 48 hours later it was going to be stinking hot. For the moment, in the thick of the storm, it was "cold." They were loving it.
They had a fall feast planned to celebrate the cloudy and "cold" 74-degree weather. We made hot cocoa, roasted sweet potatoes, made meatloaf, and baked cookies. My daughter dared to wear long sleeves and was so excited to sleep under her blankets, rather than sweating on top of them.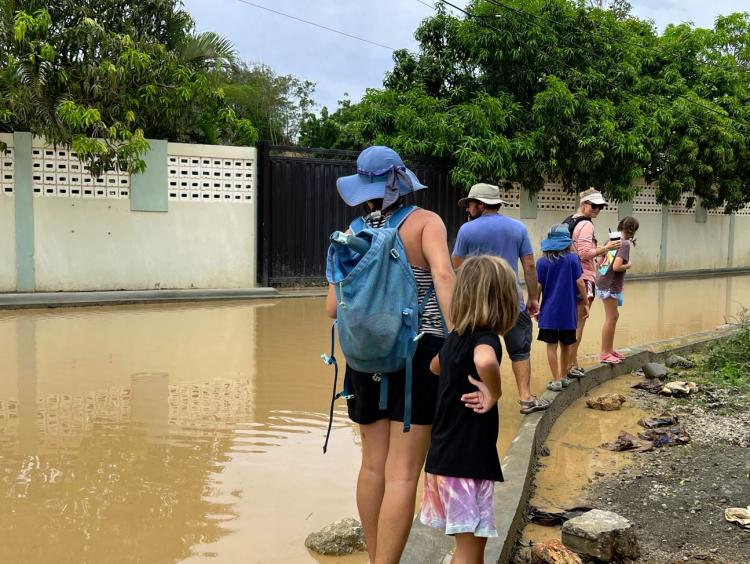 The biggest difference between weathering a storm back on the Chesapeake and here in Luperón is the community. Sailors back home flock together for fun, but it's more an 'every man for himself' mentality. Here we had a community VHF channel and a group chat on WhatsApp for all of the boats in the harbor. I was floored at how quickly members of the community jumped into action at the first sign of a boat dragging. People of all ages hopped into their dinghies and headed out to go secure boats and lend a hand. It didn't matter if it was pitch dark and blowing rain sideways, every boat and every person was looked after.
The day after we took a walk to see how things looked on land. There was some localized flooding, but nothing that didn't dry up in the tropical sun a couple of days later. We were surprised to see the way the tree litter and branches were cleared up in less than 24 hours in our neighborhood. The sea was flat, the air was clean, and squalls continued to roll through on the back end of the bands. The buckets of rain meant a clean boat, clean dogs, and clean hair.
Fiona wasn't a strong storm compared to the systems that bubbled up elsewhere later in the season, but it was a good test of Luperón as a hurricane hole. Geography, topography, and luck were on our side... this time. #
About the author: Longtime SpinSheet contributor Cindy Wallach cruises aboard her St. Francis 44 catamaran Majestic with her husband, two children, and two dogs.
Find more sailboat cruising articles here.