How Cruising Can Be "Trudging" in Paradise
To trudge," said the character Geoffrey Chaucer in the 2001 movie "A Knight's Tale," "The slow, weary, depressing-yet-determined walk of a man who has nothing left in life except the impulse to simply soldier on." In sailing, the simple act of putting one foot in front of the other is sometimes all you've got.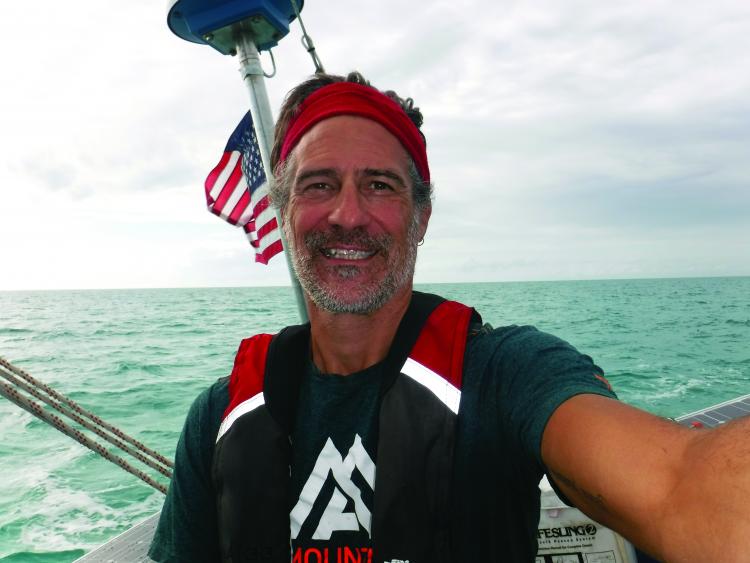 I had just sailed to the Bahamas from Miami, excited as all first-time cruising sailors might be to enjoy the clear waters and warm Bahamian hospitality that awaited me on the other side of my first crossing. The weather was spectacular, as I settled in at anchor in Nassau, and being in the Bahamas meant I had no commute, no bosses, no car payment—a tough circumstance if your goal is to garner sympathy.
Clearing customs and immigration went well enough. I tied Ave del Mar off to the imposing concrete seawall by Nassau's government building, much to the surprise of the staff. I was eager to save every nickel I could, and tying off here—while, in fact, free—was obviously not the usual way of doing things. After a bit of a scramble to locate the proper paperwork I was cleared in with a smile and wishes of fair sailing.
A small, yet dangerous discovery
It was then time to wander south along the Exumas, the stunning island chain that stretches over 365 islands from Highbourne Cay at the north to Hog Cay and Great Exuma to the south, storied islands of isolated anchorages and fairytale beaches. The sail from Nassau was casual as Ave and I wound our way in and out of coral heads in the blazing Bahamian sun, motoring into our anchorage by late afternoon. As I settled in at anchor, I shot an idle glance down at the tiller—why I happened to look where I did when I did I have no idea—and was shocked to see two small but very dangerous fissures in the stainless bracket that attaches the tiller to the rudder post. My heart skipped a beat. This was a time bomb of the highest caliber.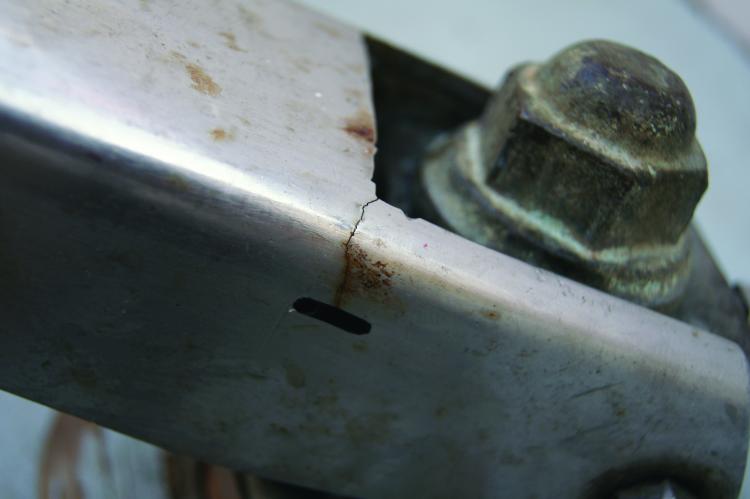 There are no welders in Highbourne Cay, just mega yachts with tenders that flit about like bees in a flowerbed. I could press onwards towards George Town (there would surely be welders there), but while George Town was on my course, it was also days away and seemed an irresponsible decision. This was something that demanded immediate attention. That meant turning back to Nassau. Keen to prove my mettle by doing the right thing, I decided to reverse course the next morning, returning to Nassau after a solid night's sleep and an oil change.
Bilge blues
The solid night's sleep didn't materialize as planned as those flitting speedboats and mega-yacht tenders buzzed deep into the night, tossing me to and fro in their wakes. Eventually morning bloomed. I awoke, had coffee and breakfast, and got to work on the oil change. I warmed the engine, drained the oil, added a quarter sump of new oil, cranked the engine for 10 or 15 seconds, and drained it again, just as I had been taught. It never hurts to do things the right way.
After popping on a fresh filter, I added a well-measured 5.4 quarts of new oil and started her up, as I had done dozens of times before. On this day it was not meant to be—the new oil filter didn't seat properly and my 5.4 quarts of fresh 15W-40 poured out of the block and into the bilge. Note to self: those red oil filters seem not to be compatible with your Universal M35b after all. Toss the rest of them out.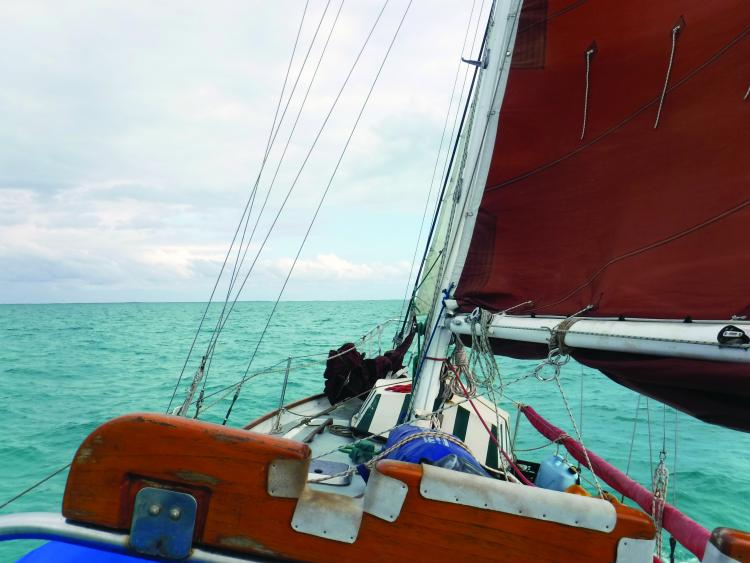 Ever the envy of all of my friends back home, here I was: stuck in an anchorage I hated, failing at work that I didn't want to do so that I could return to another anchorage I didn›t really want to be in so that I could spend money I didn't really have to fix a tiller I didn't really trust, on top of which I had a bilge full of motor oil. It didn't add up to that Mai-Tai-in-paradise vibe.
I settled in and got to work, suctioning what I could out of the bilge and soaking the rest up with a year's supply of oil-absorbent pads. As the cleanup dragged on, it became clear that the day's opportunity to return to Nassau had come and gone, so I resolved myself to another miserable night in the anchorage being knocked about like Sancho Panza getting blanket-tossed outside the inn. The line between "cruising" and "hazing" seemed blurred at best.
After another rough night I awoke unrested and edgy, but ready for the motorsail back to Nassau. Preparing to weigh anchor, I noticed that the violent pitching of the boat over the past day or two had sheered the block that leads my snub line forward and off of the bobstay. As I dragged the anchor back on deck hand over hand, I made a mental note to replace the block, proud of the calm resolve I showed as I stared at the bronze hook from which the block had been rigged. It was at this precise moment that that hook pitched about in yet another wake and tumbled down into the sea. I watched in horror as it fell to the depths.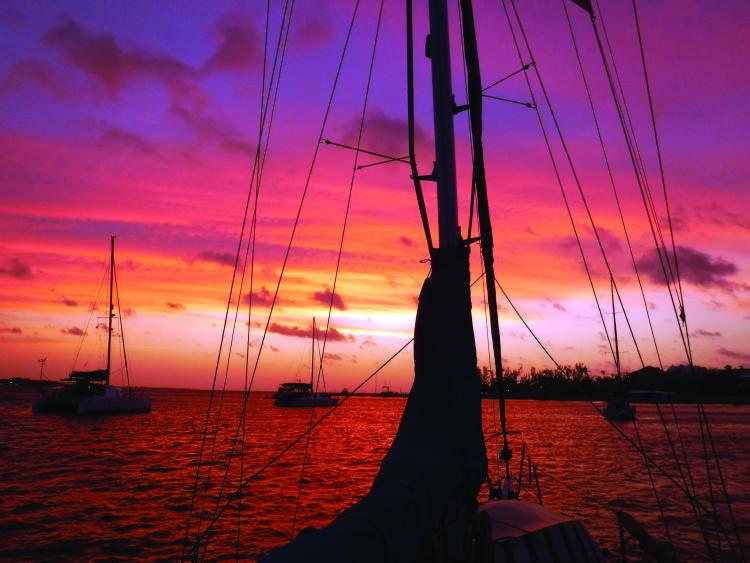 Tax to Neptune?
I was ready to leave. The engine, fat and happy from its two oil changes, was warming up. The cockpit was staged and ready. I stared over the bow, wondering how much I cared about this bronze hook, a hook I had inherited with the purchase of the boat, a hook that had circled the globe. I knew that the winds were predicted to pick up in the afternoon, so what was the responsible thing to do? Should I dive to retrieve it and risk sailing in increasing winds with a questionable tiller? Or should I kiss it goodbye, declaring it a tax paid to Neptune so I could get on my way? I hated every option I had at that time as well as every decision I had made to that point. I would have sold you the boat and everything on it for a simple plane ticket out of paradise, had you offered.
These are the moments when you remember that struggle and challenge are a part of the human narrative. Sailing is a path full of higher highs and lower lows. I was adrift in my own Walden Pond. There is little left but to push forward, to trudge, one foot after the other, knowing that meeting real challenges pays real dividends. This is the real that you sought in your real adventure.
So, I shut down the engine, fetched my mask, snorkel, and fins, and prepared myself to dive to retrieve the bronze hook. There were barracudas down there that I was quite sure wanted me for breakfast, but I dove anyway. If they were to be my end so be it—I would die fighting for the last bronze hook that I owned, fighting for a toe-hold of control in my life that seemed desperately short of control at the moment. Fighting to win just one small battle.
The hook revealed itself in about 16 feet of crystal clear water not far off of Ave's bow. I filled my lungs with air and dove, fins fluttering above me as I sank to the depths. I grabbed the hook without ado and never did have to punch the fish in the face in a glorious moment of self-defense. Turning upwards again I rose, the surface seemingly hundreds of yards above. I composed myself and fluttered up, breaking the surface with the hook in my hand and the thinnest of victories under my belt.
Maybe, just maybe, my trudging was paying off. That bronze hook was my ticket, proof that I could ride the ride. I tucked it into my trinkets box, toweled off, and restarted Ave's engine for the trip back to Nassau. The engine ran. The oil stayed where it should. Ave and I sailed slowly to Nassau through the course of an otherwise uneventful day.
I suppose that paradise could be a lot worse than this.
Find author John Herlig at avedelmar.com.