The Beneteau 40: One of the Most Popular "Big" Boats
If you ever find yourself engaged in conversation in a Covid-free bar, restaurant, or cockpit with a self-proclaimed nautical expert and it becomes obvious that he or she is unfamiliar with the name Beneteau, consider it a lost cause. Nod your head, change the subject, and carefully critique any nautical comments from said expert. There are few more recognized names in the global marine industry than Beneteau, considered to be the largest builder of sailboats in the world.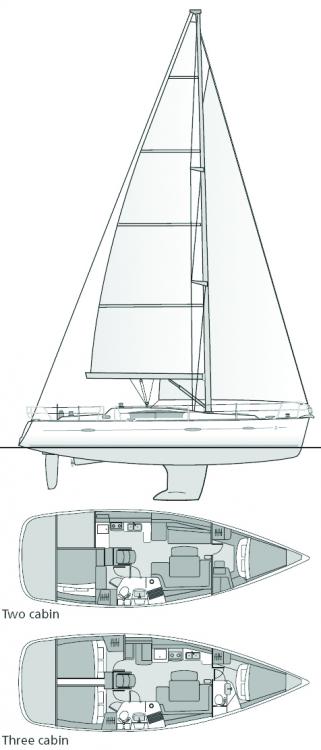 An abbreviated Beneteau history
The Beneteau history extends back to 1884 when Benjamin Beneteau opened the first Beneteau boat yard primarily building fishing boats. The journey from 1884 to the 1965 Paris Boat Show is a complicated one; just consider that after a depression, several economic downturns, and two world wars the maritime legacy of the Beneteau name has not only survived but excelled.
The first fiberglass production boats built by Beneteau were dinghies for the Sardine fishing fleet in 1963. These boats quickly became the genesis of the first Beneteau fiberglass sailboats that were introduced in the 1965 Paris Boat Show. Beneteau USA was established in 1976 followed by the opening of a boat production facility in Marion, SC, in 1986. Most Beneteaus sold in the U.S. up to 46 feet are built in Marion (many thanks to Dan Nardo).
Beneteau 40: I can remember when a 40-foot boat was genuinely considered a big boat. Current industry standards now identify a 40-foot cruising boat a "mid-size cruiser."
After reviewing Yacht World and Soldboats websites, the Beneteau 40 appears to have been in production from 2007 to 2012 and was produced in both two- and three-cabin models. The three-cabin version was equipped with a second head and the galley was moved into the port side of the saloon area.
All of the Beneteau 40s that I have encountered have been built in the Marion, SC, factory. Quality control appears consistent. Beneteau hulls are made from solid fiberglass in the topsides (rub rail to water line) and bottom. The decks are built with balsa core, which is standard for many production boats made today. The boat has proven to be a good light-air performer making it right at home on the Chesapeake in the summer.
Described as "one of the most popular used boats available," the Beneteau 40 seems to hit that sweet spot, small enough to be an easily managed weekend platform for a couple or young family or large enough to be utilized and outfitted for extended cruising by a couple or young family; granted three teenagers and a Labradoodle may make you squeeze a little.
The diesel auxiliary is a four-cylinder Yanmar with a Kanzaki transmission and traditional shaft drive. The factory default electronics were the Raymarine ST 60 series with E80 or E120 chart-plotter/radar displays. The stock battery inventory is adequate; the OEM Yanmar Hitachi alternator would be adequate for week-long or weekend use. Extended cruising would likely see some upgrades in the batteries and charging capacity.
As of July, 2020, there were four available on the East Coast. Asking prices ranged from $150,000 to $170,000.
After surveying several of these boats, I have some consistent observations/findings to share:
From a structural point of view, the Beneteau 40s consistently survey well. Moderate to heavy groundings can cause some bonding failures between the interior pan structure and hull laminate; some boats tend to have some crazing in the deck gelcoat.
Yanmar engine hour meters of this generation are notorious for failure (near 100 percent), making actual engine hours difficult or impossible to determine. Despite that, the Yanmar/Kanzaki transmission combination has proven to be very reliable.
The fiberglass propeller shaft tube is ventilated with a hose connected to a bronze or brass hose barb epoxied into the tube. After years in salt or brackish water, this fitting will corrode, become brittle, and can break easily; if the fitting is original it requires at a minimum careful inspection (replacement is highly recommended). This is not strictly a Beneteau 40 problem, as any vessel with this shaft and breather configuration is susceptible.
The alloys used in the ball valves used by Beneteau and other European builders seem to corrode faster and easier than domestic equivalents.
The adhesion of the soft head liner in the aft and forward cabins frequently fails due to deterioration of the foam backing.
Specifications
LOA: 40'
Beam: 12'10"
Draft: 5'5" or 6'3"
Displacement: 18,210 lbs
Designer: Barret-Racoupeau
Builder: Beneteau
About the Author: Captain Tarn Kelsey owns and operates Kelsey Marine Survey out of Annapolis.
This article appeared in the April 2020 issue. Find an earlier Beneteau 40 review by Jack Hornor here.