The Andrews 38 Sailboat – Racer-Cruiser With an Emphasis on Racing
A casual walk down almost any dock in Annapolis will find the slips filled with recognizable designs and builders. The Andrews 38 is a performance sailing boat that is not a readily recognizable design and blends easily into the surrounding gel-coated scenery. In high school we would label cars like that "sleepers," i.e. that stock-looking Ford Maverick that would blow the doors off the Mercury Cougar with the modified exhaust and racing slicks. The Andrews 38 is in my opinion a sort of "sleeper" that requires a couple of hours of dedicated inspection and some time on the wheel to begin to appreciate its potential.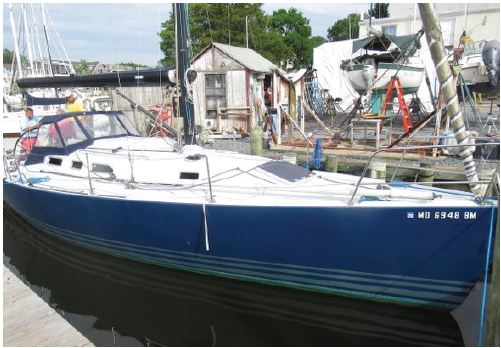 Andrews Yacht Design and Westerly Marine, a very brief history
Alan Andrews Yacht Design and Westerly Marine are distinctly seperate entities. Andrews Yacht Design was founded on the West Coast in 1979 and has a long history of success in performance yacht design including silver in the Trans Pac, SORC, MORC, and One Tonner competitions. Westerly Marine opened its doors in 1970 and became known as one of the premier quality West Coast builders of multiple types of boats, including America's Cup contenders, grand prix racers, racer cruisers, catamarans, and commercial craft. Comparing the backstories of Andrews and Westerly Marine exposes a unique history and a who's who in West Coast boat building and racing scenes.
Sadly, Westerly Marine appears to have permanently closed in 2020, which by many accounts has left a tremendous void in the West Coast boat building scene.
Andrews 38
The Andrews 38 was designed as a true racer-cruiser with the emphasis on "racer," designed to be raced by an average sized racing crew but also comfortably handled by an experienced cruising couple. Construction and design details throughout the boat are focused on smart weight distribution, design strength, and weight savings with Divinycell core, carbon faced floorboards, and carbon fiber laminates in bulkheads and stringers. To date there have only been two of the 38s built, both by Westerly Marine. The first was built with a fixed keel; the second build was modified with a hydraulically retractable keel and retractable rudder that reduced the draft to four feet.
Construction and systems
The exceptional shoal draft capability comes at the expense of an electrically operated hydraulic system to raise and lower the keel. The system is independent of the vessels other mechanical systems and does require a nominal amount of 12-volt power to operate.
The exterior deck layout is hard to distinguish from other performance-oriented sailboats: a large wheel, open transom, large wide and angled decks for seating, and enough cockpit space for multiple people to comfortably manage sheets and halyards.
The vessel interior is plain white paint with carbon floorboards and some teak trim. Unlike some racer-cruisers, the head room is ample throughout most of the boat. The V-berth looks like it will actually sleep two adults.
The bilge is shallow and highly compartmentalized. The floorboards are light and easily moved to facilitate drying and cleaning the bilge areas. There is a dedicated well under the hydraulic pump unit; residue from service and any leaking oil cannot make it into the rest of the bilge. The retractable keel model has a keel trunk for the keel and the two hydraulic cylinders required to raise and lower.
The engine is a three-cylinder Yanmar auxiliary coupled to a standard shaft drive; a newer version might be built with a sail drive.
The mast is a double-spreader, keel-stepped, Carbon-fiber extrusion with stainless steel rod rigging. The mast head rig has very little or no taper and appears to be shorter than rigs found in similar sized boats.
Hull, deck, and bulkheads are cored.
The galley has acceptable counter space with below counter refrigeration and a two burner CNG stove and oven.
Findings and observations:
The hull, deck, and cabintop were painted. Excessive crazing of the primer was noted in the deck of the vessel I recently inspected. When surveying these boats, the carbon fiber used in the construction will give false positives when using a moisture meter.
The hydraulic system in the second boat adds a degree of complexity to the shipboard systems. With only one of the 38s built with this system, there are likely some improvements and features that would have been incorporated in future builds.
Rod rigging has long been a standard in many performance boat designs; the downside is that stainless rod is almost impossible to inspect during the course of a normal yacht survey. When considering a used boat with rod rigging, service intervals are often determined more by age as opposed to actual physical condition.
The electrical system is a pretty standard affair, from a cruising perspective; the battery capacity might be considered slightly anemic.
Marketplace
As of June 2021, there was one Andrews 38 on the market with an asking price of $89,000.
About the Author: Tarn Kelsey owns and operates Kelsey Marine Survey in Annapolis: kelseymarinesurvey.com.