The Arcona 435Z Sailboat, a Quality European Build
As we all know, European boatbuilders have had a heavy influence on the North American sailing market for decades. In the early 2000s, we started to notice previously unheard-of European builders starting to compete for North American market share primarily in the racer-cruiser category. One such builder is Arcona Yachts from Sweden. I can't speak for the rest of the boating public, but until two weeks ago I had never heard of Arcona Yachts.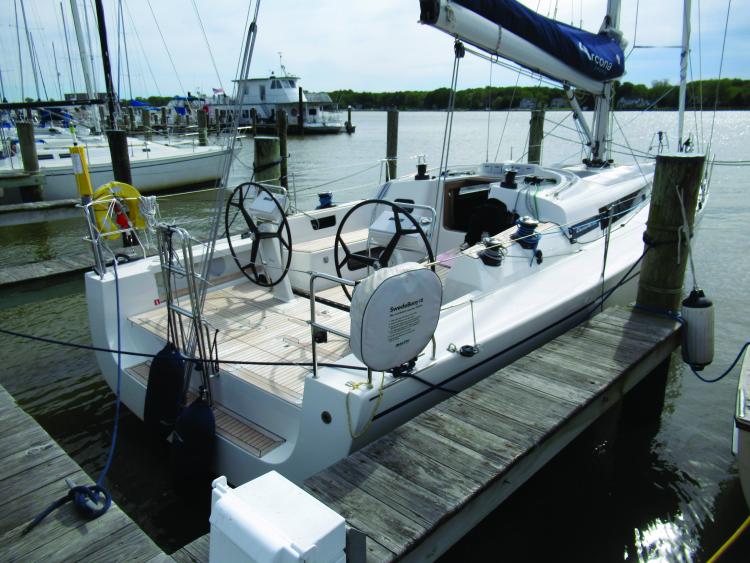 The Arcona 435z is a quality European build, that in my opinion, could represent a significant shift in the recreational boat industry. The 435z is an all-Electric twin helm European performance/cruiser that uses an electric sail drive for its primary power. This boat does not show like a prototype. This comes across as a finished product and is a clear example of a newer technology and mindset that has significant potential to become mainstream in our industry.
Arcona Yachts, an abbreviated history:
Arcona Yachts is a Swedish boat builder that was started in the late 70s by Torgny Janson. In the early years the company mostly built dinghies and smaller, lighter-displacement racers and racer-cruisers. The current line of Arcona Yachts includes the 345, 385, 410, 435, and 465 designed by Stefan Oviberg. There is also a 380z (electric) and a 435z (electric). Arcona changed ownership in 2018 and now is under the umbrella of Orust Quality Yachts which also owns Najad yachts. The current production capacity of this multi-brand combination reportedly averages 50-70 boats per year with more than 1000 total hulls produced to date.
Arcona 435/435Z
The Arcona 435 is a sporty looking Swedish-built, light-displacement, performance racer-cruiser that was designed to be raced competitively but that can be comfortably cruised by a couple. Its initial appearance is similar to other European-designed racer-cruisers with sharp modern lines, a wide cockpit with lots of beam aft, and a smaller headsail. The interior is light, simple, and functional. By most accounts the boat is an absolute blast to sail. The 435 was introduced in 2018/2019 and won European Yacht of the Year in 2019.
The Arcona 435 and 435z are the same boat with the exception of the auxiliary propulsion and electrical systems. The 435 is conventionally powered by a Yanmar diesel auxiliary, the 435z (z = zero emissions) is a totally electric version of the 435 and is powered with an Oceanvolt SD 15 ServoProp electric sail drive system. Power for the engine, bow thruster, and windlass is provided by 16 lithium battery packs providing 48 volts of DC power. A smaller separate 12-volt system provides power for electronics and other light DC electric loads, such as LED interior lighting, water pumps, etc. The only diesel aboard the vessel that I inspected was a three-gallon plastic tank dedicated to run the forced air Espar diesel cabin heater.
The boat that I inspected was reportedly sailed from Sweden to the United States on its own bottom. The Oceanvolt sail drive technology is not an overnight startup. I have seen this system previously in refits of light-weight catamarans. This is my first experience seeing it installed in a production boat; my guess is that it won't be the last.
Considerations and observations:
The 435/435z is not a budget yacht and not priced to compete for the same market share as some of the cheaper European boats.
The hull and keel grid system is welded galvanized steel which is common in boats built in this region. This system adds a high degree of reliable strength with minimum bulk and material. Rust is ultimately a concern. Extra efforts in keeping a dry bilge will lower maintenance costs
The boat I inspected was equipped with Butane Cooking gas that will require conversion to LPG.
The shore power in the boat I inspected was still partly wired for European electrical grids.
Availability: As of May 1,2021, there appeared to be only one 435z available in the United States. The base price for a new 435 is reportedly around $600,000.
About the Author: Capt. Tarn Kelsey owns and operates Kelsey Marine Survey in Annapolis, Maryland, on the Chesapeake Bay.
Find more used boat reviews here.