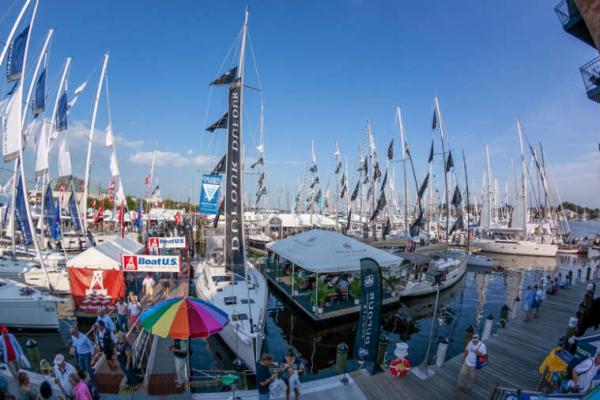 As you prepare for the Boat Show, keep in mind:
You are the entertainment!
A boat show is an investment. Treat it that way!
Rising tides raise all ships. Do what you can to help the industry, other exhibitors, and show-goers, and your boat show experience will be all the better for it.
---
Before the Show
Know Your Goal
Sales and Leads?
Educate or promote a new product or service?
Build brand awareness?
Hire or Network?

Build distributor relationships
Create sales partnerships/joint ventures
Find new product lines

Solidify Client Relationships?
Whatever you want to accomplish, it is vital that you know how to:
Quantify: number of units, gross sales, number of contacts, etc.
Measure: based on experience, ROI or your best guess – what's a win? A loss?
Track: how do you ensure accuracy and/or follow-up before, during, and after the show?
Tips for Goals
Information Gathering:

Show-goers can have short attention spans or feel uncomfortable providing personal information. Make it clear how you will use the information and stick to your promise.
What's the minimum information you need to capture?
What materials (forms, pens, fishbowl, iPad, etc…) will you need to capture the info?
Who will capture the information, and where will they put it?
Share your goals and priorities with your show staff.
Invite existing customers to visit you at the show and/or entice them with exclusive deals.
Offer out of town customers restaurant suggestions, parking tips, etc.
Create Buzz
One big mistake exhibitors make is neglecting to do anything to promote their presence at a show. Don't assume attendees will know you are at the show. They will not just magically show up at your booth. A majority of attendees arrive at a show with a pre-set agenda. If they aren't aware of your company and your presence at the show, you won't be on that list. Promoting the fact you're exhibiting is key to building traffic in your booth. Annapolis Boat Show resources: Take advantage of them!
Go to annapolisboatshows.com
Develop a press release and pass it on to the show organizers for possible inclusion in show e-blasts.
Review the list of exhibitors to see who you need to meet – this is updated daily by the show organizers.
Consider taking advantage of "Promotional Opportunities" for an extra fee.
Purchase exhibitor tickets in advance.

You won't get charged for them if you don't use them.

Know the drill for Will Call for badges and tickets.
Print/Digital & Social Media
Advertise before, during, and after the show.
Invite press to see your booth and provide a summary of what you are exhibiting.
Promote through your own social media and ask people to share.
Send press releases out about anything new or exciting that you'll have at the show.
Tips for Creating a Buzz
Ask for package deals that use advertising in print, website, email and/or social media promotion.
Know how many people your advertising will reach and the cost per thousand.
Know the timing and distribution of any marketing and advertising you do.
Hang a sign on the show fence – early bird gets the best location.
Exhibit Design
Does it convey your company's message? Style?
Is it visually appealing or cluttered?
Will the layout encourage visitors to linger? Is that what you want?
How will folks flow through and out of your booth?
Do you need to update your signage? Banners? Order now!
Plan for tables, chairs, skirting, carpeting, electric supply, etc…
Consider standing mats to help keep your staffers' feet and backs happy.
How will your exhibit work if the weather's bad?
Tips for Exhibit Design
10 Ideas to improve your Boat Show Exhibit
Collateral
Be willing to give your collateral away

If you don't want to give your collateral away freely, decide in advance who gets your collateral and why. Determine in advance how to deliver the message in a positive way, such as "Those brochures are for people who have taken a tour of the boat. Would you like a tour?"
How will you protect your collateral from bad weather – rain, high winds?
Where will you store your collateral during the show?
Staffing
Business owners should staff the booth if at all possible.

If not, how you do you want staffers to explain the owners' whereabouts?
Have a schedule and be able to tell show goers when key players will be there

All staffers should be knowledgeable and enthusiastic.

Send your best, most personable people to the show.
If you can't staff both your booth and your storefront, consider setting the voicemail at the store, posting a sign, and checking messages and email from the show. Use technology to help you bridge both locations.

Plan reasonable breaks and shift lengths so your staffers can keep their smile on.
Select a lead person for each major goal you have for the show.
Make plans for transportation and parking – so staff will be on time.

Buy water taxi tickets and hand them out.
Offer to pay for parking in the garage or at the stadium.
Remind staff about the bridge schedule. You can't be held up for your 11 a.m. shift by the 11 a.m. bridge.
Remind staff that they'll be stopped by friends, customers, etc. on the way to the show, so allow lots of time to get to the booth.

Will your staff wear a uniform? What's appropriate attire? Plan layers for handling changes in the weather.
Wear shoes that you can stand in all day. Ironically, boat shoes may not be a good choice.
Make sure your cell phones are fully charged at the beginning of the day.
Create guidelines for staff behavior in the booth and review with everyone.

Greet people. Hand out literature. Smile. Make eye contact with show-goers; they won't bite. Help people find what they need. (Whatever fits with your goals)
Never sit down in the booth unless you're in a meeting. It's not inviting.
No eating, chewing gum, smoking, spitting, chatting with other folks in the booth, talking on the cell phone, or working on the computer in the booth.
What's OK behavior outside the booth? –at parties, walking the show, outside the show?
Handling Difficult Situations
Develop a list of the questions you dread – and the answer you want staff to provide. Train your staff about how to handle the tough questions.
In case an angry, vocal customer visits the booth, teach your staff how to diffuse their anger and remove them to a less visible spot to resolve their concern. Goal = no one leaves angry.
If a friend or non-buying customer comes to visit you in the booth, ask if they will come back at 6 p.m. – or schedule a specific appointment with them before or after the show or ask them to come at a specific time that you know will be quiet.
Will you need a place to meet privately? Have a plan.
Pre-Show Check List
Create a Show Move-In Check List for yourself and your staff.
Don't forget your business cards.
Develop FAQs with your staff and print them with answers. Come up with the list as a group in your office meeting. Role play. Dress rehearse. Make many copies or laminate for the booth. Here's a start:

Where is the nearest bathroom? Nearest real bathroom?
Where should we go for lunch/dinner/happy hour?
Questions relative to your product
Questions about your competition
When is the Schooner Race Start?
Where are the seminars?
Where can I get a program?
Where is everyone getting those nutty buddies?
What do we say when someone says, "Well, I'm not a boater?"

Pull together a Boat Show Survival Kit

Advil, Tylenol, Excedrin – or all three
Tums or Rolaids
Water or soda
Band-Aids
Duct Tape
Scissors, knife, or both
Pens and/or pencils – lots of them!
Paper towels
Wet wipes
Hand Sanitizer
Sunscreen

Collateral

Order it.
Receive it and make sure it's all right.
Pack it to move and store at the shows.

Make a schedule

Booth coverage
Press conferences and events
Parties
Meetings
Seminars
---
During the Show
Staff
Plan a meeting at the beginning of each day BEFORE the show opens (bonus points if you provide doughnuts).
Review how the previous day went (perhaps with initial measurements against your goals).
What you want to accomplish that day? Do the same? Differently?
Logistics
Be open longer than other exhibitors (start early and stay late).

15 minutes can make all the difference.

Make friends with the folks in the booths next to you.

Cover for them when they have to step out and vice versa.
Set their expectations if you know you are going to be vocal.
Don't approach show-goers until they are directly in front of your booth – otherwise you are "poaching" on your neighbors' turf.

Consider inviting people back to your booth near the end of the day: End of day is quieter and therefore a good time to close deals .
Program the boat show onsite phone # into your cell phone.
Have cell phone numbers for all your staff.
Have someone outside the show who can help you with errands if need be – copies, etc.
Pack a boat show survival kit so your staff doesn't have to leave the booth.
Keep your space tidy; you never know when a potential client will walk by before, during, and after show hours; make sure your exhibit is inviting.
Engage Show-goers
Boat shows can be intimidating. Not everyone knows all the lingo. Make show-goers feel welcome even if they aren't your customers... yet.
Ask people what they've seen that's interesting, and take note. You can share that with the next customer you have.
Make an effort to make it fun for kids. If the kids aren't having fun, no one is.
Ask people where they live. If they're from out of town, ask if they're going to tour town.
Don't ever look bored or too busy to help someone.
Gather Information
Remember those goals you want to measure?
Where's a safe place for staffers to store the information they're gathering?
Do you want staff to tally the data during slow moments?
If you have a low-cost product, consider a daily drawing from the fishbowl as a way to gather customer info.
Provide blank cards for people to write in their info if they don't have a business card.
Slow Times
Know when they are and take advantage of them.
Be willing to reschedule with a potential client for a less-busy time at the show – or before or after. If you can't, then step out of the booth for an extended conversation or move to a more private location (like a table inside the booth).
It's OK to refer someone to another staffer who has a better answer – and may give them a reason to wrap up a longer conversation.
---
After the Show
Quantify, Measure & Track
Use information gathered to see how well you achieved your goals.
Save this information.
Follow-up
Write thank you notes to people who helped you out and people you met.
Follow through

On raffles/drawings you promised
With literature or info that was requested

Update your databases and e-mail lists
Consider follow-up promotions – advertising, direct mail, an open house, phone calls to key leads, etc…
Post-Mortem
Do a post-mortem

Write up a list of problems from the show – while they are still fresh in your mind!
Make a list of questions you were asked, so you can prepare yourself and staff next year.
Ask your staff for feedback.

Take a day off! You earned it.