Posted September 18, 2014
Success at the boat show: what it really takes
This article was published in the September 2014 issue of SpinSheet, but the advice is timeless.
Although it may appear that each October the Annapolis Sailboat Show magically erupts out of Annapolis Harbor in the span of three days, most exhibitors begin planning for the event months in advance. A successful show requires more than just pitching a tent and hoping attendees notice your booth. Drawing on years of experience, three show veterans explain their preparation strategies.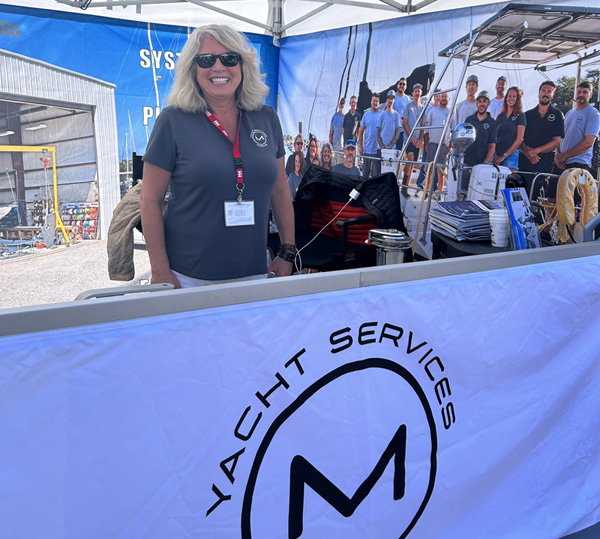 Creating a Comfortable Atmosphere
"Our approach at the boat show may be a little different from that of an exhibitor selling a product," says M Yacht's Steve Madden, whose business provides marine rigging, fabrication, and mechanical services. "Although we use many products in refitting a boat, we're really in the business of selling a service, the quality of our labor. During the show, we want to build relationships with potential new customers as well as reestablish connections with current and former clients. So when it comes to designing our booth, we try to create a comfortable atmosphere.
"During the summer my business partner, Marc Mayo, and I discuss strategy. Our business has several departments, and some years we want to highlight one of them, while other years we give equal attention to all. We use a whiteboard to keep track of ideas because there is really quite a bit of behind the scenes work. For example, this summer our parts purchaser evaluated and proposed 10 to 15 display ideas. We'll cut and paste product photos and logos to create images for our displays and backdrops. Our office manager will contact our clients to offer complimentary show tickets, and she will order T-shirts, brochures, and other giveaways.
"Every five years or so we completely redesign the booth. This year, instead of renting a tent as we have in the past, we purchased a custom-made tent with our logo and other graphics on it. Since our booth is on a floating dock and usually isn't ready for move-in until Wednesday, we have just one day to set everything up. It can be a bit of a mad rush, as we bring in carpet, banners, tables, and our signature black leather couch, but it's all designed to create a professional atmosphere where we can begin conversations with clients and potential clients."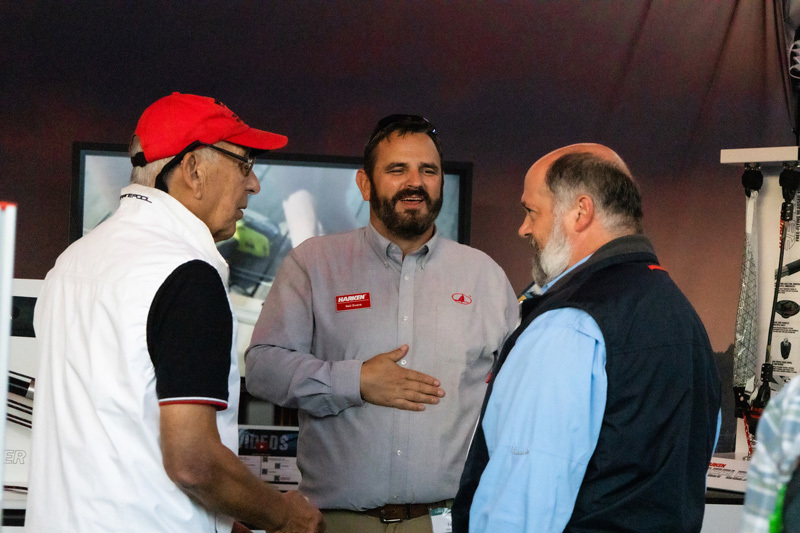 Positive attitude in the booth
Jonathan Bartlett, who is preparing for his 30th Annapolis show as a sales consultant with North Sails, explains how the company's booth has changed over the years. "We began with a 10x10 booth from which we gave out quotes while wearing coats and ties," he recalls. "Today in addition to giving quotes, we have a large tent with a big display of products and images, and with Internet access at the show, we can give instant quotes and pricing. Clothing is obviously more casual now, but we still plan ahead and work with our gear department to pick out nice-looking oxford shirts for the staff.
"Each July we have our first meeting to begin planning for the show. We use the same tent in the same location for consistency, but we add on and upgrade every year. On the Tuesday before the show opens, we start building our booth, which was created nearly 25 years ago by our own canvas people and keeps us dry no matter how hard it rains. Prior to the show we create big display boards of our product lines that highlight new products. We transport them to our booth and set them up along with displays of hardware, such as sail tracks and snuffers, canvas products, such as dodgers and biminis, and a few select sails. It takes two full days to move in.
"We do our best to put on a really professional show. It's important to have the right people in the booth and to be happy and engaged and have the same positive attitude right up to the end. Everyone from our Annapolis office is at the show including myself, Larry Leonard, and Will Keyworth. This year we are pleased and excited to have Scott Allan with us, and we're preparing to welcome his customers. We also coordinate schedules with staff from other parts of the company who will be at the show, including reps from our One-Design division, North Direct (our Internet division), upper management, and salespeople from New Jersey and Hampton, VA."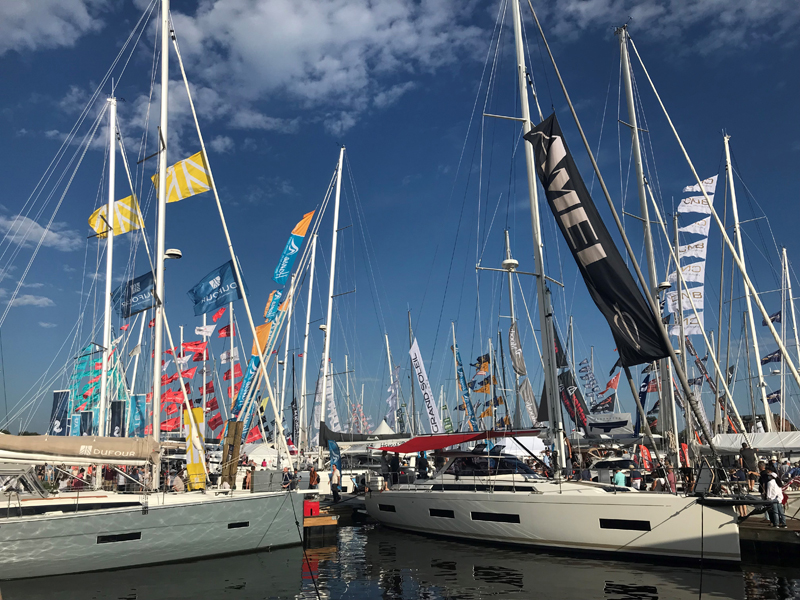 The importance of logistics and humor
"In February we begin working with our manufacturers to determine what models will be shown and place orders for the boats," says Annapolis Yacht Sales (AYS) sales coordinator Vera Sohovich, who has been with AYS and worked the show for 24 years. "In June we determine the displays and start planning the logistics of moving vessels from one site to another. This is also when we meet with the companies participating in the displays, order furniture, book caterers, and set budgets. Booking for media kits and advertising is done throughout the summer. In August, new boats are commissioned, staged, made ready, and custom interior packages are ordered. August is also the time we order floral arrangements and greenery, office items for the displays, and team apparel.
Sohovich continues, "Although a mini-office is set up at the show, clients still come to the main office, so a separate schedule is necessary for each location. We distribute to each person working the show a phone book of contact numbers which includes manufacturer reps, subcontractors, lenders, co-workers, fax numbers, hotel numbers, and taxicab numbers (parties are part of the program, and we are sailors, after all). To have the most product knowledge possible, our sales staff reviews all the models on their respective displays, and in addition we make quick reference cards that show the price and specs of each model. " "A week before the show opens, we purchase a truckload of water, beverages, snacks, chocolates, and coffee and ship it to the show for staff and customer use. A first aid kit is a must. Coolers, tables, and seating are also sent, and ice is shipped in daily. We order lunches to be delivered each day for about 30 staff. We try to think of every contingency because failure to prepare is preparing to fail, but sense of humor is a must to get through the show season," she concludes.
For a comprehensive guide to plan and execute a successful boat show presence, see our Boat Show Winning Strategy guide.