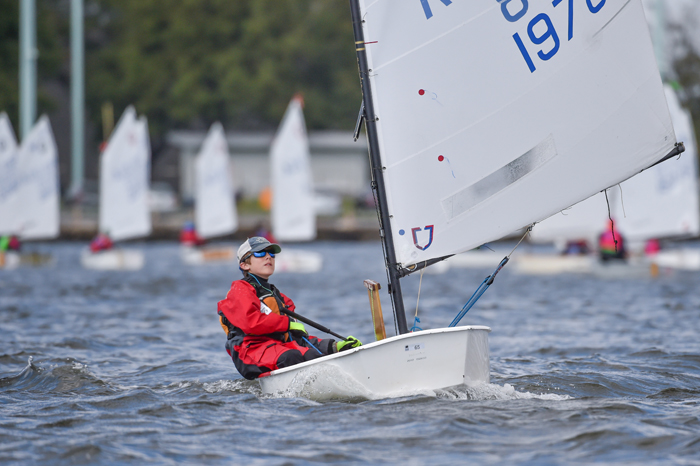 Dinghy
A dinghy is a small, lightweight sailboat with a retractable centerboard. Such boats tend to be easy to strap on the roof of the car, trailer, or haul up on the beach. Some popular models are: Opti, Topaz, Laser, and 420.
Daysailer
When sailors use the word "daysail," they mean they are not competing. Someone who sails like this is considered a "daysailor." Their boats are called "daysailers." Not all daysailers are dinghies (some have fixed keels), but most dinghies are great for daysailing. "Daysailer" usually refers to a boat of 14 to 20 feet in length.
Keelboat
Keelboats have a fixed keel (a lead-weighted fin attached to the bottom). The boats start at about 20 feet long and weigh enough that you need a crane or lift to get them into the water. They are sturdy and well suited to sailing through chop or heavy weather. They do not capsize except in extreme weather. A sampling of models: Harbor 20, J/22, J/70, J/80, Beneteau First 22, Sonar, and Colgate 26.
Racer/Cruiser
Racer/cruisers can be used for racing, cruising, or daysailing. They can range from 22 feet or longer. These boats have overnight accommodations (and a bathroom, which on boats we call the "head") and kitchens (called "galleys"). Examples include: Catalina 275, Hunter 31, J/105, Tartan, J/109, Beneteau First series, and Jeanneau SunFast.
Bluewater Cruiser
These sturdy boats are built for the rigors of sailing in the ocean for long periods. They tend to have heavy, deep keels and small companionways (doors to the cabin) to keep water out. They are shaped to cut through big waves and weather big storms. Examples include: Nor'Sea 27, Tayana 37, Island Packet, and Pacific Seacraft.
Ready to Start Sailing Now? Click here to learn more sailing basics!