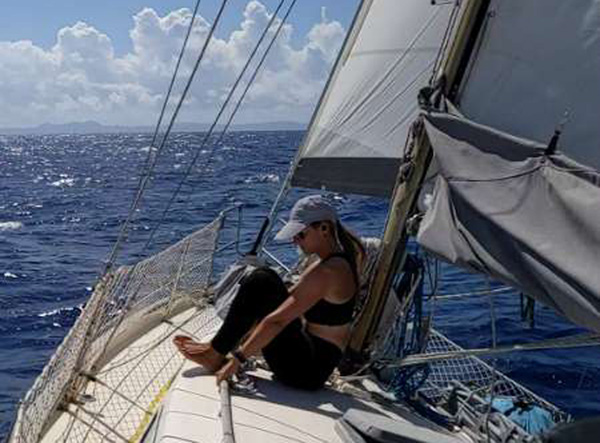 A sail to remember forever
Bound for Frederiksted, St. Croix, we departed Coral Harbor, St John, far enough east to have a broad reach, sailing with the winter northeast trade winds. It was a fantastic sail in 15-20 knots of wind, and the ocean swells helped us along. During the sail, we left the cockpit and sat on the coach roof by the mast. We rolled with the ocean groove as Ukiyo surfed along each wave. The hydrovane corrected our course each time a wave pushed the stern, allowing us to sit and enjoy the bright sun and warm winds. The 40 nautical miles steadily washed away mile by mile and hour by hour. It was one of those sails we will remember forever.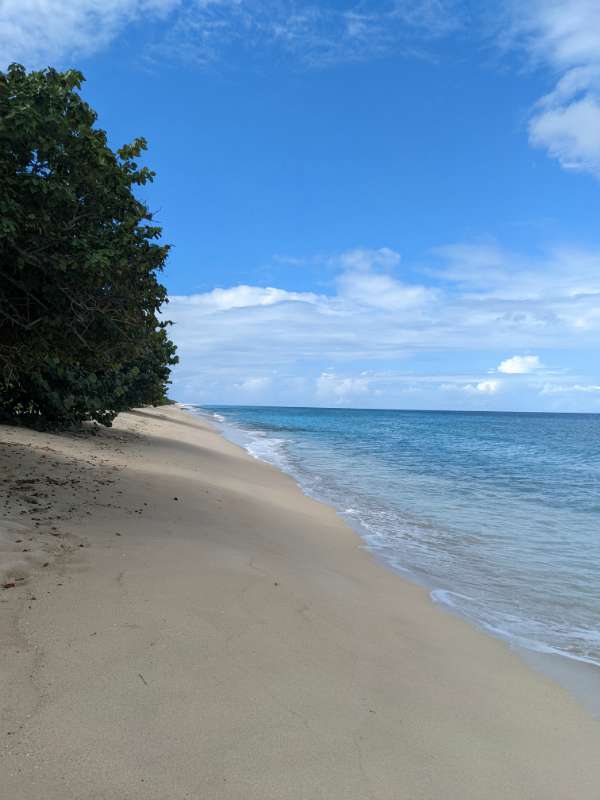 Non-stop diving and wildlife sightings
Since arriving in Frederiksted we have been scuba diving non-stop. Missy and I purchased a set of 11 rental tanks each from Nep2une, one of the four local dive shops. Nep2une is located close to the dinghy dock making it convenient to walk the tanks from the shop back to our dinghy. Each morning we planned our dive for the day, usually it's at the cruise ship pier, 100 yards from our boat. Sometimes we dinghy two nautical miles north up to the shallow wrecks, or one mile south down to the dive site called "aquarium." All of the dive sites are well-protected from the trade winds and swell. They also have mooring buoys which allow easy access to dive on our own, but nothing beats the cruise ship pier. It's a quarter-mile-long stretch of pilings covered in coral and sponges. During our first dive at the pier we saw green turtles, arrow crabs, spiny lobster, slipper lobster, octopus, eagle rays, sting rays, lionfish, and a school of 20 squid as we were shallowing up for our safety stop.
After finishing the dive, we went back to Ukiyo. I figured it was a good time to take my weight belt, fins, and snorkel and dive on the anchor and check if it was buried. Our anchor was set well, but we got lucky with our placement. There were a few large rocks just 30 feet to the south of our chain. While diving on the anchor, I happened to spot a lionfish hiding out at the rocks. Quickly I went back to the boat and grabbed my Hawaiian sling. I ended up spearing four lionfish which I cleaned, and the following night Missy made into fish tacos. What a delicious way to remove the invasive species.
On the following dives at the pier, we spotted seahorses, pipefish, scorpion fish, and giant moray eels, but one thing on our dive find checklist was missing: a frogfish. Frogfish are known to be difficult to spot with their nearly perfect camouflage. Missy made it an ultimatum that we could not leave St. Croix until we found one.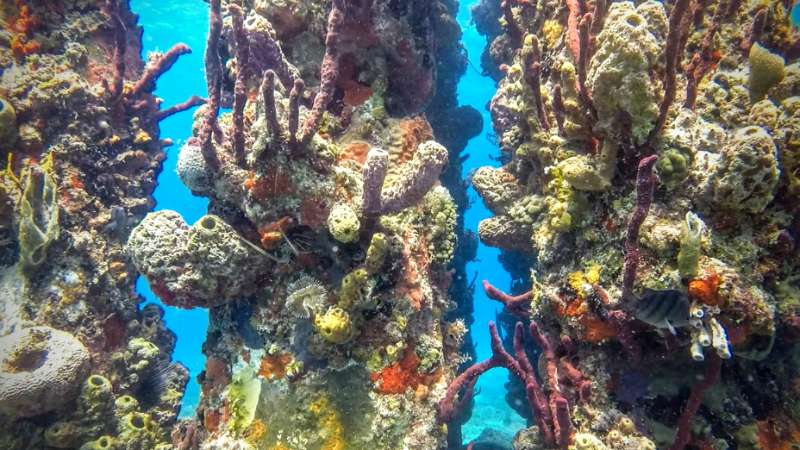 Why St. Croix?
St. Croix has become truly special to us. This has been the first place that the dream of diving from Ukiyo was achievable. We had space to bring all of our dive equipment except tanks. We figured we would be able to easily find places to rent tanks and go diving, but it's actually not the case. It's been rare to find a place where you can: 1.) walk to the scuba shop from the dinghy dock; 2.) rent tanks without a guide; and 3.) be within our budget.
We were also looking to go a little more off the beaten path away from the crowds of St. Thomas and St. John. When we arrived in St. Croix there were less than a dozen boats spread out with plenty of space to find our little plot of privacy. The town of Frederiksted is a small town with late Victorian architecture and is a far cry from the hustle and bustle of Charlotte Amalie or Red Hook. Every once in a while, a cruise ship shows up at the pier, the town comes alive from 10 a.m. until 5 p.m., and falls back asleep once the ship departs.
After three weeks of diving and exploring St. Croix, we saw an abnormal weather window approaching, one that would allow us to sail directly east-southeast to Guadeloupe on a single tack. As we began preparing for the two-day ocean passage, we had just enough time to squeeze in one last dive. We were given a tip from some friendly ex-cruisers who had just gone snorkeling earlier that day as to the potential whereabouts of a frogfish. They said to look at the second from the southernmost piling at the end of the pier about three feet down. They said it was bright yellow holding onto a sponge and about three to four inches long.
Missy and I swam the quarter mile out on the surface with all of our scuba gear on. After our search began, it only took about five minutes to find our little pot of gold. It had switched pilings and moved even closer to the surface. After 11 dives, all we had to do was snorkel on the surface to find that camouflaged-walking fish. With our mission accomplished, we descended for our best and last dive in St. Croix.
by Greg Thomasson
About the author: Greg and Missy departed Annapolis in November 2020 on their Hallberg Rassy Monsun named Ukiyo and are now cruising the Eastern Caribbean. Follow their adventures on Instragram @sv_Ukiyo