Boating Movies To Watch: 9 Good Ones!
Not every day on charter is sunny and packed with sailing adventure, and that's when a crew is really tested. If you're trapped inside a boat on a rainy day with a restless bunch of adults or bored kids, you may be tempted to jump in and swim to shore. Once you've played all the card games you know and have mistakenly loaded up the kids with sugary snacks, it may be time to resort to more passive entertainment in the form of movies. Here are nine that can inspire (or terrorize) your crew and will at least keep them from organizing a mutiny.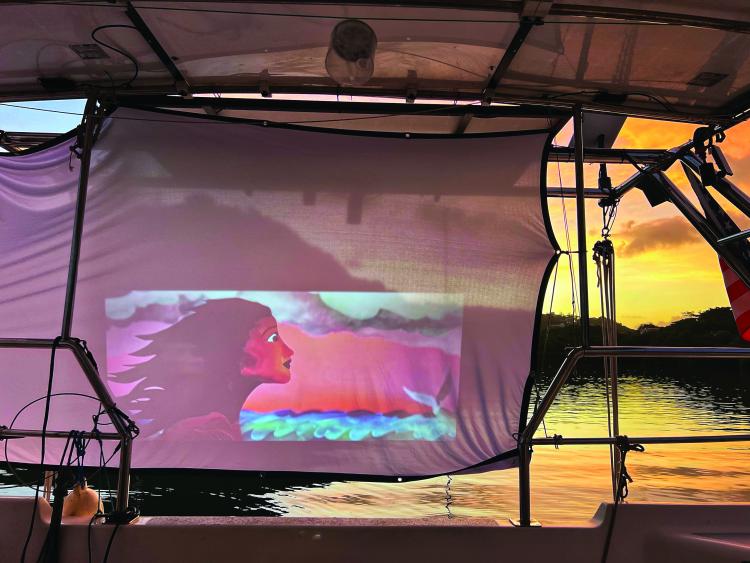 True stories or at least loosely based on real events
"Maiden"—This 2019 documentary has it all: competition, drama, victory, and heartbreak as it paints a picture of Tracy Edwards and her all-woman crew that campaigned their boat, Maiden, in the 1989 Whitbread Round the World Race. You can't beat this true story for sheer grit and an impressive history lesson. Not just a tough tale of perseverance, there's also lots of humor, and the flashbacks to the 1980s fashions and bad mustaches are priceless.
"Adrift"—Loosely based on a true story from 1983, "Adrift" is the tale of a young couple on a yacht delivery. They become dismasted when they sail into the path of a hurricane and the rest is a tale of the will to survive. Shailene Woodley dials in a solid performance, so you're all in with her plight right down to the surprise ending.
"Captain Phillips"—This award-winning portrayal of leadership stars Tom Hanks who plays the captain of the US-flagged container ship Maersk Alabama which was boarded and taken hostage by Somali pirates in 2009. Hanks does a superb job as he struggles to make the right decisions for his crew in what seems to be a hopeless situation.
"The Mercy"—This 2017 story is highly stylized, but it's based on the very real and totally disturbed Donald Crowhurst, a contender in the 1968 Golden Globe Race, the first singlehanded, non-stop circumnavigating competition. Colin Firth captures the misery of impending failure. The film puts the rigors of sailing in context as Crowhurst faces the open ocean and an uncertain future alone.
"White Squall"—Also highly fictionalized but with a whiff of a true story, this film is based on a real tragedy from the 1960s. Jeff Bridges is the salty captain in charge of a training vessel crewed by a bunch of wealthy and entitled newbie sailors. When disaster strikes, it's a thought-provoking if sad study of what it means to be the captain.
Not at all true but really fun
"Jaws"—Some may not see this movie as a comedy, but there's plenty of humor in this horror film that was Steven Spielberg's iconic directorial debut in 1975. It's guaranteed that much of the film's dialogue will stick with you well past the time the credits roll. If you're really inspired, seek out the two-hour movie about the making of this movie which is even more entertaining.
"Captain Ron"—If you haven't seen this film, you probably don't belong on a sailboat. Kurt Russell stars as a Caribbean captain on an unlikely delivery, and what's remarkable about this silly story is that it's fairly accurate from a sailing standpoint. Memorization of some of the more quotable lines is mandatory. The whole story is just a fun romp that you'll want to watch again and again.
"Wind"—A mixed cast of real America's Cup racers and actors including Mathew Modine and Jennifer Grey comes to life in this competitive drama that is a work of complete fiction. The plot is thin. The dialogue is silly. The acting will make you cringe, but the cinematography is unbeatable in this visually arresting film. It'll make you want to raise the sails even in the rain.
"Dead Calm"—For complete guilty pleasure silliness, "Dead Calm" with Nicole Kidman and Sam Neill hits the spot. Dish out the popcorn and settle into the cushions with this cruising couple as they get into trouble in a remote stretch of the South Pacific. Evil Billy Zane is a great, if sketchy, villain. Improbable scenarios, sailing inaccuracies, and Kidman's bizarre perm will provide a few laughs.
Movies are a welcome treat whether you hit a weather snag, need an evening of peace, or have to entertain people while you engage in a long day of boat preparations. Download a few to your tablet before your next adventure. Who knows? Maybe your crew will learn something or feel inspired, but if that's your goal, you may want to skip the more frightening choices on this list.
~By Zuzana Prochazka
Find more charter stories here.