Posted September 25, 2023
Sailing to Bequia in the Grenadines
We trundled along in Sally's taxi, grabbing for the seatbacks as she lurched from one hairpin turn to the next on the very hilly island of Bequia. "I have to get new brakes every three months," she shouted from the front seat. As I phantom braked in the back, I believed her.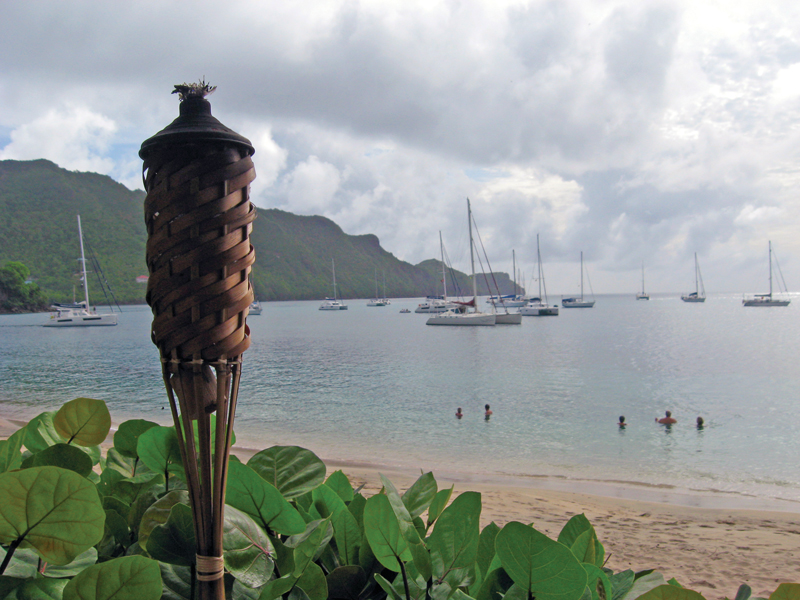 We had sailed to Bequia in the Grenadines, a chain of islands in the Windward Isles that group together as one country under St. Vincent. Our first order of business was to learn the pronunciation of the island's name—it's Bek-way, not Bek-wia, so we corrected ourselves and shed at least a tiny part of our tourist identity by getting it right.
Bequia's expansive Admiralty Bay off the main town of Port Elizabeth provides sheltered anchoring and lots of mooring balls. As we pulled in, we were introduced to the "boat boy" culture where men (and women) come out in their small boats to assist cruisers. They're essential entrepreneurs who will help tie you up to a mooring, haul away trash, and take orders for fresh baked goodies that are rowed out to your boat the next morning.
Tied up at the dinghy dock...
We tied up the dinghy at the dock and strolled the waterfront street, one of just a handful in this small town. The shopping was plentiful and colorful, literally. Bright T-shirts flapped in the breeze outside tiny gift and produce shops, and street vendors offered everything from fruit and locally made jewelry to carved coconut boats.
We visited Lawson Sargeant's maritime museum where model replicas of old whaling ships are built to be historically accurate. We ducked into Mauvin's Boat Shop where they'll pack one of their painstakingly crafted tiny models and send them home for you. I got lost for a while examining the details of these miniature works of art and wished I had a healthier bank account to afford one.
Farther down the main street, we found the Belmont Walkway, a stone path that's lined with cafes and bars such as the Whaleboner Bar, which has a bar, stools, and entrance made of whale vertebrae. We stopped for pizza at Mac's and ice cream at the Gingerbread Hotel.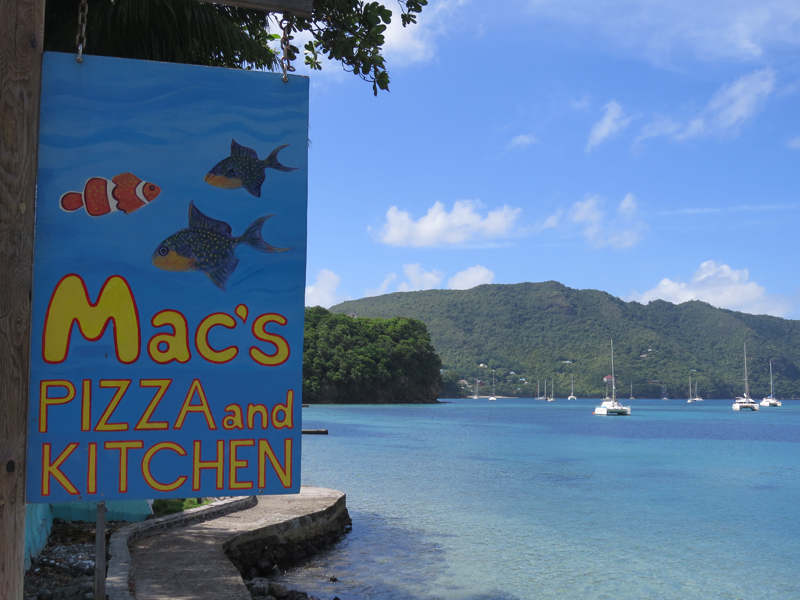 Fully fortified with way too many calories, we found a taxi to explore the windward side. It's surprising how much there is to do on an island of only seven square miles. Sally first took us to the Hegg Turtle Sanctuary to meet Orton "Brother" King who spent 20 years on Bequia tending Hawksbill turtles. He reared hatchlings at his farm until they could survive on their own at the age of three which is pretty early in a life that can span well over 100 years. I learned that a turtle can feel a good back scratching through its shell and happily splashes about for as long as you care to do the scratching.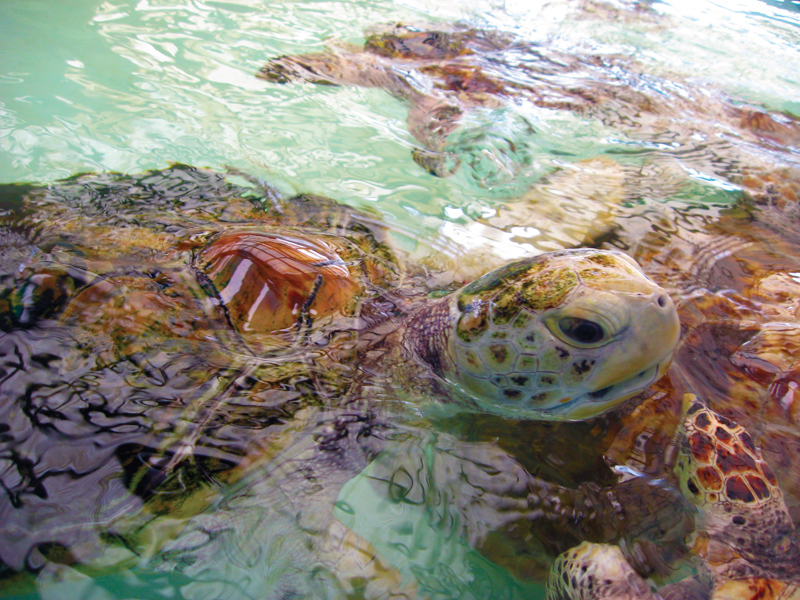 Warm water, good snorkling, good bars.
Excellent beaches on both the leeward and windward sides provided us with plenty of stops to enjoy warm water, good snorkeling, and lots of tiny bars with tropical cocktails. We decided to do some hiking, which may not have been the best order in which to do things because like the driving, the hiking isn't easy here. Both Mount Pleasant and Peggy's Rock (which overlooks the bay) will give anyone a workout they won't soon forget.
Sally wrapped up our day by taking us to Jack's on Princess Margaret Beach which is complete with tiki torches and a stage for a steel drum band. She let us know that a water taxi could take us directly back to our boat from there. Although she was a wonderful (and informative) character with whom to spend the day, I was relieved that we'd not be driving back over the hills in the dark. At least in a dinghy, I wouldn't be tempted to apply the brakes.
by Zuzana Prochazka