A sailing trip to the magical island of Mallorca
Màrmol is the Spanish word for marble and cala means cove. Put them together and you have Cala Màrmols or Marble Cove, our first destination on a recent sailing trip on the Spanish island of Mallorca. If the name alone is not reason enough to pack your bags and head to this magical island off the Mediterranean coast of Barcelona, Spain, I don't know what is.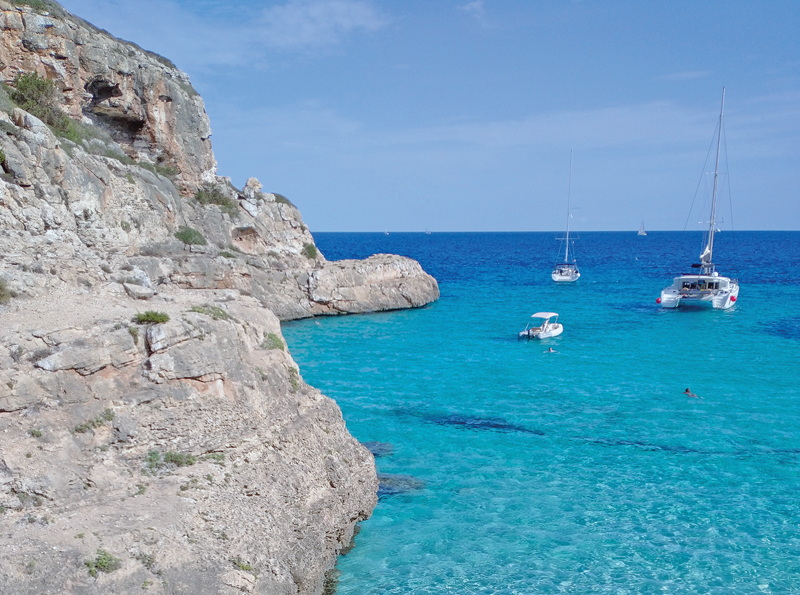 Cala Màrmols lives up to its name. Surrounded by 60-foot-high marble cliffs that cradle a pristine bay of powdery white sand and water so ethereally blue that words cannot describe it.
My family and I (my one-year-old daughter Sarah was also onboard) were joined by good friend and Chesapeake Bay seasoned sailor Ian Craig. While Sarah and Michaela built sandcastles on the beach, Ian and I explored the extensive trail network behind it. Our hike took us through scented juniper, mastic bushes, and Aleppo pines and provided majestic views of the historic Mediterranean and Cabrera Island, also on our list of destinations.
Most sailing trips in Mallorca start in Palma, as did ours. The ancient, south-facing port city has an amazing medieval quarter with narrow streets that wander through ornate, ancient fountains, colorful outdoor restaurants, and historic architecture—the most famous and prominent being the Cathedral of Santa Maria of Palma, which dates to the 13th century and overlooks Palma's expansive bay.
We charted with Navigare Yachting, within walking distance from the heart of Palma. They delivered a beautiful and brand new 2022 Beneteau Oceanis 46.1 and provided seamless services, which even included some well-received welcome gifts, including a nicely prepared snack plate with local specialties, some cold beer, and sparkling wine.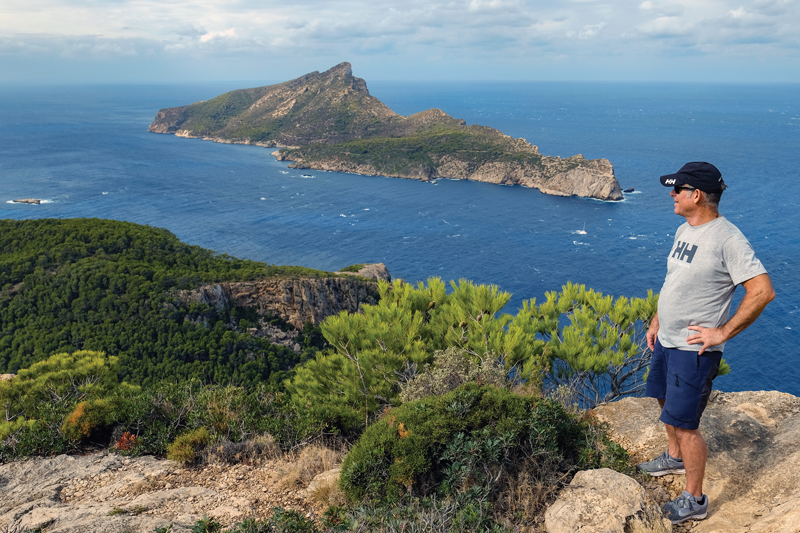 Cabrera Archipelago National Park
After exploring a number of other spectacular calas on Mallorca's southern coast, we headed out to Mallorca's famed Cabrera Archipelago, which lies due south about 12 nautical miles from Màrmols. This national park includes 19 islands and islets. The anchorage lies in a well-protected bay on the north side of the main island (directly across from the mainland), which provides safe haven in all wind directions. This is especially important in these waters, since winds can shift significantly. One must reserve a mooring ball and obtain the necessary park permits, but the website is easy to navigate.
After a few hours sailing close-hauled, we were eager to step ashore and stretch our legs. We were welcomed by some very knowledgeable park rangers who provided maps and information about the islands, as well as guided tours by kayak and foot.
Following the rangers' advice, we hiked around the eastern shore of the protected harbor and found several nice beaches. After picking a beautiful, flat, sandy spot (my daughter making the call by pointing and saying "dis da"—her only two words at that time), we unpacked a picnic lunch and did some snorkeling.
Our goal was to try to spot one of the elusive loggerhead turtles that call this eco heaven their home. Sadly, we had no luck. However, gliding with snorkel and fins through the abundant, lush, flowing, green sea grass offered a relaxing break from the often intense Mallorca sun.
After our refreshing swim, we climbed the small hill that leads to Fort Cabrera, a 16th-century stone structure that sits on one of the highest points of the island. From here we had a remarkable view of Cabrera and the mainland while enjoying the last warm sun rays of the day.
In addition to the Fort, another of the main attractions on Cabrera is the Cova Blava (Blue Cave), where the late afternoon sun combined with the incredibly clear Cabrera waters create an otherworldly blue light show. It requires a rather long dinghy ride into relatively open waters, so check the weather and sea status, as this could be a rough ride if seas are up, and disastrous if a storm blows in. We arrived late in the day, the best time to see the cave; the sun fully illuminated the cerulean waters and surrounded us in a near cosmic blue.
Exploring the coastline
After Cabrera, we headed west to explore some of the coastline between Palma and Sant Elm, which is on the southwest coast of Mallorca. As on the south-central coast, there are many beautiful calas, beaches, and bays here. We also saw much more development in this part of the coast, which was not surprising given its close proximity to the capital.
One cala we especially liked was on the west side of Punta Negra, just six nautical miles west of Palma. This makes a convenient and lovely first night's anchorage if you're running late after provisioning and doing all those unexpected things one has to do before setting sail on the first day out. The sandy bottom in this particular cala had great holding, and the anchorage was not too crowded.
Farther west along the southern coast as you round the westernmost tip of Mallorca, just opposite the famed "dragon-shaped" island of Dragonera, lies one of our favorite places we visited: Sant Elm. We enjoyed this little seaside village so much, we decided to spend some time there post-sail and rented a small villa just off the beach called Universal Aquamarin Beach Houses. There was plenty of room for baby and crew and a very nice semi-private pool.
This quaint village had a number of beautiful beaches to explore, as well as herds of feral goats that roam the village and beach from time to time. One of its most famous attractions is a rigorous and fantastic hike in the Serra de Tramuntana mountain range, which led to the ruins of La Trapa Monastery. If you're looking for some relaxing, post-sail chill time, Sant Elm should be on the top of your list.
by Eric Vohr and Michaela Urban
Learn More
Navigare Yachting in Palma de Mallorca
Cabrera Island (reserve a mooring ball and get a park permit before visiting)