Ice, Rum, Beaches -- Sailors Return to the Caribbean: What a difference four months make. Last September, the world watched in horror as some of the most beautiful chartering grounds were demolished by two hurricanes. The damage was devastating, but troubled times opened doors for miracles, and helping hands came from all over to aid in the recovery and rebuilding.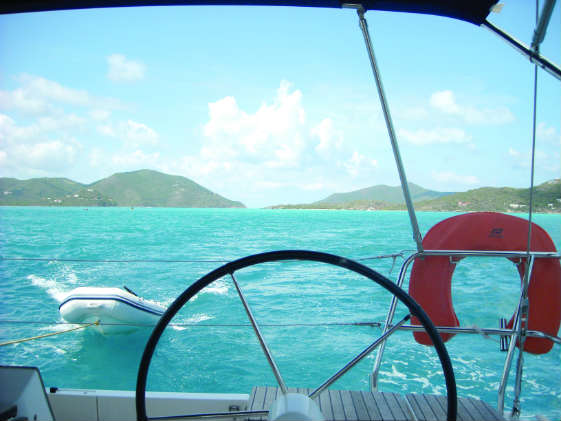 The marine industry led much of the effort. Boat builders, marine equipment manufacturers, charter companies, boating publications, and the Annapolis Boat Shows all did their part to spread the word, assist in fundraising, and generally figuring out how to help because we're all interdependent in this. And it's nice to see the change take shape.
"The BVIs are now a bit like they were 20 years ago," says Josie Tucci, vice president of sales and marketing for Sunsail and Moorings. "Instead of full bars, it may be a guy on the beach with a cooler and a barbeque, but the spirit of the place is still there. It's a bit more rustic and in some ways even more fun."
As early as October, the two companies were planning to have 180 boats available for charter by Christmas. "Having 130 boats for December 9 (opening day) was a big order," agreed Leslie Montenegro, head of marketing for Sunsail. "But we have resources to draw on." Pulling in boats from the Mediterranean, Belize, and the Abacos couldn't have been a small feat, especially as Sunsail just announced a new base in Italy, and the Moorings is now operating in the Exumas, Bahamas.
"Our two biggest focal points were clean-up and employee assistance," adds Tucci. "Cleaning up has a psychological effect and provides a sense of normalcy. We also started an employee relief fund to help our people and their families." We knew the best way to do that was to get charters going, and sure enough, within weeks we had people emailing us saying 'when are you opening, we're coming.'"
Everybody reached out to help. MarineMax even provided a 484 powercat as a base for a medical supply team that delivered services to local clinics. Lots of captains and others flew down to volunteer as soon as they could get in.
Moorings initially put the damage at a third of their fleet. Overall estimates say that 400 boats were lost in the BVI. In St. Martin, the number was put at 150 boats destroyed and also the entire Sunsail marina, so recovery there will be slower in coming.
Andrew Thompson of Horizon Yacht Charters says he's been through eight hurricanes, but Irma was something completely different. "We have hurricane prep down pat," he says. "But when you have a 12-foot surge coming in on boats tied to six-foot pilings, well, you know how that will end."
Many boats at Horizon's base in Nanny Cay were demolished, so booked charters were shuffled to their other locations in Antigua and Grenada. Equipment such as masts, generators, and stainless for pulpits arrived in December. Now Horizon is once again in operation. "Part of the problem was labor but the government waived work permits to get things started," added Thompson. "In the end, I think it'll make for a better BVI—people will be more accommodating and less complacent in order to woo the tourism back."
Yann Masselot, deputy general manager at Lagoon Catamarans, was cautiously optimistic as surveyors debated the size of the disaster—how many boats were repairable and how many were a total loss? "Growth in the demand for multihulls has been exceptional lately, and we were already at capacity before this happened," he says. "Now we're going to convert one Beneteau monohull factory to Lagoon catamarans to try to catch up, but it will still take two to three years," he says. "The good news is that we have techs who can help evaluate the situation and a large capacity in the production of spare parts."
Jo-Ann Downing, owner at Voyage Charters in Soper's Hole, estimated that they lost 75 percent of their fleet, but they expect to receive 12 new boats next year including an electric/hybrid. "We offer boats unlike any other in charter," she says. "This will refresh the fleet and bring us to the next level."
Reports have varied, but all parties have sounded a clear message: Come down, support the locals, help rebuild the economy and the industry. "It's the fastest way to get everything back," says Scott Farquharson, president of Proteus Yacht Charters, a broker that helps facilitate charter vacations. "If you're worried about what you'll get, use a broker like us. We have the inside track on what's really happening, and we offer service, support, and troubleshooting in case things aren't as expected."
Barney Crook of TMM Yacht Charters that opened for business again on December 7 put it succinctly: "The occasional charterer may be hesitant to return, but the true sailors will be back and quickly." Indeed, the islands still have ice, rum, beaches, and waves—and boats, lots of new boats. So, are you a true sailor?
~by Zuzana Prochazka
dreamyachtcharter.com
horizonyachtcharters.com
moorings.com
proteusyachtcharters.com
sailtmm.com
sunsail.com
voyagecharters.com