Sailboat chartering on the Chesapeake Bay can make for a memorable summer vacation, a relaxing weekend getaway, or a one-day escape from the daily grind. From bustling slips in urban settings, to family-run marinas in charming towns, to secluded coves with quiet anchorage basins, regional companies offer a multitude of ways to enjoy the Bay.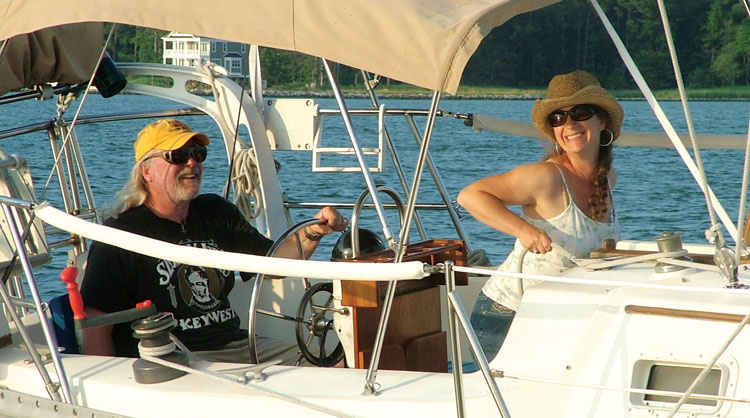 For those who don't own the ideal cruising vessel, chartering is a hassle-free, cost-efficient way to get a great experience on a boat that might be a little bigger and more comfortable than you could otherwise afford. Working with a reputable charter company not only gives you access to a boat that's expertly maintained and in great condition, but you'll also have the support of the company's staff during your entire trip. They will be a reliable resource and should share their knowledge of the boats, and the local waters, marinas, and towns.
How to make it happen
So what's the best way to go about selecting a charter company? First, think about logistics. What's your most important destination and how many days can you dedicate to this trip? If you're itching to explore the Southern Bay and Cape Charles but you only have a few days, don't shove off from Havre de Grace. Likewise, if your itinerary is to cruise to the Sassafras River to see the lotus blooms in July, a good starting spot might be Rock Hall. No matter what you plan, remember to keep things flexible to account for weather.
Once you've determined the geographic region you want to explore, ask trusted boating friends for company recommendations and referrals. Personnel at sailing clubs, yacht clubs, and marinas may have recommendations based on past interactions with charter companies and their patrons. In addition to soliciting referrals, do some internet research. Carolyn Norton Schmalenberger of Norton Yachts in Deltaville, VA, (which offers chartering and instruction as well as sales, says, "After researching the charter company online, call the office to talk and ask questions. The charter business with excellent customer service will be delighted to answer your questions and understand your expectations. You can expect this same customer service during your sailing vacation."
Once you've narrowed the search to one or two charter companies, review their boat types, layouts, and availability. Do you want a monohull or catamaran? Will you need add-ons, such as a grill, kayak, or tender? What other options does the company provide? Many allow clients to sleep on the boat the night before check-out. Some companies have provisioning services. Discuss details and pricing by phone or online; then get them in writing.
If you're bareboat chartering, be prepared to submit a sailing resume and references or provide certification details. If you are unsure of your sailing abilities, or simply want the knowledge of a local skipper, you may hire a professional captain, who will stay with you for the whole trip, or just for the first day or two, until you feel comfortable on your own. Daily rates for captains run about $250, not including a gratuity, which is customary.

On the morning of departure
We know you'll be anxious to slip off the lines, but take your time to during the captain's briefing and check-out. Schmalenberger says, "Review the boat systems manual and take notes of anything you'd like clarification on. Don't be shy about asking questions during the captain's briefing. Every boat is different with varying systems."
Erin Houpt of Annapolis's Dream Yacht Charter explains their check-out procedure saying, "We go through the entire boat, including all the systems, and actually test everything with the client, so they know, and we know that everything was working before leaving the dock. Pay attention during the briefing, because understanding the boat and its systems is a huge step to having a great vacation. This is also a good time for guests to ask any final questions about their itinerary."

So many destinations, so little time
Houpt says, "When it comes to destinations, St. Michaels is a favorite of our clients, but Baltimore and Rock Hall are also popular. Going south, Solomons is great and has really been picking up their game recently. A couple of new restaurants have opened, and they just put in a sidewalk that goes all along the waterfront area. In the busy summer months, make marina slip reservations ahead of time, and if you're anchoring out, have some sort of planned itinerary, with a couple 'Option Bs' in case you run into weather or the anchorage is just too busy."
"Chartering in the lower Chesapeake Bay offers a multitude of both quiet and mildly active harbors in which to anchor," says Schmalenberger. "Fishing Bay off the Piankatank River on the southern shore of Deltaville is scenic, serene, and only mildly active.The anchorage is very clean, deep, and protected. During the warmer months, you can usually find a decent breeze. At anchor in Fishing Bay you may enjoy watching children sailing Optis, and there are beautiful homes on the easternmost shore located on private Stove Point. If you dinghy to shore at Fishing Bay Harbor Marina, you may catch the courtesy bus and go into the Village of Deltaville."
Whether it's a tried-and-true cruising area such as the Wye and Miles Rivers, a slip in an urban marina, or little-known destination, chartering may be your ticket to expanding your sailing experiences this year. Reach out to your friends and family, sync your calendars, and find some time this season when everyone can explore the Bay together.
Maybe a traditional three- or seven-day charter isn't right for you. Other options are out there:
The Schooner Woodwind, which sails out of Annapolis, offers daily public, two-hour cruises and a host of specialty cruises.
Blue Crab Charters in Rock Hall, MD, offers tailored, captained sailing trips, for a half day, full day, sunset sail, or up to three days. "Sail and Stay" voyages allow private overnights at anchor. Blue Crab also offers a multi-day "Crab Crawl" of the best crab houses in mid-Bay area.
Sail Selina II out of St. Michaels offers moonlight cruises, half- and full-day excursions, and specialty cruises aboard a beautifully-restored , wide-beamed, 1926 gaf-rigged vessel, captained by the granddaughter of the boat's original owner.
South River Boat Rentals offers sail and powerboat charters with or without a captain for half days, full days, or up to a week.
Lady Sara Charter Services offers half and full day cruises to Rock Hall or Annapolis, sailing out of the Magothy River on a 37-foot sailboat.
Day Charter Someday, a beautifully-restored Hinckley Bermuda 40 sloop, offers sails in the mid-Bay area.See Thomas Point Lighthouse, the Annapolis harbor, Ego Alley, and the Naval Academy waterfront. Gourmet lunch and beverages provided. (703) 946-2751.
Questions to ask a charter company:
What is included, and what should I bring? Linens, dishes, trash bags, dinghy?
What qualifications are need to bareboat charter?
What are your clients' favorite destinations?
What support will you provide if I have an issue during the charter?
Before booking a sailboat charter, consider:
Size of boat
Number of crew
Previous sailing experience of captain and crew
Number of beds
Number of heads
Budget
Number of Days
Length of time to sail from one port to another
Provisioning
Anchor or a slip at night?
Do I need a tender?
Is there a blender aboard? (seriously)