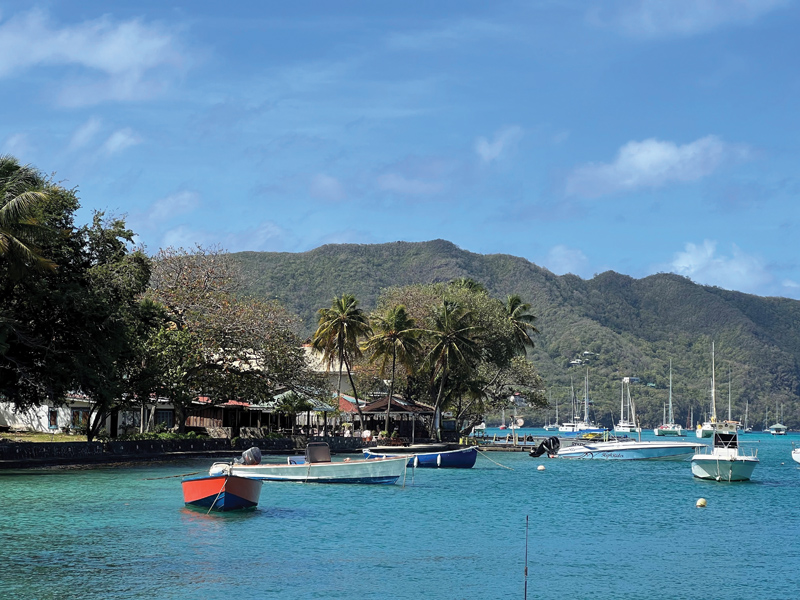 Heading south for a sailing charter with family and friends
In mid-March, SpinSheet advertising sales rep Lily Doerfler departed with family and friends from Rodney Bay Marina in St. Lucia on a restored Oyster 825 called Champagne Hippy for a week-long sailing vacation through Nicholson Yacht Charter. Her mom, Judy, and friend, Jenn, responded to a few questions about their adventure:
How did you choose this particular charter boat and location?
Judy: We loved the story of Champagne Hippy being resurrected and restored (after having sunk) and wanted to sail on an Oyster for the charter to the Grenadines.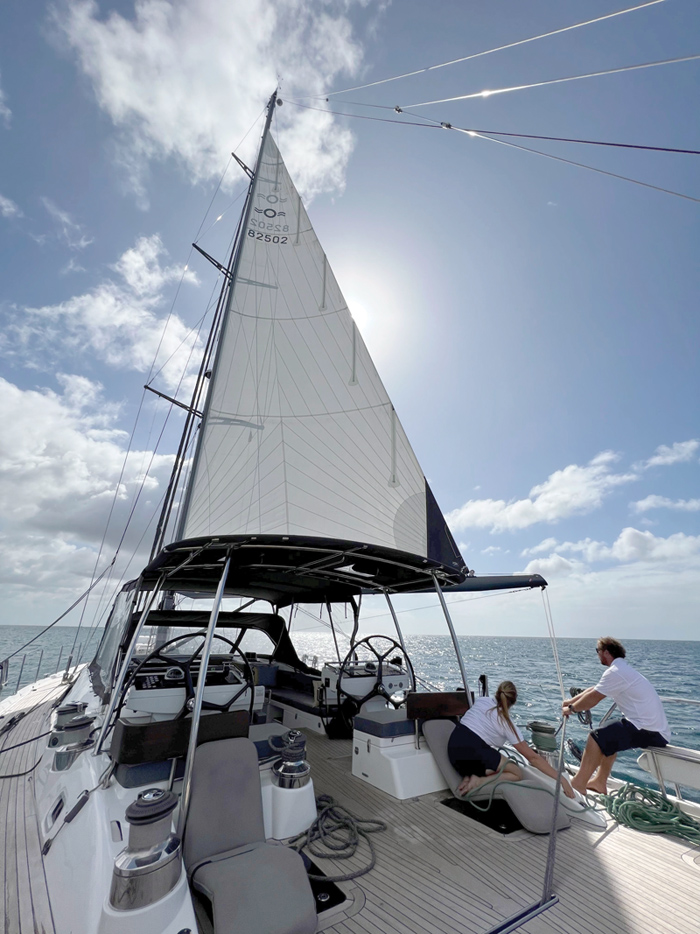 Did your charter include a captain, cook, or other crew?
Judy: Our charter included a captain, chef, and stewardess. The captain and chef are a couple who have been sailing together for six years and who got engaged the week before our charter! Their local knowledge and expertise allowed us all to completely relax and live in the moment.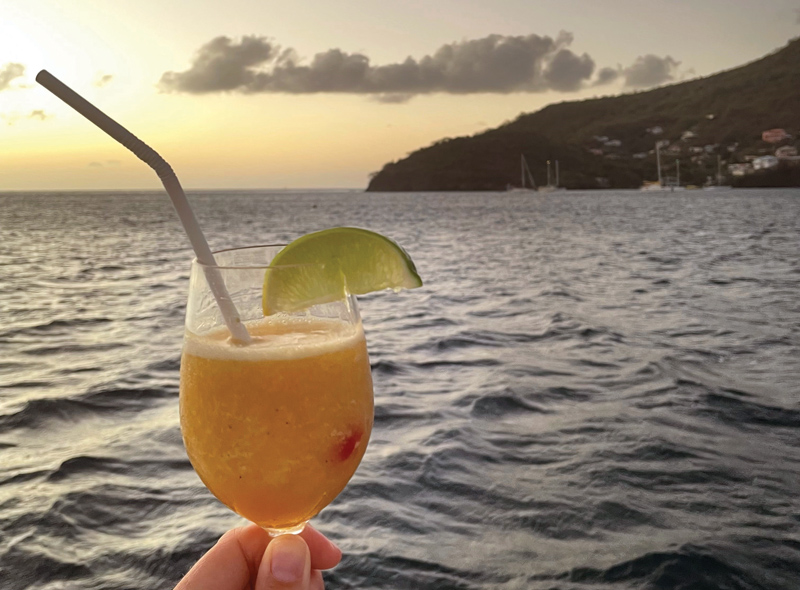 Who was onboard?
Judy: It was our family of four (Mom, Dad, and 27- and 25-year-old daughters) and another couple from the Baltimore area with whom we have chartered/travelled with before; so we knew we were boat-compatible!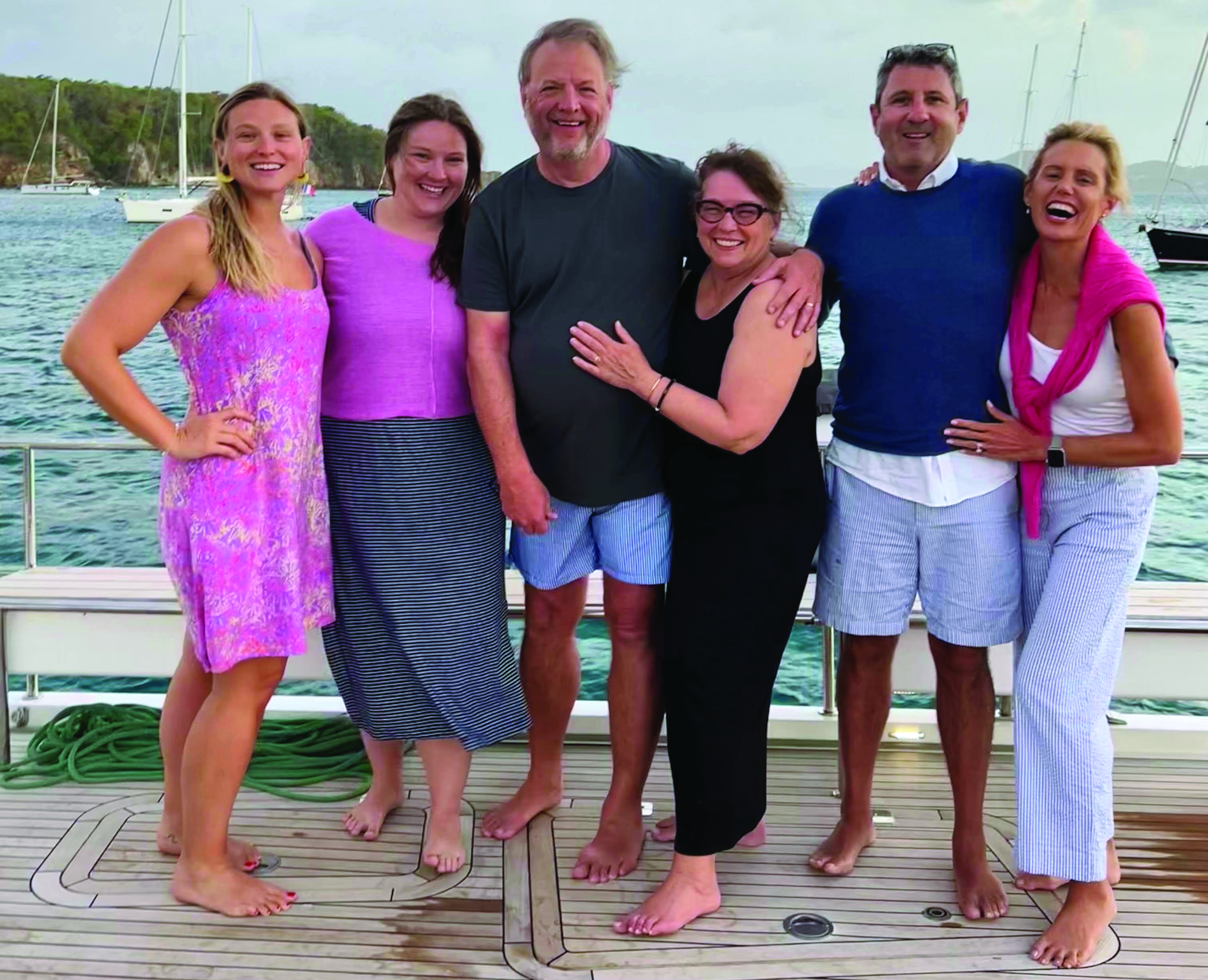 Favorite anchorages
Judy: Two nights at anchor in Tobago Cay was a surreal experience; truly paradise on earth. The beach lobster and fish barbecue ashore one evening was a magical and memorable experience. There were 200 people on the beach from all the boats in the harbor and from all over the world enjoying a beautiful and bountiful meal together. Also, the final night between the Pitons was a fitting ending to our adventure.
We heard that some of the sailing was pretty exciting!
Judy: I am the non-sailor in the group and found the passages between Bequia and St. Lucia exhilarating and at times, slightly scary. We had 25-knot winds and 10-foot seas. Champagne Hippy handled them like a dream. My Relief Band bracelet kept me from getting seasick, so I could enjoy the sail. This was a huge factor in being able to enjoy every aspect of the trip.
Jenn: The sailing was fantastic, and the boat handled perfectly. What a joy to sail her!
Tell us about your diving excursions.
Judy: Members from the boat participated in a two-tank dive for PADI certified divers, and others did a separate resort certification in Tobago Cay. Dive master Glen Roy, a lovely native Bequaian now living on Union Island, explained that the health of the reef had improved significantly over the past few years: plenty of lionfish, lobster, and small marine life. We didn't see any turtles underwater, but there were plenty to be seen from the surface!
Three highlights on sea or land?
Judy: Two nights at Tobago Cay and beach picnic, seeing the dolphins off the bow on the crossing from Mayreaux to Bequia, and the final night between the Pitons.
Jenn: Lunch and swimming in the stunning Cumberland Bay, beautiful sunsets with dear friends enjoying fun sundowners, and hiking at Pigeon Point.
Did anything surprise you about the trip?
Judy: How the boat handled was a total surprise to me being the least experienced sailor and that the captain basically did it all from the helm.
Jenn: Winds at a constant 30 knots with lots of gust! And the topography: because the islands are volcanic, the water is very deep, often right up to the coastline, and the mountains are very tall. The landscape is more lush than other Caribbean islands. It also meant that the towns on the islands were more isolated from one another.
Judy: I don't think I would have changed a thing. It was a bucket list trip and a total adventure!
Find more great articles aboat sailboat chartering at spinsheet.com/chartering.