Posted September 18, 2019
Sources of Weather Information You Can Tap Into
Everyone expects to have nice weather on vacation but when spending a week on a bareboat charter, you'll need to know more than just temperature and sunshine. On a charter, weather information is important and sometimes critical, such as when you need to make a crossing or plan a sail versus a long motoring slog. Wind direction and speed, as well as potential squalls, can make or ruin a vacation and if you can find sea state (size and period of swells and wind chop), that's even better. There are several good sources of weather information you can tap into while on charter whether you're near home or in a foreign country.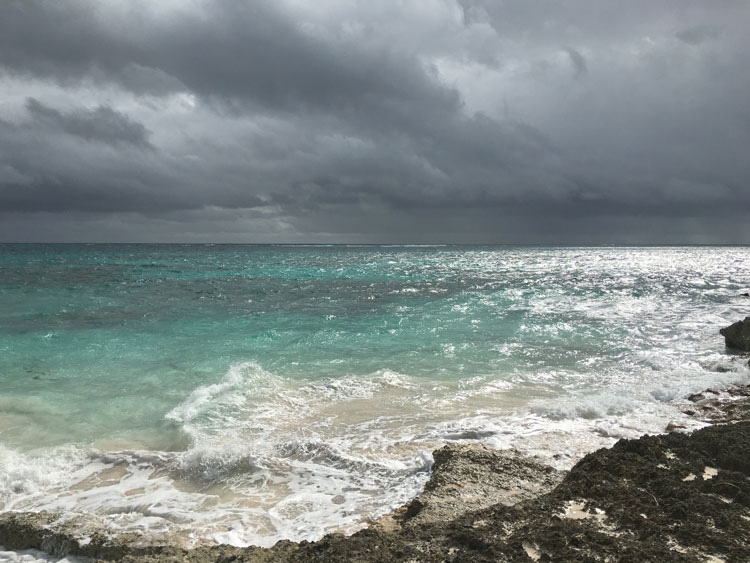 1. Charter Base.
The best place to get the week's weather is the base from which you are chartering. Most companies will give you a printout of a forecast and will cover any questions in your chart briefing. Ask about local weather phenomena, seasonal effects, and prevailing winds and currents.
If your cruise is longer than a week, try calling the charter base back when the forecast runs out. Most companies will be happy to read you the latest over the phone. In areas with fluctuating weather, you may want to check with the base every three days or just before you plan a crossing. Going from Bora Bora to Raiatea in French Polynesia can be either a lovely sail or a harrowing bash into wind and waves, so be prepared.
2. VHF Radio.
Before departing the base, ask the charter manager for channels on which you can catch weather updates via your VHF radio. Ask about times as well since weather updates may not be broadcast on a continuous basis. This approach works better if you're chartering in the US or if you're conversant in the local language like French in Tahiti or Spanish in Mexico.
3. Online.
If you have a data plan on your phone or can catch WiFi at various hotels or restaurants, bring a couple of different weather links to check. There are standard sites such as WeatherUnderground that provide weather worldwide. Others such as PassageWeather also provide sea state information. Ask the base which website they use, because it will be the most detailed and accurate for the charter area. Many of these sites are generic and will not describe local weather issues such as a Meltemi in Greece that can keep you stuck in a harbor for multiple days as winds kick up to 40 knots, so it's still best to ask a local for more information.
4. Cruiser Nets.
In Mexico and parts of the Caribbean, there are local nets that are run daily by cruisers on a VHF channel at a specified time such as channel 68 at 8:30 a.m. On those broadcasts, weather will be covered along with the day's events including cruiser meetings and news. Be considerate and just listen until the person who is running the net asks for feedback or questions. This is the morning coconut telegraph for most of the expat sailors, so it's a great source of information well beyond weather.
5. Other Bases.
In a pinch, you may be able to get information from a competing charter company. The staff of various local outfits understands charter needs, and they'll likely share information with you. In Tahiti, there are no fewer than four different major charter companies, and they know their boats mingle out in the islands, so they tend to be helpful to one and all.
6. Restaurants.
Some restaurants that cater to charter boat traffic may be able to help. More than once I've gotten a weather update at Bloody Mary's on Bora Bora. Usually asking nicely and maybe buying a drink at the bar will get you a printout.
On a land vacation, bad weather may keep you away from the pool for an afternoon, but at sea it's significantly more important to know what's coming, from which direction, and when. Weather can determine when to go on a hike versus when to duck into a restaurant for lunch, but it's also a matter of general safety for the vessel and all those aboard.
Article By Zuzana Prochazka