Log Canoe skipper Jon Clarke continues a family tradition that dates back to 1924.
Twenty-three-year-old sailor Jon Clarke was born to take the helm of his family's 123-year-old log canoe, Magic.
"I didn't really have any options," he says with a smile. "You might call skippering the Magic part of my family's heritage."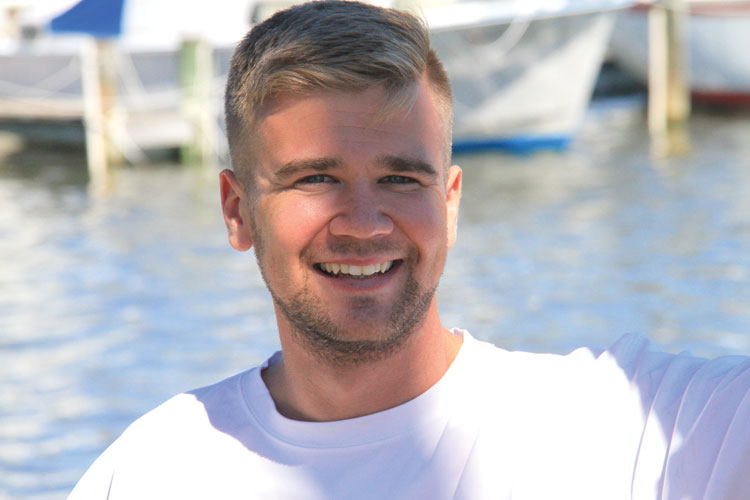 His is one of the "first families" of Chesapeake Bay log canoe racing. Ever since Jon's great grandfather George H. Wilson, Sr. purchased Magic for $100 in 1923, there's been a member of the family at the helm. That earns Magic the distinction of being the log canoe with the oldest ties to one family in the fleet. Jon sailed his first race as Magic's skipper when he was 16. He first crewed on the boat when he was just into his teens.
Presently there are fewer than two dozen log canoes racing around the Bay. Originally, the boats were simple work boats, constructed of three or five logs fitted together to form the keel and sole of the boat. The story goes that 19th century skippers would race their boats back to shore, loaded with oysters, to reach the dock first and receive the highest price for their catch.
Most of today's log canoes are 75 to 100 years old. The log canoes are distinctive in their narrow beams, schooner rigs, and over-canvassed sail area. Magic, for example, carries 1200 square feet of sail, an inordinate amount of sail for a boat her size.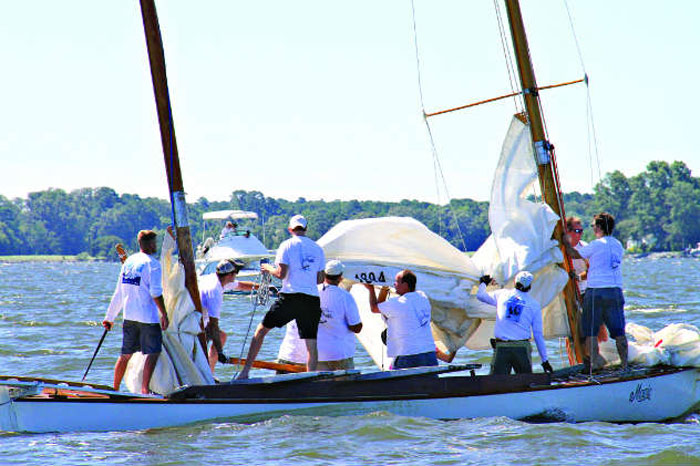 It's no easy task getting a boat like Magic around the course. "By all rights, these boats have no business sailing like they do," says Jon, who has just completed his Bachelor of Science degree in yacht and powerboat design from the United Kingdom's Southampton Solent University. "They're skittish to drive… hard to turn… and are completely at the mercy of the elements."
Clarke turns to look at Magic, snugged up to the dock. "The whole thing defies logic. Maybe that's why they call this boat Magic. I call it Black Magic."
Magic was built by Charles Tarr in St. Michaels. She measures a little over 34 feet in length with a beam of just under seven feet. Both foresail and mainmast are clubfooted. The mainsheet trimmer sits in an outrigger aft of the stern.
What sets the log canoes apart from other racing vessels is their distinctive use of "moveable ballast."
Jon explains: "We race with three or four 12-foot-long spring boards which we move from side to side as we change course. On top of each board are three to four really big guys who provide balance to the boat. My uncle Elliott Wilson is the lead boardsman. He tips the scales at over 320 pounds. But he and the other boardsmen are pretty agile."
They have to be. One false step could land them in the drink and cause the boat to lose balance with disastrous results. Once a boat goes over, it takes about 45 minutes to derig it in the water and then another half hour or so to bail it out.
Watching the boardsmen execute their moves while the skipper is generally blocked from seeing much of anything that is happening in front of him is a study in true nautical coordination. On the day this reporter caught up with Jon and the crew of Magic, the winds were blowing at the top end of the acceptable limits for safe log canoe operation: somewhere north of 12-14 knots. It was the start of the Miles River Yacht Club's Log Canoe Governor's Cup Regatta, with 11 canoes of varying sizes competing for the 90-year old prize.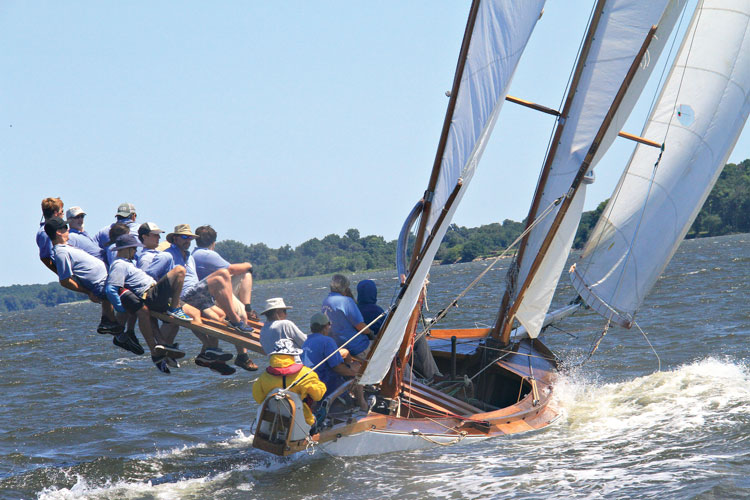 Jon's great grandfather started the cup in 1927. Magic won that initial race and has captured the coveted trophy more than a dozen times. This year, however, the fates conspired against the venerable canoe. Magic broke her rudder during race preliminaries and was forced to retire before the race started.
"It was a bummer not to be able to race today," says Jon. "But the season isn't over yet… there will be plenty of time for us to show the rest of the fleet what we're made of."
And, plenty of time for the youngish crew to drink a celebratory beer or two after a successful stint on the water.
"We're out here to have fun," Jon says. "Winning is nice. But to get together with a bunch of guys I've known for a bunch of years and to have a chance to sail a piece of living history; that's a special moment."
Magic's beverage of choice? Budweiser Natural Light. Packed in a cooler and snugged up in the sole of the boat. "In case we tip over, we have one guy whose responsibility is to save the beer." Nice to know these guys have their priorities straight.
by Craig Ligibel