When a majestic schooner fleet sails down the Bay, it's a thrill.
On the Chesapeake we are fortunate for many reasons. For sailors, one reason is that every October the Great Chesapeake Bay Schooner Race (GCBSR) draws a fleet of majestic sailing ships for a jaunt down the Bay from Baltimore to Norfolk.

For the inside scoop on this race, we asked veteran GCBSR skipper Duncan Hood, captain of the 48-foot, Annapolis-based Adventurer for a few insights. We reached Hood, who has participated in the race every year since 1997 and is board chair for the GCBSR organization, just after he returned from the Gloucester Schooner Festival and Race, where Adventurer captured first in her class.
Hood says, "When the schooner race started in 1988, the world was very different from today. The Pride of Baltimore was launched, there was no internet, email, cell phones, or texting. In a bar one night, Lane Briggs, a tugboat captain who had a small personal tug named Norfolk Rebel with a schooner rig attached, challenged Jan Miles, captain of the Pride of Baltimore to a race from Baltimore to Norfolk. The winner would take home a case of beer. Little did they imagine the repercussions of the challenge.
"Now, the schooner race is an annual event which draws schooners and traditionally rigged sailboats from up and down the East Coast. It's been an honor and an exciting tradition to participate in, both as a crew member and now as a captain. Each year, I try to assemble a group whose personalities gel into a cohesive crew. In the past 20-plus years that I've participated, we've had all sorts of weather from crazy-windy-smash-in-the-face to absolute flat calms. Sailing is one of those things that when it's good, it's glorious, and when it's bad it's just miserable. We've had both and everything in-between.
"From my point of view, it's been most gratifying to see the evolution of our giving programs. Each year we raise monies for local charities up and down the Bay and to date, we've raised over $300,000. To look out at the starting line and see 20-30 of these classic boats arrange themselves may be like trying to make elephants dance, but it's a beautiful sight, and they strike a chord in your heart as sails fill in the breeze pulling them forward from past history into the present. It's a thrill. That's a fact."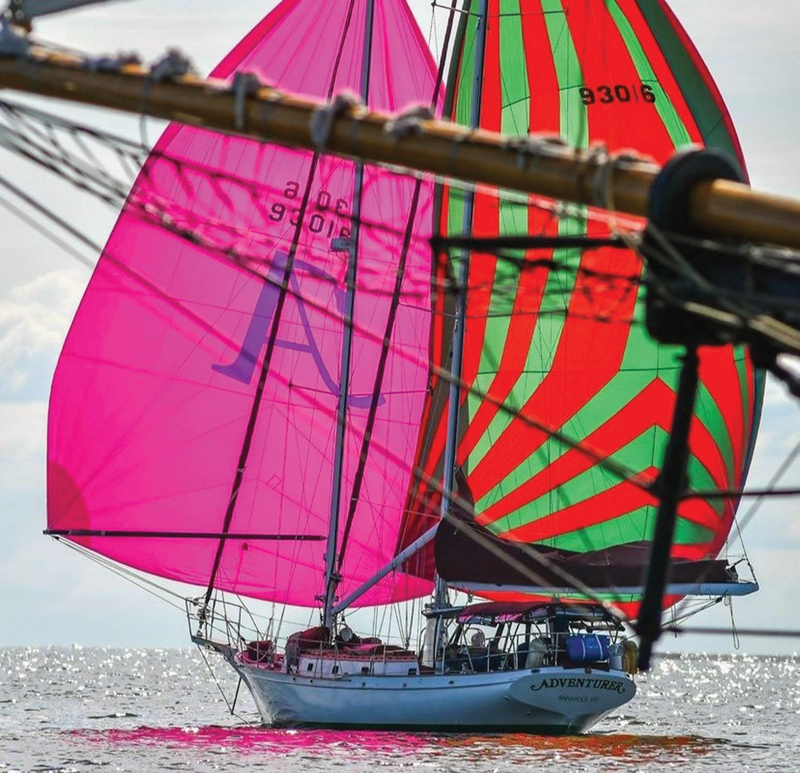 Opportunities to view the schooners on the Bay and dockside.
This year, the racing action begins at noon on Thursday, October 5, just south of the Bay Bridge. More than 20 vessels are expected at the start line for the 130-mile race to Norfolk.
Special land-based events focused on education will take place in Baltimore and Norfolk, before and after the race. In Baltimore, the public may view the vessels dockside at Anchorage Marina on Tuesday and Wednesday, October 3 and 4. An expeditionary learning experience will bring approximately 100 students onto select vessels Wednesday morning, and that evening a parade of sail will begin at 5 p.m., with viewing from Canton, Fells Point, Harbor East, and the Inner Harbor shorelines.
In Norfolk schooners may be viewed dockside on Saturday, October 7, at Freemason Harbor Basin at the Pagoda. Some vessels may be open for tours. That evening the traditional sea chantey sing-along begins at 9 p.m. under the overhang at Nauticus Foundation. Events conclude on Monday, October 9 with more educational experiences. Some schooners with commercial licenses will run day charter sails from the Nauticus docks. Find more details at gcbsr.org.