What's it like to spend your first summer living on a boat? Aidan Palmer shares his thoughts on life afloat as summer arrives on the Chesapeake....
My aunt, uncle, dad and I sailed to St. Michaels this past weekend for the brewery festival that was going on there. But we didn't plan the trip very well, and got to the harbor after the whole festival had ended. So instead we walked around the town, which felt like any other old seaside town—full of cottages and tourists, ice cream and seafood, and with a bit of history. I'd been there before, and didn't really feel like hanging around, so we spent most of our time back on the boat, grilling steak and drinking dark and stormies. It was looking to be a fine Saturday evening, and some people on land started setting off fireworks once it got dark.
It had been a long day out in the sun, and I was tired and began to fall asleep in my little bunk, when I heard the distinct sound of an outboard motor close by. I ignored it at first, but the sound grew closer and louder, so I went up on deck to see what was going on. It turned out to be my dad in the dinghy, with the paddleboard tied up to it, and he was circling around the transom trying to get back on board. I gave him a hand and tied up the dinghy, then learned that the paddleboard's line had somehow become undone and started floating away. Luckily my dad had gone up on deck before going to bed to make sure that everything was in order, and saw a paddleboard-looking figure far off in the harbor. If he hadn't done that quick, simple check, we surely never would've seen that paddleboard again.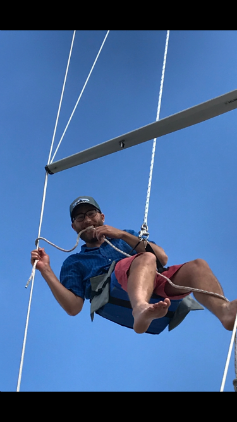 I went back to bed and, since it was a warm evening, went to go open the hatch a little further. I was tired, and made the classic sailing mistake of putting a finger somewhere without thinking what I was doing, and before I knew it the hatch came down on my ring finger. It was such a shock that I didn't have time to curse, and I had to reach up with my other hand to get my finger unstuck. It was badly bruised and extremely painful, but not broken, and now I'm mended and able to go paddleboarding and get hoisted up the mast and all the other fun stuff that goes along with the liveaboard life.
~by Aidan Palmer