Have your cake and eat it too on Smith Island
You can have your cake and eat it too, plus be inspired by the Chesapeake, when you join waterman Everett Landon, owner and guide of Experience Smith Island Tours, to see how watermen live and work on Maryland's only offshore island.
What makes Smith Island special to you?
I'm proud to call Smith Island my home. As the only offshore island in Maryland, many practices and customs have remained over the years. For example, we kept our Elizabethan language. Family genealogy can be traced back to the time of the first settlers at Jamestown. We are a people who have made a living harvesting from the Chesapeake Bay while learning to live with nature and not against it.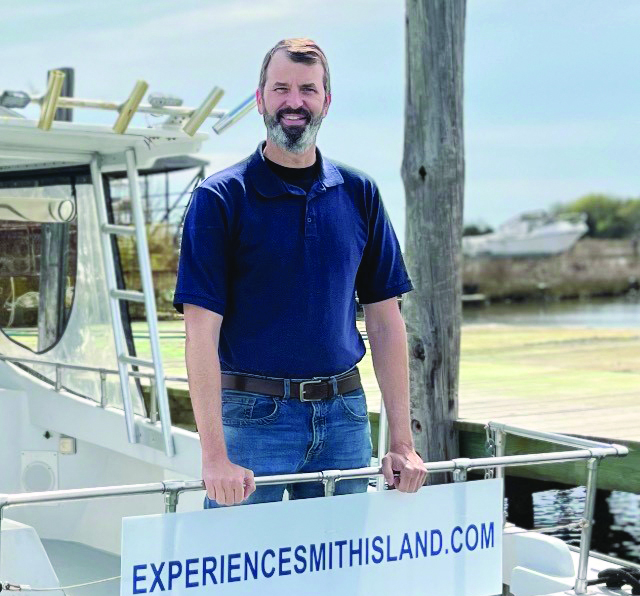 What's included in your tour?
Our tour consists of a six-hour day trip to three communities on Smith Island. We board at Somers Cove Marina in Crisfield. Our first stop is Tylerton, where you can stroll around and visit Drum Point Market, with its award-winning crab cake. Next, we stop at a waterman's crab shanty at Rhodes Point to see the gear and equipment watermen use to harvest crabs and oysters. Culinary lovers will appreciate the Smith Island Cake baking demonstration at this stop. The final stop is Ewell, the largest community on the island. Several gift shops and the island's museum are located here. A local guide accompanies the tour to share historical details.
What will people see and do when on Smith Island?
Talking to locals, especially the watermen, is the most popular thing to do on the tour. You'll also see seagulls, osprey, pelicans, cormorants, and bald eagles. There's a chance you'll see the goats on Goat Island. Locals say if you see them by the water's edge, it's a sign bad weather is coming.
What's planned for future tours?
I plan to add pelican and lighthouse day tours. Smith Island has a large rookery and I believe it is the farthest one north. The lighthouse tour includes the Solomons Lump Lighthouse and the military target ship.
I hear Smith Island is washing away. Is that true?
Erosion is one of our biggest problems; also, properties are sinking. I've heard generations ago homeowners had to continually work to build up their property. Some would go to uninhabited areas and bring dirt to fill their yards. They used oyster shells to pack the land. It continues to be a problem despite efforts to prevent the loss of land.
What do you hope those who take the tour will remember about Smith Island?
Life on the Bay as a waterman. It's one thing to read something in a book or be taught by an instructor in a class, but it's another thing to see and hear firsthand from a waterman who has lived on and worked
the Bay for decades.
How can someone book a tour?
Tours can be booked at experiencesmithisland.com or by calling (443) 783-2079. Find more details on Facebook, Instagram, and Google Business at Experience Smith Island LLC.
Interview by Gwen Mayes
About the Interviewer: Gwen Mayes is a writer, life coach, workshop host, and docent for the Annapolis Maritime Museum and Park. Find more about her at anchortoself.com.