Who among us hasn't labeled a fellow sailor as a racer or a cruiser? The terms work well to quickly describe how we like to sail. But of course, it's just shorthand. Plenty of avid racers evolve into happy cruisers. And many a cruiser enjoys the competition of racing. "Sailors cannot be defined by two categories," says Idarae Prothero, who has amassed a wealth of experience earned from years of racing and cruising with her partner Richard Ewing aboard their Beneteau First 42 Molto Bene. "We are both racers and cruisers, not to be separated because we use all our skills in both applications."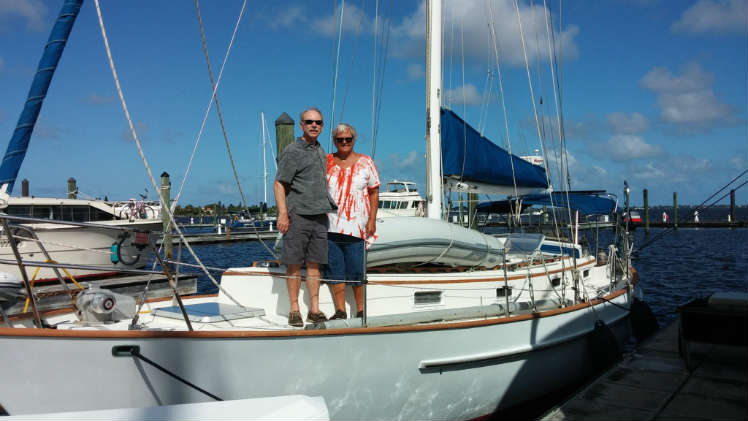 "Day racers and day sailors have very similar preparations and concerns. Likewise, distance racers and cruisers have to make similar plans. The biggest difference is that the cruiser doesn't have to 'push' as hard," notes Prothero, who has experienced all kinds of sailing conditions and isn't intimidated by challenging weather forecasts. "As cruisers, we can choose our departure day according to weather, but whether racing or cruising, a skipper or owner should know his or her boat and crew and their capabilities, and make the right decision to go out or not."
In addition to knowing the limitations of boat and crew, a skipper must be responsible for properly preparing the boat. "Long distance racers and cruisers need more planning in every aspect of sailing," says Prothero. "That includes food prep and storage, fuel and water consumption, and appropriate clothing. Race requirements for safety and communication equipment have made us more capable and prepared. We are better cruisers because of the distance races we have done."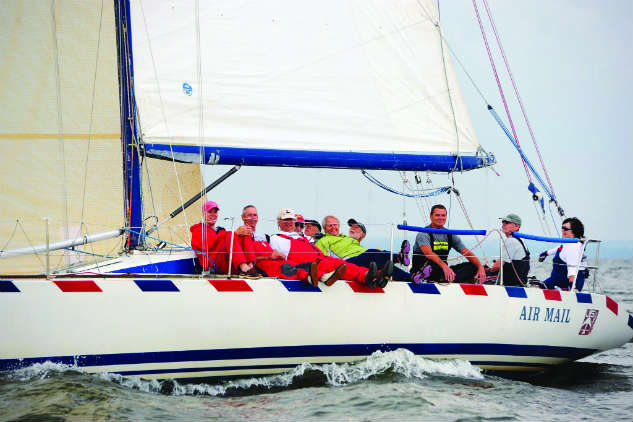 Perhaps a typical racing-turned-cruising couple is Tom and Deb Carrico, well- known around the Bay and beyond after years of campaigning their Beneteau One Ton Airmail. Although they absolutely loved the racing scene (both around the buoys and offshore) and the wonderful friends they made along the way (especially their crew), Airmail required a crew of eight to 12 for racing, and increasingly the couple found they wanted to sail just the two of them. In addition, they wanted to go to Florida for the winter.
Anticipating spending significant amounts of time on the boat in Florida, Tom and Deb purchased a cruiser, Flight, a Valiant 40. For the past two years they've limited their racing to the Chesapeake Region Accessible Boating (CRAB) charity regatta. This summer they plan to cruise north with Flight.
How do racing and cruising compare? "Cruising is more laid back," says Deb. "We pick where we stay the night and whether to throw an anchor or find a slip at a marina. And we've loaded up Flight with more supplies than we ever brought aboard Airmail. Bottles of wine and a cheese platter, a real refrigerator, an oven (Airmail only had two burners), books, bed linens with real pillows—all comforts that that we didn't have as racers."
What do they miss about racing? Both immediately respond that they miss their racing friends and crew. "I miss getting together with a group of friends on a regular basis," says Tom. Deb agrees and adds, "Now we have a crew party or plan a raftup to keep in touch."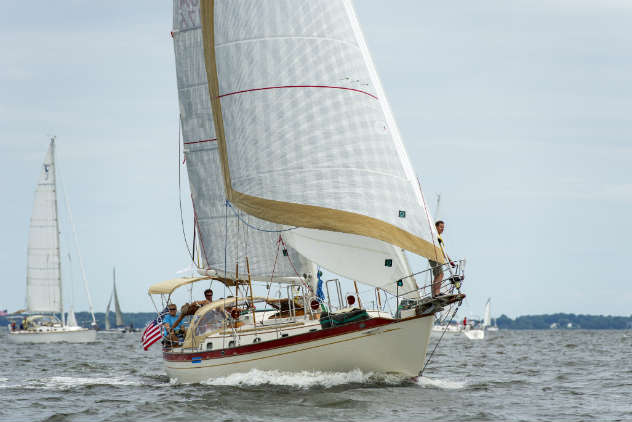 In addition to the social aspect of weekly racing, Tom, who is about to begin sanding Flight's teak, reflects that as a cruiser, he's flying solo on boat maintenance. "With Airmail we had a good group who were always willing to help. Now I'm taking on these maintenance projects myself," he laments. But don't get him wrong. Overall, the maintenance is less demanding. "When we were racing, I hired a diver to clean the bottom of the boat once a week. Now, instead of paying a diver, we just take the boat out sailing to clean the bottom," he says with a chuckle.
Sails on a cruising boat are different, too. Any racer who's worked the pointy end knows only too well that sail changes are one of the most demanding aspects of racing. Cruising sail inventories are usually much smaller. Don't expect headsails galore, especially if you're day sailing. Tom says, "On Airmail we had the main, plus a number one, two, and three, two spinnakers, a storm jib, a staysail, and a storm trysail. On a cruiser there are fewer people to change sails and fewer things that need to be adjusted," he says. In comparison, aboard Flight he and Deb have just a few sails. Listen up, racers. You will likely either love this or hate it. May we introduce you to the roller furler?
Ten Tips for Racers Boarding a Cruising Sailboat
1. Relax.
2. Leave your OCD at the dock and ease up on that non-stop trimming.
3. Expect delicious drinks, thanks to our Keurig, blender, and the wine cellar down below.
4. Be prepared for us to flatten out the boat to make galley work easier.
5. Bring your foulies, but reconcile yourself to the fact that we may wait for a good weather window.
6. Don't be alarmed if we sail slightly off our intended course. Sometimes we do this to keep a pleasant angle to wind and waves.
7. Reefing. Expect it early and often. As I said, we like to keep a pleasant angle to wind and waves.
8. Although our cruiser is equipped with a vang, traveler, jib cars, and other sail controls, we try not to wear ourselves out adjusting them.
9. We won't be bobbing around out there. If the wind dies, prepare to fire up the iron genny.
10. Please restrain from hiking out or calling puffs unless absolutely necessary. See Note No. 1 above.
~by Beth Crabtree