Tangier: local knowledge, watery streets, and doing things the old way
Sailing to Tangier Island had been on my Chesapeake Bay bucket list for a while. Maybe it was hearing tales of an island where time stands still and folks live like they did "in the old days." Maybe it was the idea that a boat-access-only island felt like a rare adventure here on the Bay. Maybe it was hearing about the clean sandy beaches, the waters still teeming with crabs and fish, and the abundant bird life. Whatever it was, I couldn't get it out of my mind.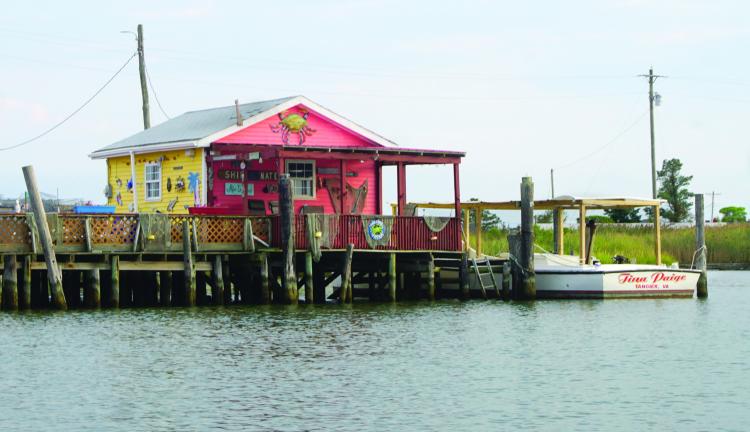 Tangier is so close, yet so far away. It lies way east and a little south from the mouth of the Potomac. It seems to be one of those places people pass on the way from here to there, and they say, "Oh yeah, I've always wanted to go but never had the chance."
The approach is straightforward, but a little deceiving. The island is flat, like so flat that much of it is actually below sea level. This makes it hard to see it until you're quite close. The channel is wide and well marked, but like many places on the Chesapeake, don't stray from the channel here. It goes from passable to whoops-we're-in-three-feet-of-water in a blink.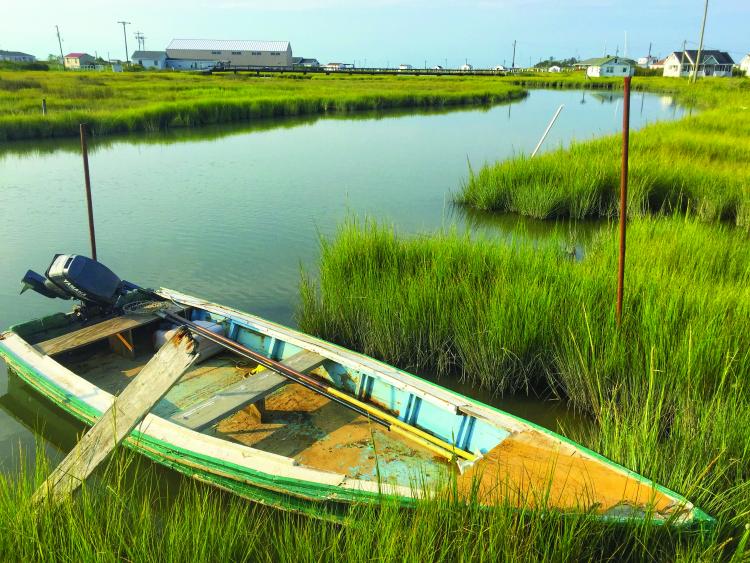 This holds true as you make your way to the one and only marina on Tangier Island. Eighty-eight-year-old Milton Parks owns and runs Parks Marina. "Marina" might be a stretch; it's a collection of docks, some with power and some without, and clean bathrooms and showers. Milton charges very little and makes up for the basic amenities with a thick layer of local character. If you phone or hail Milton on the VHF, be ready for some slow and loud conversations. He's very hard of hearing, but he'll call you darlin' and welcome you with open arms and invaluable local knowledge.
Tangier is one of those places where you can tie up, and within five minutes jump off your boat and start walking to town. If you're lucky, Milton will be waiting with his golf cart to give you a personal tour. Wandering by foot offers a slow charm that you don't often find in the world today.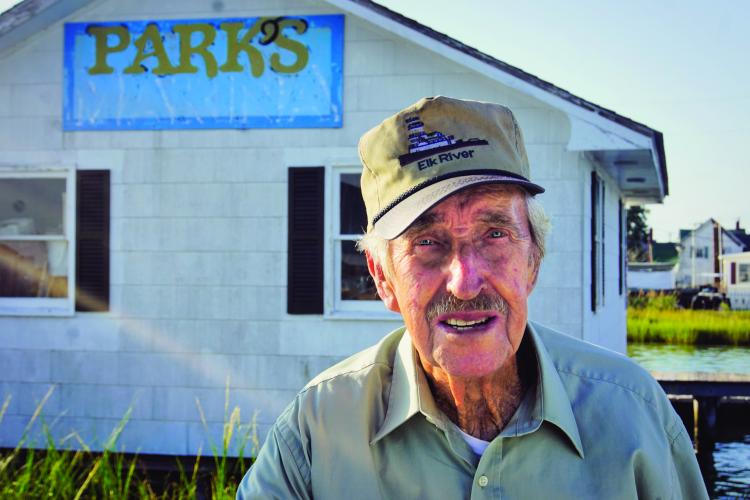 We spent a mild September weekend meandering the streets of Tangier. The town is only 1.3 square miles, so you won't get lost. There's an ice cream place, a golf cart rental, one school for all grades, a post office, a tiny museum, a few restaurants, a few small shops, several churches, and many, many graves. Cats freely roam the town, which coincidentally is strangely lacking in dogs. Signs around the town tell you points of interest and local history. Walking around with a camera you'll find beautiful old houses, quirky yard art, and quiet skiffs in the tall marsh grass.
It's easy to notice the things this place doesn't have. There's no Wifi, no cell service, no bad side of town, and no cars. Well there are a few work trucks here and there, but most everyone gets around by golf cart, bicycle, foot, and of course, boat. The water tower mid-island has a painting of a crab and a cross on it, which sums up the values of the approximately 700 year-round residents who inhabit this 346 acre island. (** editor's note: there is some cell service on Tangier, but not Verizon. There is also some Wifi, but apparently not at the author's marina. The lack of it has been reported to SpinSheet in the past.)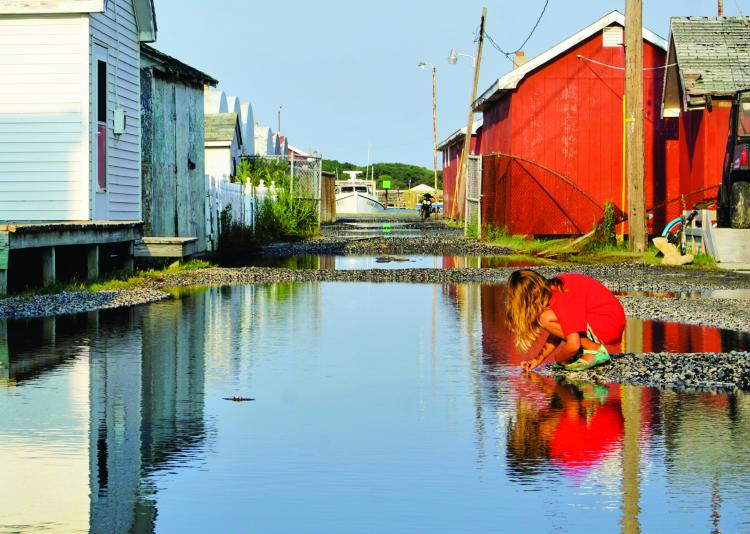 The island might be 337 acres by the time this article goes to print. The ladies at the local museum informed us that they are losing nine acres a year to sea level rise. A shocking statistic made crystal clear by a museum display showing where the island footprint used to be and where it is now. But you can experience it for yourself. Walking around this place after more than a month without rain, we were stopped by watery streets wherever we went. The island is being slowly consumed by the very water its inhabitants love and depend on.
Chatting with the residents, there seems to be a keen awareness of what's happening, but not necessarily worry. One woman told us, "President Trump promised to save us. He loves poor people and he loves this island. He is going to build a retaining wall around the island and that will save us."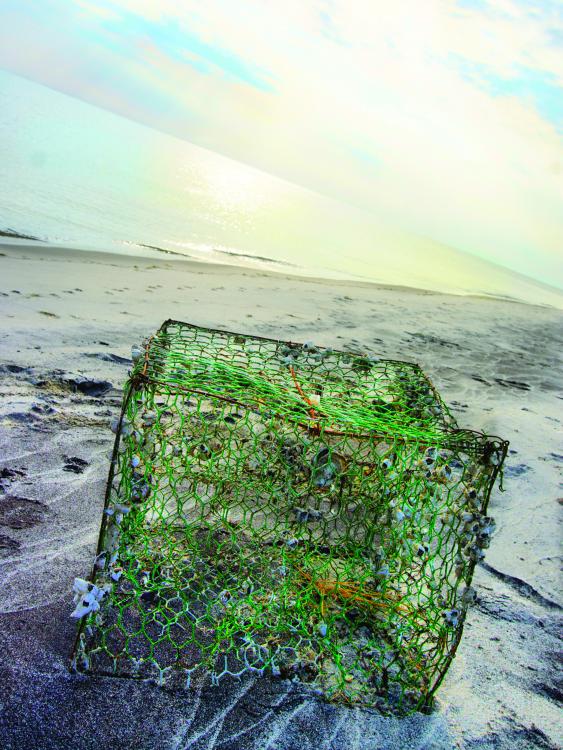 I asked an older gentleman about the rising waters. He told me, "God only allowed one flood with Noah, so he won't let us wash away too. We'll be okay." All spoken with a quiet faith and a peculiar patois unique to the island.
As far away from it all as it is there, you can go to the bitter southern end of the island and feel as if you're at the end of the world. The end of the world includes wicked biting black flies. The white sand beaches of Tangier are some of the softest and purest on the Chesapeake Bay. You can walk or golf cart to the public beach by the air strip and walk way down to the southern spit. Or you can dinghy around from the marina, or even take your big boat there to drop a day hook. If you go by boat, mind the depth and don't be tempted by the open water to take a shortcut or you will end up aground, even in a dinghy. But if you follow the southern end of the channel out and loop yourself out and around, you won't be disappointed. We were greeted by huge flocks of pelicans and other sea birds. It's a beautiful place to swim, bird watch, and take photos.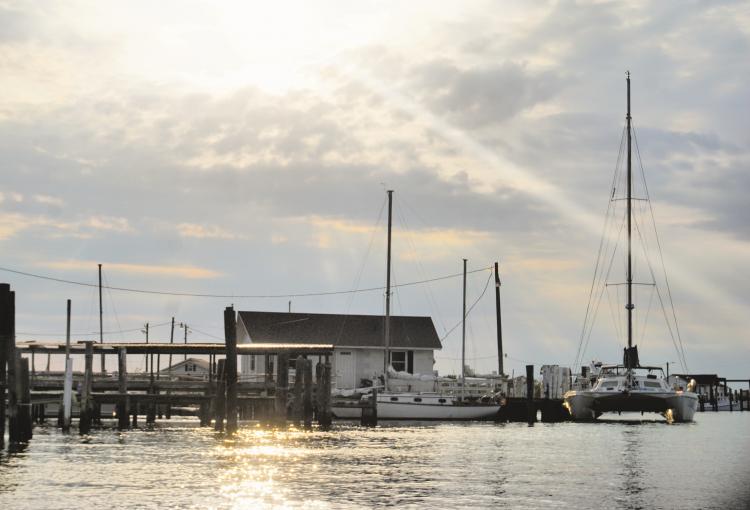 Back at the marina, my kids were squealing with delight as the sun went down and they were able to scoop up net full after net full of bait fish and little crabs. It was a childhood summer scene straight out of a Norman Rockwell painting.
We spent two nights and three days there. On our last day, I cooked some dinner and homemade cookies for Milton, who lives alone. His eyes and skin tell the story of his life lived entirely on this island, working on the water.
He told me about his wife and how much he misses her, his eyes glistening bluer as he spoke of her. And he talked about his children and how proud he is of them, even though he rarely sees them. I gave him the little package of food as we left the dock, to thank him for his hospitality. He told me he was glad to see a person who still did things "the old ways." And then he called me darlin' one last time.
It was hard not to look over our transom and wonder if we will ever see this place again. I couldn't help but look at my kids and wonder if this island will be here for them to take their kids one day. We sailed away with this uneasy feeling, like we knew something, like we had the ability to leave while they were all held there in a bubble of hope and nostalgia. It was like watching the end of a sad movie; you were glad you had the experience and you were richer for it, but you still couldn't help but feel a little tug in your heart.
~by Cindy Wallach
Click here for the top five activities to do with the family on Tangier.