Getting back to that concept of just playing on the water...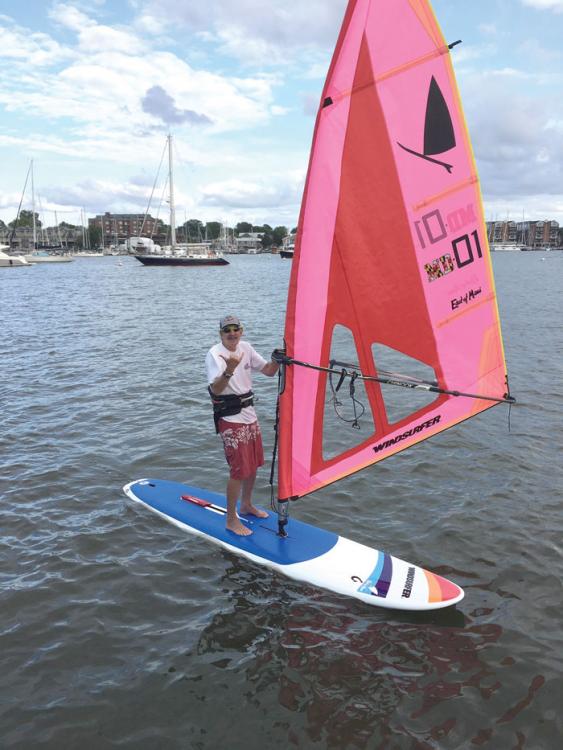 We like to joke around here that standup paddleboarding is the gateway drug to sailing. Really, anything that gets people on the water, from kayaking to tubing, leads to more boating pursuits and is worth celebrating. So when we at SpinSheet hear about a new development that might bring more people into boating or bring back others who've turned their backs on the water, our ears perk up.
Windsurfing began with a floating board, a little sail on top, and an idea of fun on the water.
During the glory years in the 1980s as windsurfing became more and more popular, the materials got better and faster. In fact, windsurfing innovators became so high-performance focused, they seemed to forget about the average beginner or those of us who just wanted to go out and goof around on the water, not necessarily scream across the harbor in 20 knots.
This was a problem for the sport, explains Mark Saunders, co-owner of East of Maui Boardshop in Annapolis. Luckily for the sport and for us, what's old is new again.
The new Windsurfer LT
"The new Windsurfer LT is going back to that old idea of going out and playing around on it," he says.
Saunders and his business partner Mark Bandy not only sell boards—standup paddle, boogie, body, surf, skate, and snow—but they live the lifestyle. When the shop closes on a summer evening, you'll find them hosting Social SUP Tuesdays, windsurfing across the harbor, or competing in board sports among other enthused and fit souls. So, when these two guys get fired up about a new product, it's because they've had a blast playing on it.
What makes the new Windsurfer LT different from the older iteration? The materials. Saunders explains, "It's a durable, small, soft sail on a big floaty board. You learn the fundamentals and can easily progress in the first couple of days… even in light wind your big board keeps gliding along."
The sails are soft Mylar and Dacron, as opposed to the stiffer and lighter monofilm of high-performance boards. The board shape and construction have been updated. Rather than plastic, it's a fiberglass sandwich construction.
The right thing for local conditions, easy to use, and versatile
Bandy likes his LT for its ease of use and versatility. Recently, within a week, he sailed in light air off Dewey Beach and a few days later in 20 knots in Annapolis. One evening he went for a 45-minute light-air sail on his LT, and when the wind died, he removed the sail and used the board as a SUP ("It's not the best SUP, but it worked!"). It only takes him five minutes to rig the board and go, whereas the high-performance equipment can require 45 minutes of rigging time.
"These really are the right thing for the conditions we get around here," Bandy says. "The new beginner equipment is so much more user-friendly and allows people to progress further more quickly."
As he celebrates East of Maui's 40th anniversary this summer, Bandy gets as much of a kick out of windsurfing as he did 40 years ago: "The bottom line is that it's really fun!"
Check out East of Maui Boardshop's Facebook page for a Labor Day celebration, Social SUPs, and more. For results of the Chesapeake Standup Challenge held in July, click to our racing roundup for July 13-14.