His boat-buying experience led to a fortuitous meeting
Annapolis boater and retired Naval officer Rob Taishoff purchased his first sailboat in 2007, a Beneteau 343. Within four months, he called the owners of Annapolis Yacht Sales to say he made a mistake and wanted a bigger cruising vessel, so he traded in the 343 for a Beneteau 40. Soon thereafter, Taishoff yearned for even more room out on the water, so he traded in again, this time to a Beneteau 50, which he cruised happily around the Bay for years.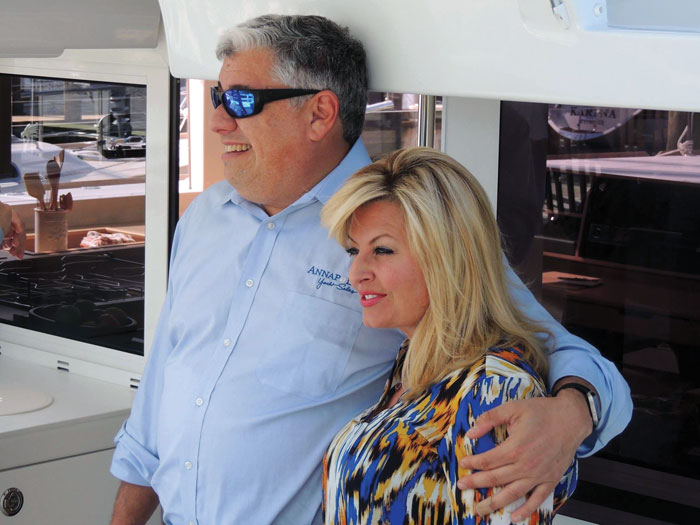 "Turns out, I was a really good customer," he said.
What would have been a frustrating boat-buying experience for most was a fortuitous meeting that led to a 180-degree career shift. Through the time he spent at Annapolis Yacht Sales as a customer, he formed a congenial working relationship with the then-owners, Sue and Garth Hichens. He must have made a favorable impression because the couple asked Taishoff if he wanted to purchase the 50-plus year old business.
In 2012, Taishoff and two AYS employees, Chris Humphreys and Tim Wilbricht, got together and decided to buy the company coming out of the Great Recession. They took over the helm on this Annapolis institution and grew it from a business with $13.5 million in yearly gross sales to one with $45 million dollars a year.
"I was always interested in boating, and I looked at it as a great opportunity," he said. "And I didn't want to practice law," he added.
A career shift and a great opportunity
The law profession would have been a natural progression, given his background. He served in the Navy for 23 years on active duty as a JAG (Judge Advocate General). He was the Director of the Appellate Defense Division for Navy-Marine Corps Appellate Review Activity.
He also taught at the U.S. Naval Academy and was part of its offshore sail training squadron. By year two of his tenure in the program, he earned his D qualification (equivalent to a 50-ton USCG license) and was in charge of the Midshipman offshore crew on the Navy 44s as they cruised to New England. Not having grown up on boats or sailing, this experience is what ignited his interest in sailing and led to his interest in Annapolis Yacht Sales.
"It's funny because I don't own a cruising sailboat now. I don't race, but I had an interest in sailing after working at the academy and taking sailing lessons in San Diego when I was stationed there."
Although he doesn't get to spend much time cruising these days, he does own a 15-foot EdgeWater and older model Sea Ray, which his sons enjoy. He also restored a pint-sized classic, the 18-foot Cape Dory Typhoon. Taishoff has a wife named Kathy, five children, and four dogs.
Annapolis Yacht Sales is not exactly new on the scene: the company celebrates its 66th anniversary this year. But since the transfer of ownership seven years ago, it has tripled in size and revenue. Taishoff attributed the company's success and growth to the decision to venture into the powerboat and catamaran markets.
"It was primarily a sailboat operation, but I noticed as soon as you crossed over the Bay Bridge, you mostly saw powerboats."
Expanding Annapolis Yacht Sales
Taishoff added an AYS location at the Bay Bridge Marina on Kent Island and in Virginia Beach, and added to the sales line powerboats from EdgeWater and Steiger Craft.
AYS also added Lagoon Catamarans to their fleet of new sailboats to augment their Beneteau monohull sales. AYS now sells Beneteau Sail, Lagoon Catamarans, EdgeWater, Cruisers Yachts, Steiger Craft, Four Winns, and pre-owned yachts.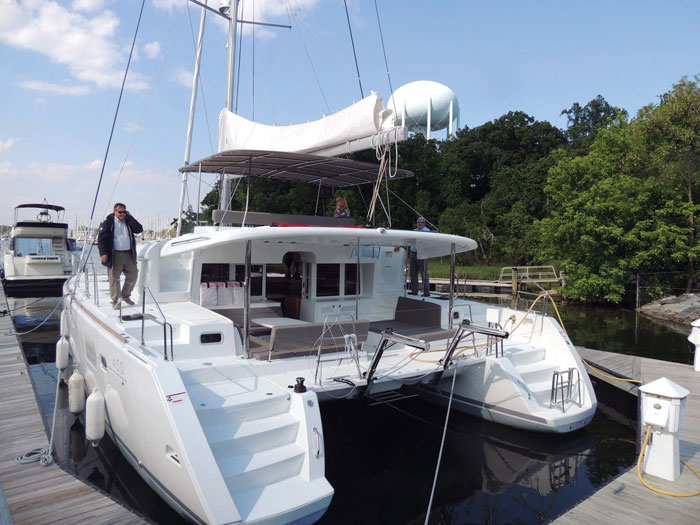 "It has been a huge growth," he said, mostly in part to the catamaran price tag. A catamaran will cost a few hundred thousand more than a monohull of similar length, he said. Perhaps their popularity can be attributed to their familiarity, he offered. Lagoons are often used in charter fleets, and vacationing sailors grow accustomed to them.
The dealer and brokerage last year landed on inc.com's 5000 list, which lists the nation's 5000 fastest-growing independent, small, and mid-sized businesses based on growth and revenue. AYS also was named the number one distributor for Lagoon Catamarans.
When asked what his number one piece of advice is, he said don't do what he did.
"I bought three boats. I don't recommend it, since boats depreciate. The biggest mistake people make when buying a boat is to try to save money and forgo fulfilling their needs. Spend a little extra and get what you really want. In the end you'll save yourself hassle and money."
by Carrie Gentile