Easy Dishes To Make While Sailing
Several years ago, Mark Bittman wrote a series of articles for the New York Times revolving around the number 101: 101 picnic dishes, 101 appetizers, and so on. Now that summer is upon us here's a sailing version: 101 dishes to try on your sailboat this summer. All of these ideas go easy on galley time and offer a tasty change from the sandwiches and chips that regularly make the rounds of the race circuit.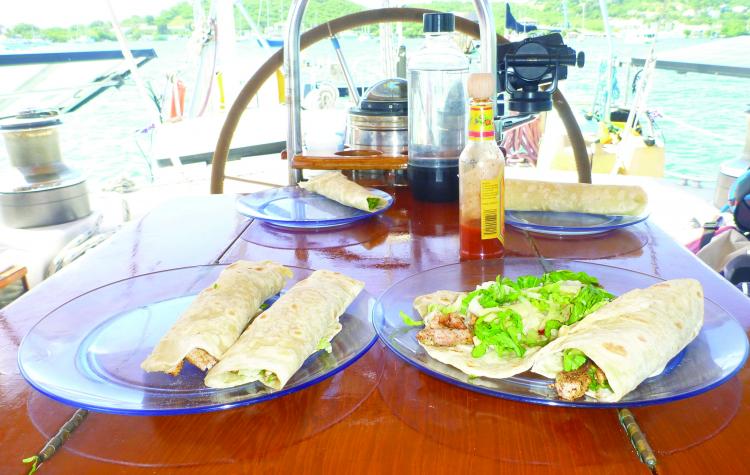 For the grill
Hamburgers: plain, topped with cheese—or my old San Antonio favorite—topped with refried beans, onions, cheese, and Fritos.
Hot dogs or sausage topped with chili or sauerkraut.
Steaks: Whether beef, lamb, or tuna, this is simplicity itself.
Marinated chicken: Chicken is easy to marinate ahead of time and freeze in Ziploc bags. Try Indian marinades heavy with yogurt and turmeric, Greek marinades of lemon and oregano, mustard vinaigrettes, and Tex-Mex marinades with lime and cilantro or tangerine soda and Serrano peppers.
Vegetables tossed with olive oil and grilled in foil. Green beans, asparagus, broccoli, or zucchini taste delicious, and clean-up is easy. Tater tots, French fries, and sweet potato strips can be cooked this way too.
Sweet corn on the cob grilled in its shucks.
Grilled rice: A bag of precooked rice tossed with veggies, chicken bouillon, mustard, wine, cheese, or herbs and warmed in foil.
Grilled pineapple: Pineapple can be sliced and either skewered or placed directly on the grill to caramelize.
Grilled peaches: Similar to pineapple, peaches need only to be washed, sliced in half, pitted, and placed sliced-side down on a hot grill.
Snacks
Fruit of all kinds: grapes, mango, pineapple, strawberries, blueberries, cherries, apples, pears, and the list goes on.
Pair the fruit with a yogurt dip. Plain Greek yogurt mixed with cinnamon sugar or honey goes well with fruit wedges.
Stuffed celery: Celery ribs can be filled with peanut butter and raisins or cranberries, herbed cream cheese, or hummus.
Chips and salsa.
Crackers, pitas, or veggies with hummus, cheese, tzatziki, or ranch dip.
Sliced cucumbers drizzled with cumin, paprika, and salt.
Bruschetta with a baguette and parmesan cheese.
Sliced melon wrapped in prosciutto or bacon-wrapped dates.
Popcorn spiced with Old Bay.
Staples such as granola bars, salted nuts, trail mix, animal crackers, gold fish, pickles, or pretzels.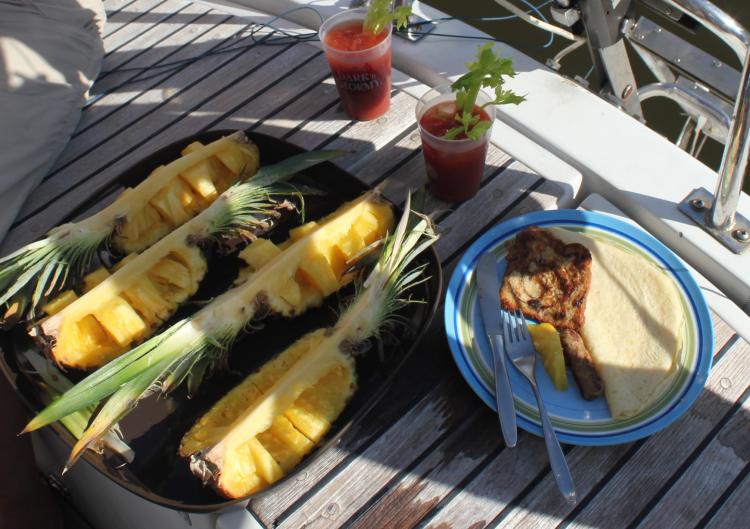 Mocktails and Cocktails
A shot of rum turns any of these mocktails into cocktails . . .
Light and Stormy: ginger beer with a squeeze of lime.
Bermuda Sunset: ginger beer and orange juice with a maraschino cherry.
Shirley Temple: sprite with maraschino cherries.
Roy Rogers: Coke with maraschino cherries.
Appleschörle: apple juice with sparkling water.
Passionfruit juice and sparkling water.
Limeade and sparkling water with crushed mint.
Salads
Bagged salad shaken with vinaigrette: This salad works well if you are underway and have an appetite, but have little desire to chop vegetables.
Cauliflower florets tossed in balsamic vinaigrette and cracked black pepper. Balsamic vinaigrette also dresses a shredded carrot and zucchini salad well.
Pasta salad: Combine pasta with grape tomatoes and avocados in a lemon vinaigrette, with peas and curried butter, or with diced zucchini, fresh thyme, olive oil, and parmesan cheese.
Bean salad: Stir together beans, diced onion, diced tomatoes, diced sweet pepper, and fresh herbs with olive and vinegar. Black beans, pinto beans, and black-eyed peas all go well.
Corn salad: Combine frozen sweet corn with chopped radishes, cilantro, and balsamic vinaigrette.
Chicken salad: Toss diced chicken with any number of sides, such as green beans and dill; spinach, mandarin oranges, and almond slivers; or fresh tomatoes, cucumbers, and balsamic vinaigrette. Other combinations include chicken with sprouts, cilantro and soy sauce; grapes, celery, and mayonnaise; pineapple, raisins, and mayonnaise; and cabbage, pasta and Italian vinaigrette.
One-pot meals
Sausages simmered with sauerkraut or red cabbage.
Stir-fry with sautéed vegetables and rice.
Pasta sautéed with olive oil, garlic, vegetables, and parmesan cheese.
Quesadillas stuffed with cheese and onions, salsa, ham, or chicken.
Diced chicken, diced tomatoes, onions, and carrots simmered in coconut milk and curry powder.
Diced chicken, diced leeks, and pineapple slices simmered in pineapple juice, broth, and a shot of rum.
One pot canned combos ideal for rough passages
Open the cans into a securely lidded pot, such as a pressure cooker, heat to taste, and voilà, instant passage food that's decent and warm. Of course, pre-cooked meals are delicious and convenient for rough passages as well.
Packaged rice simmered with canned chicken, corn, Rotel tomatoes, and cumin.
Packaged rice simmered with canned chicken, mushrooms, diced tomatoes, and oregano.
Packaged rice with canned chicken, black beans, sweet white corn, and salsa verde.
Canned pinto beans simmered with diced tomatoes and green chiles. Wrap in a tortilla with shredded cheddar cheese for bean and cheese tacos.
Canned chicken tossed with three-bean salad, dill, and balsamic vinaigrette.
Tuna canned in olive oil tossed with canned cannellini beans.
Canned chicken, canned corn, chick peas, and rice simmered in a jar of masala sauce.
Canned baked beans gussied up with ketchup, brown sugar, cheddar cheese, or crushed pineapple.
Breakfast
Pancakes: made easily with a mix that calls for only water.
Fruit crumble: In a foil pan, layer some frozen fruit with a topping of granola and bake until the fruit is bubbling.
Continental breakfast with rolls, ham, and spreads such as jam or Nutella.
Biscuits or cinnamon rolls.
Granola, yogurt, and fresh fruit.
Hard boiled eggs on toast.
Instant oatmeal.
~By Tracy Leonard