A Memorable Cruise to Charleston Among Sailing Friends
It was the ride of a lifetime. It was early April as we roared up the Neuse River, sailing in 35-knot winds gusting to 44 knots, with the full 50-nautical-mile fetch of the Pamlico Sound in our wake. Our jib was reefed to the size of a bed sheet; our engine provided additional control as we surfed down steep waves at 11 knots.
Our ride barely lasted two hours as we rounded the corner coming out of the Bay River and returned to the shelter of Adams Creek on our way to Beaufort, NC. I was secretly grinning ear to ear but thought twice about whooping it up until we were safely in shelter. It was days like this that I had practiced for, choosing to go out in gale force winds to hone my skills and exploit any weaknesses in Mystic, our 2005 Beneteau 373. That day, there were no weaknesses. Dave later said it was the most exciting day he had experienced since racing Corvettes over 50 years ago.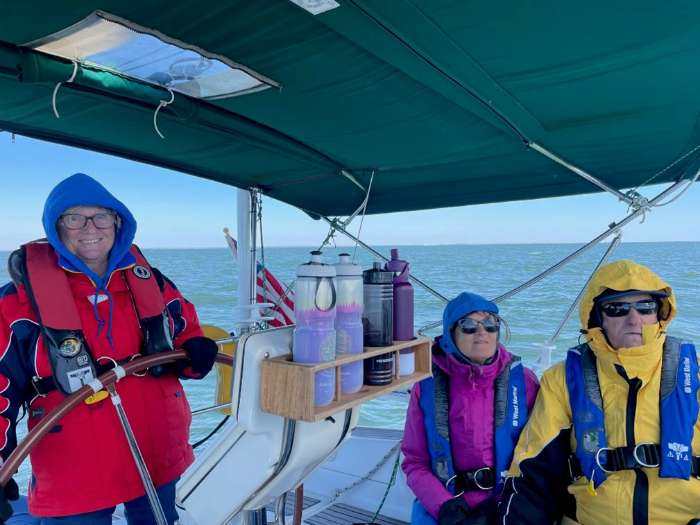 Debbie and I decided to share our cruise with our good friends, Dave Strauss, Lynn Donches, Kris Wilson, Keith Kersey, and Peter Bruns. We changed crew weekly, twice in Beaufort, NC, and once in Charleston. Our friends Lynn and Dave were no strangers to cold weather with extensive biking and winter camping experience, so they joined us during the first week in April from Annapolis to Beaufort. Granted, we experienced cold wet weather but had the benefit of a 12-volt heating system that provided 12-15 hours of uninterrupted heating or cooling between recharge cycles. Between weekly crew exchanges, we anchored almost exclusively in remote coves or creeks along the way.
During our first week, the trip through the Dismal Swamp was quite the journey. As we waited for the 1:30 p.m. lock opening, we nudged ashore instead of anchoring, only to find as the tide eased out, we barely got free when it was time to move on. The Dismal Swamp journey is very scenic and challenging with numerous trees that overhang the canal, many fallen trees that partially blocked the passageway and the occasional USO (unidentified submerged object) that we bounced over. We encountered no traffic on the canal route but did meet a powerboat and trawler heading north at the welcome center. This center is the only one of its kind in the country that caters to both automotive and boating traffic.
After a weather delay in Beaufort, Kris joined us for our five-day journey to Charleston. We both liked driving so much that I quickly adopted an hour-on, hour-off watch system with Debbie pitching in as well. No more wide-open bays separated by canals; this is the true ICW with a well-marked channel. We often crossed minor rivers with inlets not considered ICW accessible; however, the current was influenced by these inlets. It was not unusual to have 1.5 knots of current, sometimes more. Our traveling time passed quickly because of the variety of scenery and obstacles. Low bridges to open and barges to avoid, sand dunes and swampland, houses on high ground, and houses on stilts. Pelicans, dolphins, osprey, and herons.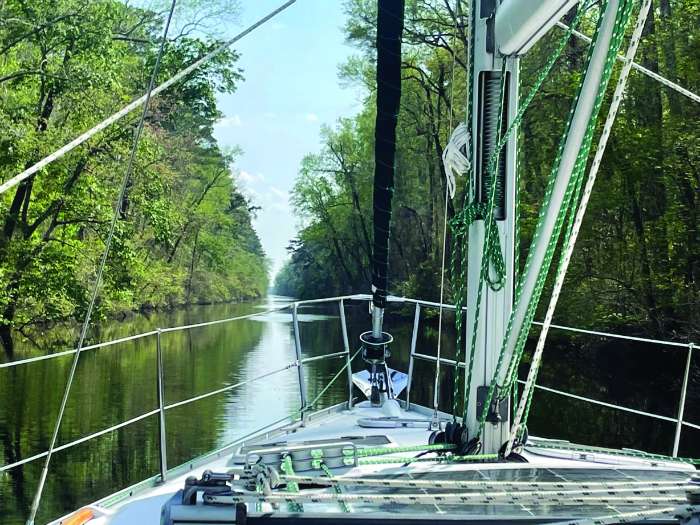 Often, we departed around sunrise and ate breakfast underway, giving us plenty of evening daylight to enjoy at anchor. Nice evenings were topped by grilling and stargazing. The occasional late morning departure was preceded by a full course of bacon and eggs, fruit, and muffins. Our trip down the Waccamaw River was scenic and fast due to the rain-induced favorable current. Our final leg into Charleston was under full sail.
After two days in Charleston, we proceeded north, retracing our original route but avoiding our original anchorages in the interest of variety. Our trip up the Waccamaw was now dominated by a two-knot opposing current. One of the highlights of the return trip was our decision to anchor behind Bird Island, near the Little River Inlet and set sail in the ocean. The transition between river water and ocean water was abrupt and startling.
After our ocean sail, we proceeded to walk the dunes and beaches of Bird Island. As we continued north, we encountered the four-knot adverse current of the Cape Fear River, avoiding the channel and seeking shallow water as far as we dared. Upon our approach to Swansboro Harbor, the roller furling mainsail became hopelessly jammed, halfway furled. This was due to a spare halyard used to hoist Christmas lights also rolling up inside the mast with the mainsail. After two hours, that jam was released. What a nightmare that would have been in windy conditions. That spare halyard has now been retired.
At the end of the week, we arrived in Beaufort to meet Peter and continue our final week north. Strong winds again greeted us in Beaufort with wicked thunderstorms passing through overnight. Our final week started off pleasantly enough but turned cold as the week progressed. Peter and I enthusiastically continued the hour-on, hour-off watch system that Kris and I had adopted two weeks earlier. We had significant sailing or motorsailing opportunities every day.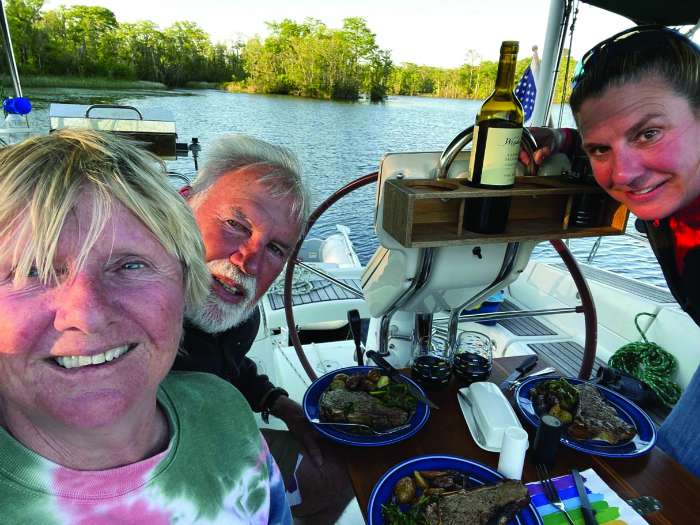 We stopped for lunch in Coinjock and met some Norwegian sailors on a Hanse 415 with a seven-foot draft and a mast height just two inches shy of 65 feet. We felt fortunate to be on a smaller boat and figured we'd been having enough adventure without the added anxiety of dodging sandbars and squeezing under bridges.
After lunch we had a delightful sail up the Currituck Sound right up to our anchorage in Blackwater Creek. I'm sure the Currituck to Knots Island Ferry had some choice words for us as we crossed their bow, but we'll never know since we had left our radio on channel 68 after we contacted the marina in Coinjock. Two days later we holed up in Cockrell Creek, just south of the Potomac River, waiting for a gale to pass through. Two hours in the Neuse River under gale force conditions was enough; no point in spending eight hours in brutal conditions crossing the Potomac and beyond.
Despite our cruise planning, we often departed from that, even while underway, if the sailing was especially enjoyable or the following day was full of doom and gloom. Our return to Annapolis in full foul weather gear included a pleasant sail despite the rainy conditions. The 24-nm, four-hour trip from Dunn Cove was a fitting end to a great week with Peter and a great month with our other sailing companions.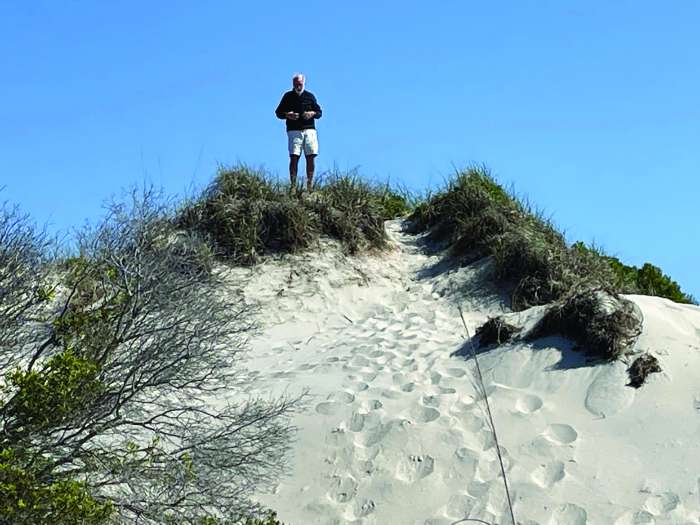 Even with the comfort of down-below heating, the month of April can be chilly on the Chesapeake. When not on deck, we had plenty of opportunity to drink wine, tell tall tales, play games, listen to music, drink more wine, and occasionally plan tomorrow's destination. The variety of weather, scenery, wildlife, and sunrises and sunsets, pairing up with family and friends along the way can't begin to be expressed in these paragraphs. For those seeking more information on our experience and anchorages along the way, visit the author's SpinSheet Century Club posting from April 1 through April 30 (spinsheet.com/century-club-leaderboard). All in all, a great trip, made even more enjoyable by having good friends along to share the experience. I would do it again in a heartbeat.
~By Keith Donald
Find more cruising stories here.