History of the Modern Classic Daysailer Alerion
Tom Darling from the Conversations with Classic Boats podcast shares some history of a modern classic daysailer Alerion.
Our first interview from the Conversations with Classic Boats archives is about the Alerion, derived from the personal favorite of N.G. Herreshoff, the daysailer Alerion III. The story of this 1912 sailing design is a study in the artistry of one Nathanael Green Herreshoff, architect of over 1400 designs between 1874 and 1924, including a string of unbeaten America's Cup defenders.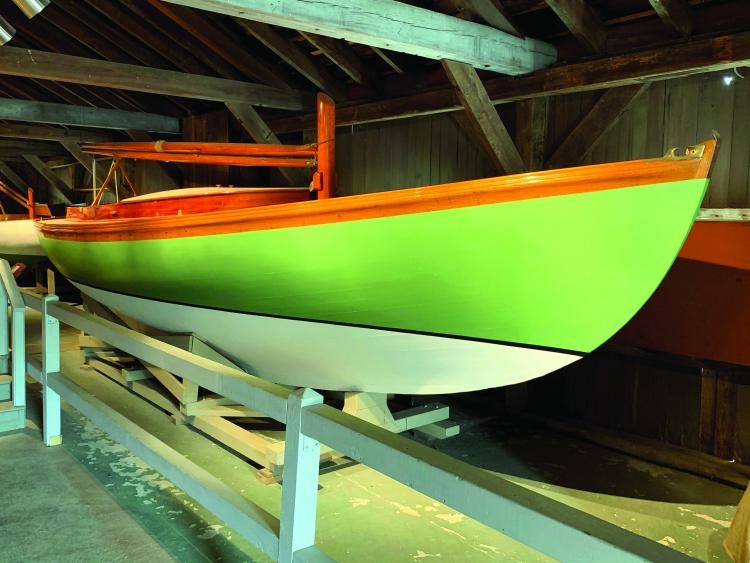 The story of the modern evolution of this special design places Alerion as the granddaddy of some of his most popular designs such as the Fish Class and Buzzards Bay 25. Alerion's little brother, the Herreshoff 12 ½, numbers close to 400 boats built and in turn spawned the fiberglass Bullseye and Doughdish.
If you arrive by ferry to the Island of Nantucket, 32 miles out to sea, you can't help but notice a fleet of mid-20s length traditional knockabouts. Entering the Harbor, you round Brant Point, the 19th century harbor light, and there they are with a gorgeous Herreshoff sheer, some painted, some clear finished, a collection of the iconic New England boat design.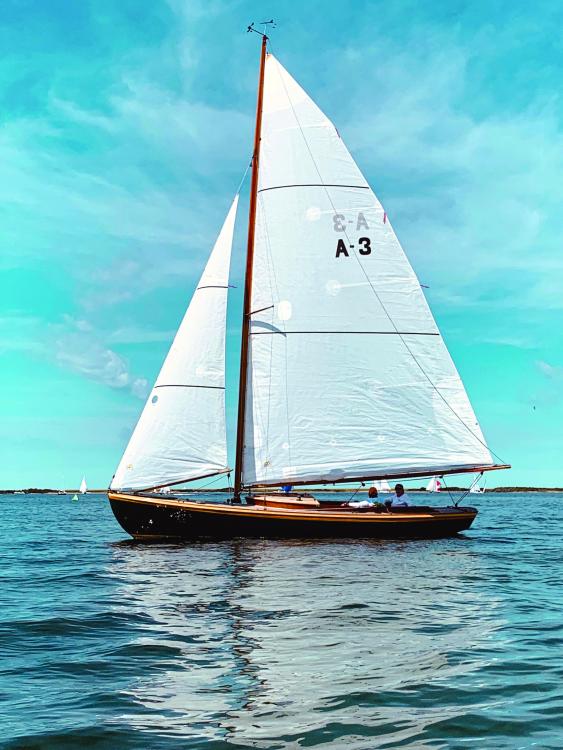 These are the Nantucket Alerions, 19th century classics brought up to date. Their story spans more than 100 years of tinkering with a design, deemed excellent since the original Alerion III, the personal day sailing boat of Herreshoff, hit the water in Bristol, RI. With short but graceful overhangs, high bow, and low stern with a beautiful sheer line connecting them, Alerion is in author Maynard Bray's words, "one of Herreshoff's most exquisite creations."
Nantucket has the largest fleet (32 boats) of these 26-foot classics. Alerion design builders in New England have produced traditional wood designs and modernized modified fiberglass designs in the hundreds. The newest builder, Alerion Yachts in Rhode Island, is the latest to make news with its fiberglass interpretation of the traditional design.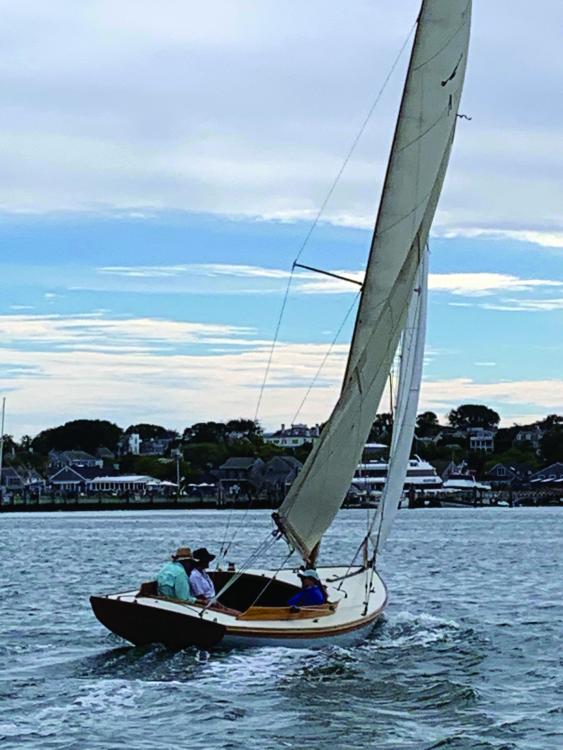 The original Alerion III is enshrined at Mystic Seaport's small boat shed in her seafoam green paint job, Captain Nat's trademark color. She was born in Bristol from a succession of day sailing designs done during the Golden Age of the Herreshoff Manufacturing Company's relentless design and building campaigns for massive Americas Cup Yachts. Alerion is a mythical bird; the mainsail symbol is a cross between an osprey and a gull, to my eye. Its sturdy combination of sea kindly hull and shoal draft delights racing and gunkholing owners.
Alerion's modern history dates back to 1979 when the first production boat, built cold-molded, and aptly called Serendipity, took to Nantucket Harbor. For those of you Chesapeake Bay sailors who are so familiar with shoal draft, you shouldn't be surprised that this is a centerboard design.
The Alerion is built to navigate the chop, strong currents, and shifting sandbars of a 10-square-mile Nantucket harbor. For a cocktail cruiser or fleet racer, she is the quintessential New England knockabout.
To listen to Tom Darling's Conversations with Classic Boats podcast, visit conversationswithclassicboats.com