Andy Schell is a Chesapeake Bay success story, but if you want to talk to him you'd better have a Skype account. He could be anywhere. We caught up with him in Gothenburg, Sweden, this winter, where it was so cold he kept his hat and coat on—indoors.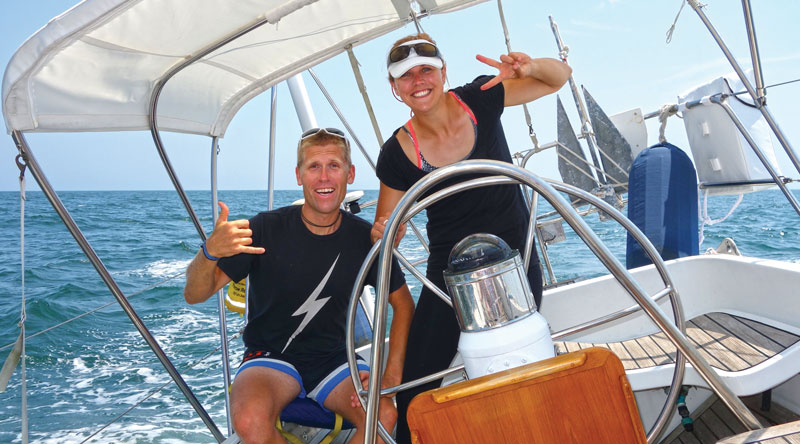 He and his Swedish wife Mia Karlsson gave an update of their globetrotting lifestyle. Andy came to Annapolis 10 years ago as a fresh-faced intern on the schooner Woodwind to hone his skills as a Penn State student of tourism management. He knew a bit about sailing, but hadn't considered it as a career. Woodwind owners Jen and Ken Kaye changed that.
"I had sailed my whole life on my parents' boat (a 36-foot Allied Princess), but Jen and Ken taught me how to sail both professionally and well." The Kayes are keen sailors who designed the two Woodwinds to high-performance standards and sail them in sharp racing trim. Andy, who was used to just setting the sails and going, found a whole new level of satisfaction in that, and also saw a window of opportunity.
He wound up working on the Woodwinds for four years, off and on, while cultivating a dream to get offshore on his own boat and somehow make a living at it. Along the way he met Mia on a skydiving expedition in New Zealand. She'd never been sailing, but was game and athletic. They bought an old, 35-foot Allied Seabreeze in 2008 and spent two years refitting it in Annapolis.
Then, on July 4, 2011, having tied the knot a week earlier, they set off on their honeymoon, a transatlantic passage on Arcturus, their boat and home. "We got lucky," says Andy. "It was light wind and no drama. We made it to Ireland in 23 days."
By then they'd begun producing articles for sailing magazines that helped pay the bills (Andy writes, Mia shoots the pics), and were organizing events for the World Cruising Club, which runs offshore sailing adventures such as the Caribbean 1500. And they had a strategy for starting their own business. "When I read about John Kretschmer taking customers on offshore voyages, that inspired me," Andy said. "I basically decided to copy him, and he was very helpful. He taught me a lot, as did John and Amanda Neal," who run a similar operation.
At 35 feet, Arcturus was too small for paying clients. Andy and Mia started looking for something bigger and in early 2014 found a used, 48-foot Swan they could afford. "(She) was in Connecticut, and it all came together very quickly," says Andy. They renamed her Isbjorn. "The boat was in good enough shape that we were able to start sailing right away."
Their first charter was to Lunenburg, Nova Scotia, that summer with four paying customers, and they brought back four more clients to Annapolis in the fall. Next up was the Caribbean 1500 with a paying crew. They already had good connections from their years of running that event for the World Cruising Club.
By last year they had a full schedule of 10 trips, including cruises in the Caribbean, then on to Cuba and Key West, then from Florida to Annapolis, Annapolis to Nova Scotia, Nova Scotia to Newfoundland, followed by legs back to Lunenburg and Annapolis, then back to the Caribbean, where Isbjorn spent the winter while Mia and Andy went on vacation in Sweden. Wait, that's backwards, right?
The reviews must be good, because they already are fully booked for 2017, with multiple legs in the Caribbean followed by a transatlantic trip with stops in Bermuda and the Azores, then up to Scotland and Sweden. In 2018 they plan to explore the Arctic with stopovers in Scotland, Norway, Svalbard, Iceland, Ireland, Portugal and back to the Caribbean.
Along the way, they always meet interesting sailors with sailing stories. Andy started producing podcasts of his interviews with these folks, and they too have become a success story. This year Weems and Plath, the venerable, Annapolis-based vendors of yachting goods, signed up as sponsor of the podcasts, which can be found by dialing up 59-north.com. The podcasts, which are called "On the Wind," help feed interest in the charter business. "We have up to 10,000 people listening to each episode," said Andy, "and most of our clients learn about us from them."
Andy says his entrepreneurial spirit comes naturally. His parents and grandparents started their own businesses, so he had good training. He also gives a lot of credit to Mia, who handles many of the day-to-day details while he dreams up big-picture goals. As for Mia, she has no complaints. "I never sailed before," she said, "but I have always loved nature and sports, so sailing and traveling were natural to me."
--by Angus Phillips