Preparing for a Bluewater Sailing Journey
Jessica Rice Johnson, who circled the globe with her family, shares top bluewater sailing preparation tips.
Owning a bluewater boat doesn't mean that the boat is ready for bluewater sailing. There are many systems to check, items to buy, and things to do to get ready for an offshore passage. From rigging to medical to communications, it can seem daunting to check it all. A successful offshore passage is often a matter of mastering the art of list making.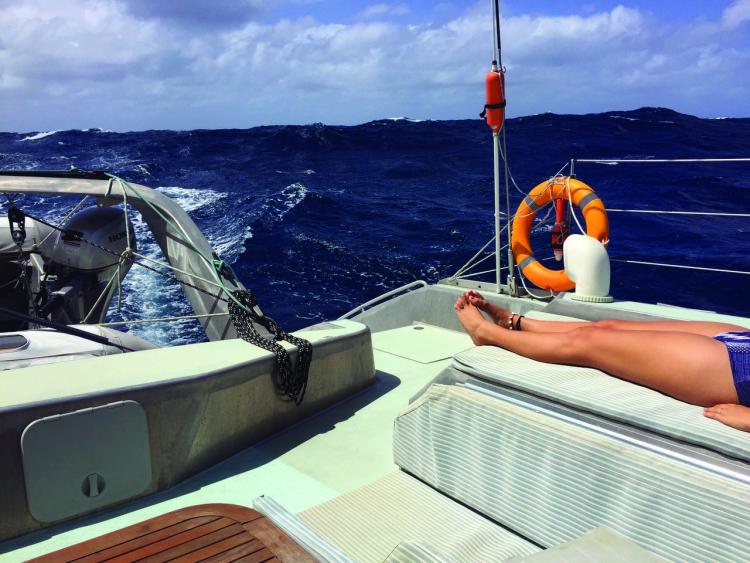 The top-down approach
Many cruisers take a top-down approach when preparing their boat for a long voyage. A professional rig inspection can go a long way in keeping you safe and keeping you moving forward. However, it's important to know your own rig and know how to check for fail points. Shrouds, turnbuckles, halyards, sheaves, blocks, and sheets all need inspection and proper spares. Look for chafe points where your sails and sheets might have problems if they are up for days or weeks. Make sure you have a secure way to get up the mast, even in heavy weather.
Lists for deck level items will include inspecting winches, shackles, turn-blocks, sheaves, lifelines, stanchions, fuel tank, steering, and ground tackle. It's a good idea to buy a couple of spare winch handles for when Neptune claims his share. Safety on deck means adding things like jacklines, tethers, liferaft, flares, sounding devices, throwables, and deck lights to your checklist.
Inside your boat, you'll want to check the batteries, bilge pumps, floorboards, lockers, propane, fresh water tanks and pumps, VHF and other radios, electronics, navigation gear, and hose clamps. Of course, your engine will need the full spa treatment and inspection before a long passage too.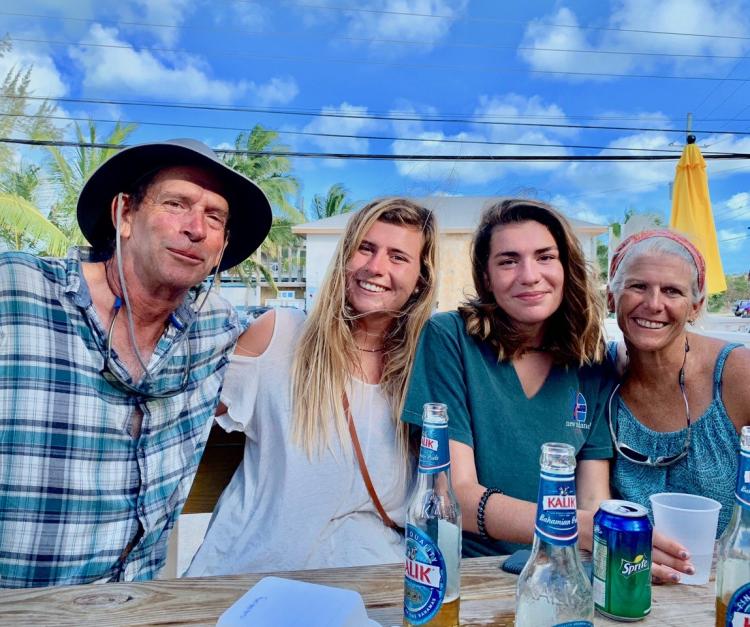 Binders, diagrams, and expectations
"It's always hectic right up to the moment of departure," says Jessica Rice Johnson. "There is little time to think, and so much to do. The best part is when we finally take off and can relax."
Jessica, her husband, and two daughters cruised on their 62-foot custom aluminum catamaran Elcie from 2010 to 2019. Their home port is on the Chesapeake Bay in Maryland, but they have circled the globe on Elcie and done many long ocean crossings (and shared them in SpinSheet). They sold Elcie about a year ago, but bluewater life is always in their blood.
The Johnsons are old pros at offshore prep, but Jessica says they started with an offshore cruising handbook to create their initial checklist and just modified it over the years. "In our chart table we keep a three-ring binder with sheet protectors on every page," says Jessica. "That way we have all the information at the ready. Our kids know the drill by now, and I will hear them call out things like, 'I have the port side.' 'I have the head.'"
Jessica agrees that lists and more lists and spreadsheets and labels are critical, even for old salts. She also finds that having a diagram of the boat that shows where certain important parts and gear are stored helps as well.
Jessica and her husband have a division of labor that works for them. He kept track of the engine, rigging, and electrical. Each of these had their list of spares, maintenance schedules, and routine pre-passage inspection and to-do items. Jessica handled boat school, medical, and provisioning.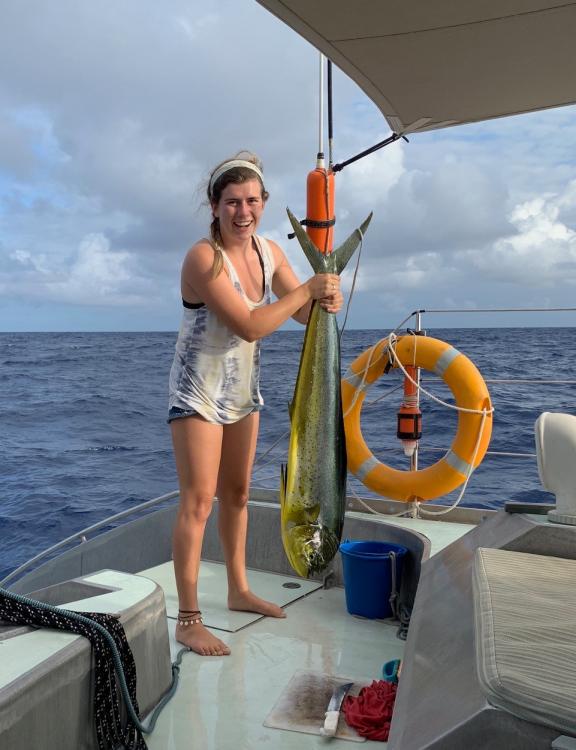 Provisioning and meal-planning
Provisioning seems to be one of those things that throws people off more than anything, because there is no hard and fast, right or wrong way to provision. Offshore passage veterans tend to agree on a few things that rookie passage makers forget. One of those things is that there are people all over the world, and they all eat food. Amazing, right? You might not find the exact brand or type of your most used foods when you arrive at the next port, but you will always find staples.
When you get ready to leave, stock up on treats and specialty items that you likely won't find outside the USA. Things such as pesto, dark chocolate, sun dried tomatoes, and maple syrup are favorite cruiser treats. Jessica says the other things she always tells people is that offshore passage planning is not the time to experiment with new foods or recipes. Make a plan and stick with tried-and-true foods that you know your crew will eat.
"If it's something you don't eat regularly onshore, you certainly will not eat it when you're offshore," warns Jessica. "Mushy, canned greens are a classic mistake. I remember early on I stocked 12 cans of green beans on Elcie when we did our Pacific voyage. We came back to the Chesapeake with 11 of those cans, and my family never let me forget it!"
Planning meals that don't require any work is critical for those first few days at sea, and easy to grab, filling, and nutritious nibbles are necessary for the whole passage. Keep in mind sea state, feeding a potentially queasy crew, and of course staying well hydrated.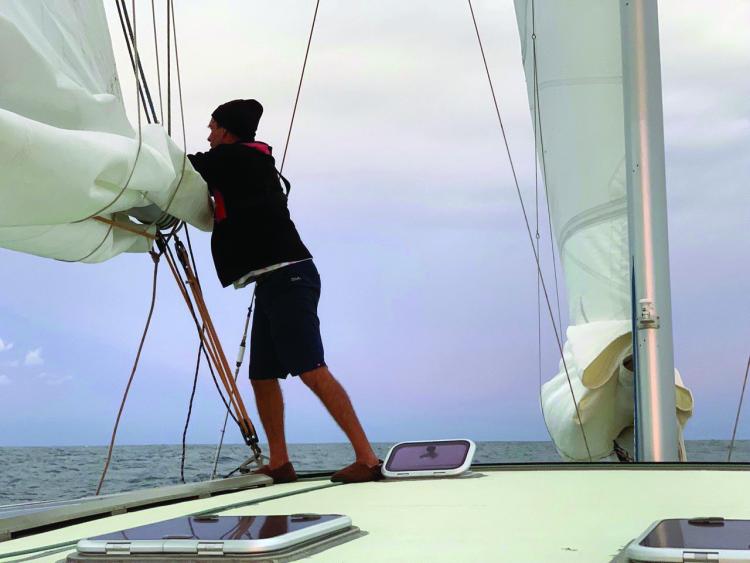 Things you may, yet shouldn't forget
Jessica says not to forget that things like paperwork are part of passage planning. Organizing ship's papers, passports copies, visas, banking, and health documents are a must for a smooth landing on the other end of your offshore journey.
Magazines, seminars, and sailing associations talk a lot about things like provisioning, rigging, and weather, but there are things that standard checklists don't always cover. Things such as managing fatigue, managing sea sickness, crew communications and expectations are important parts of successful passage making. Carve out some time to write out plans, discuss expectations and comfort levels with your crew, and make sure that your crew is not just safe, but also as comfortable and happy as possible.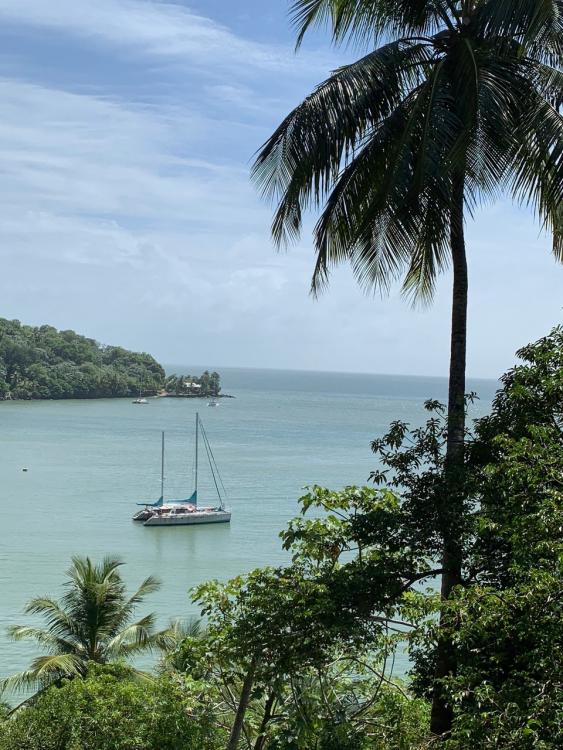 There are many ways to create and keep offshore checklists. Offshore racing associations often have very thorough checklists you can find online. And while racing and cruising are different mindsets through the same oceans, you can glean a lot from studying these lists. Offshore cruising rallies like the Atlantic Rally for Cruisers (ARC) often have checklists and requirements for participants.
You should always have paper backups to your computer lists, and keep them somewhere dry and secure. If you're new to sailing offshore, keep in mind that there is no one bluewater passage list that will catch all for your boat, your crew, and your passage. You need to do some homework, plan ahead, and create passagemaking routines and checklists that work for you and your boat.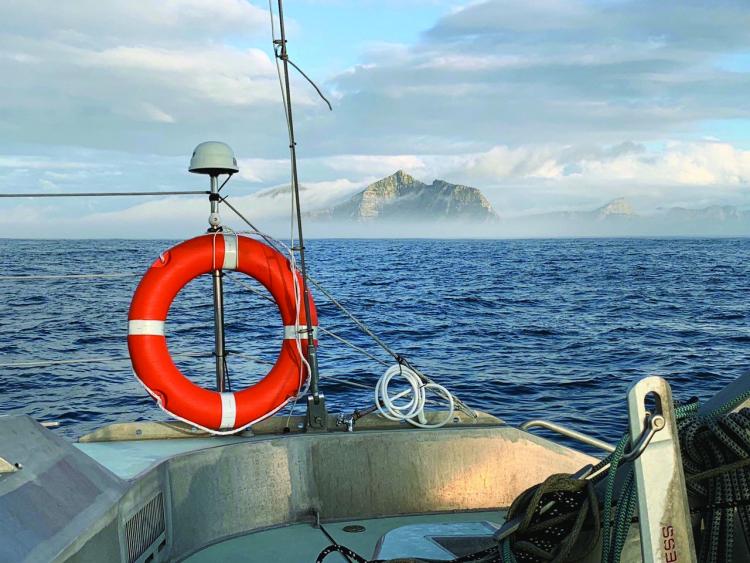 Pre-Departure Procedures
As part of their Crew Handbook, Jessica and Richard Johnson listed these procedures to be done prior to departure onboard Elcie:
All portholes in the hull must be closed—four on each side.
Escape Hatches in the aft cabins must be fully dogged and locked. Make certain they are not in the "vent" position.
Forward facing hatches secured if needed.
Check engine fluids port and starboard.
Sails ready for setting: covers off, sheets down, etc.
Swim ladder up.
All loose gear stowed and galley secure.
Dinghy hoisted and safety lines on.
VHF on Channel 16.
Auto Pilot "on."
~by Cindy Wallach
Find more about sailing offshore here.