PSC members charter four boats in Maine
The Philadelphia Sailing Club (PSC) charters sailboats for a variety of trips, from weekend sails on the Chesapeake Bay to weeklong trips in the United States and abroad. From Saturday August 12 to the 19, we chartered in Maine.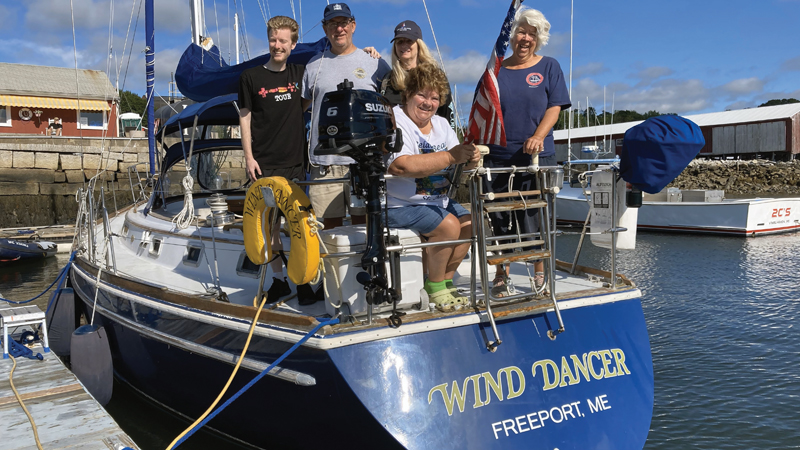 Twenty club members went to Rockland, ME, to board four boats: Elan, a 40-foot J/boat; Nefer Nubi, a 50-foot Hans Christian; Wind Dancer, a 44.5-foot Gulfstar; and Alliance, a 44-foot Hylas. Each boat had four crew members and one ECM (Experienced Crew Member.) The boats were chartered through Northpoint Yacht Charters in Rockport. The owner of each boat gave the respective ECM instructions as to where the boat was docked. The crews for each boat conferred before the trip to plan their individual menus. While waiting for the boats to be ready, we picked up the remaining provisions.
Kim, our trip reservationist, was able to arrange for us to have a group dinner Saturday night at the Rockland Yacht Club. She found a local caterer to provide the meal, which included lobster rolls for everyone. We presented Julie Moster of RYC with a PSC burgee as a thank you.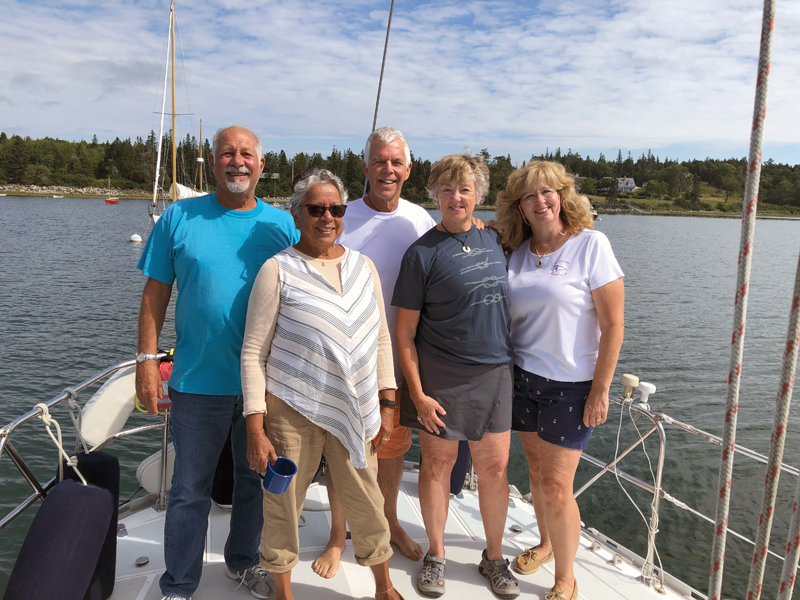 By 1 p.m. Sunday, all four boats headed for Cradle Cove on the west side of Gilkey Harbor and found mooring balls for the night. Everyone had dinner on their respective boats. Monday morning, we headed to Castine on the east side of Penobscot Bay. We passed the Lincolnville/Islesboro Ferry and went through Bracketts Channel. We also passed the vessel State of Maine, owned by the Maine Maritime Academy in Castine. Wind Dancer and Nefer Nubi were able to dock at Eaton's Boatyard, and crews had dinner in town. Elan and Alliance took moorings and crews ate onboard.
We left Tuesday morning for the Eggemoggin Reach and the Deer Island Bridge. We anchored for the night near the Wooden Boat School near Brooklin. The school was fascinating! Check it out! Nefer Nubi's windlass had malfunctioned, so the crew rafted with Wind Dancer. The owner came onboard that evening and got it fixed. Alliance had arrived first, and they managed to pick up the last available mooring ball. Friendly anchorage neighbors and Maine locals Tom, Candace, and their dog Dory drove their dinghy over to Elan to say hello and offer some helpful advice for our Wednesday plans.
Wednesday, the fleet split up and headed out in the densest fog of the trip. Wind Dancer and Nefer Nubi made mooring reservations in Southwest Harbor so the crews could have dinner in town. Elan and Alliance headed to Burnt Coat Harbor on Swans Island and hiked to the lighthouse to stretch our legs.
On Thursday, all four boats reconvened in North Haven and took mooring balls at J.O. Brown Boatyard. Earlier in the day, Wind Dancer flagged down a passing lobster boat and purchased fresh lobsters. Elan purchased lobsters from the boatyard. Both crews cooked their lobsters onboard that evening.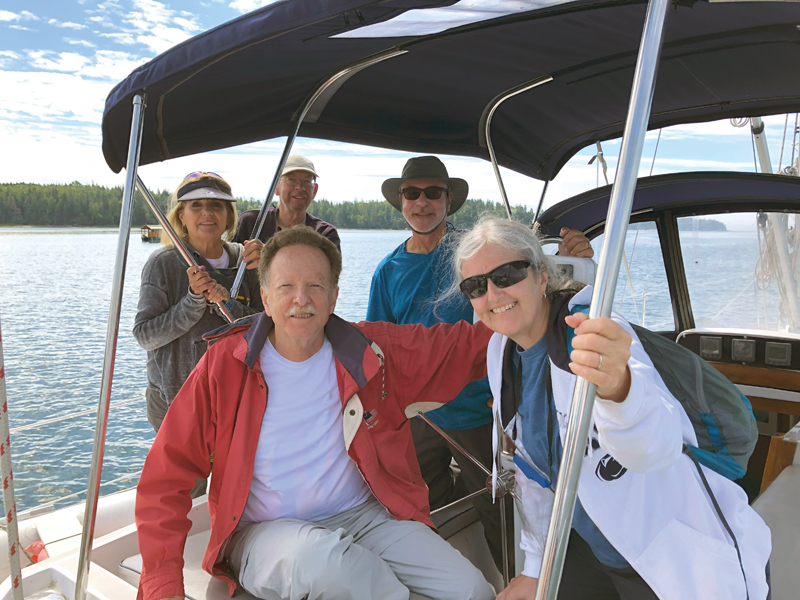 Friday, Elan left North Haven early to beat the rain predicted for early afternoon and arrived back in Rockland just in time. The other boats arrived shortly thereafter. Some of us had dinner in town, others finished off the provisions on their boats. It was nice to enjoy the cool weather in Maine after the hot weather in Philadelphia. We didn't even mind the clouds and the fog.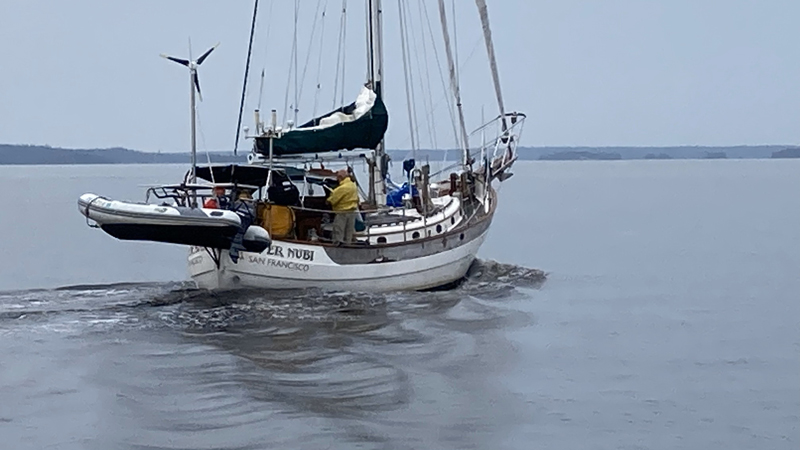 To see the video about our trip, visit philadelphiasailingclub.org. You can also learn more about our club, and better yet, become a member! No boat, no experience? No problem! We'll be happy to show you the lines, sheets, sails, and everything else you may need to pitch in and help sail a boat. You can also find us on Facebook.
By Ray Enger