My mind meanders back to a picture-perfect June evening. I'm with a girlfriend, sitting outside at a restaurant on Spa Creek, sipping a crisp chilled wine, and watching our Wednesday night warriors finish their Annapolis Yacht Club race just before the bridge. Unexpected gusts of breeze catch a few of the racers unawares, heeling them way over, just before the finish line. A colorful sunset provides the honey-tinged background for this idyllic scene.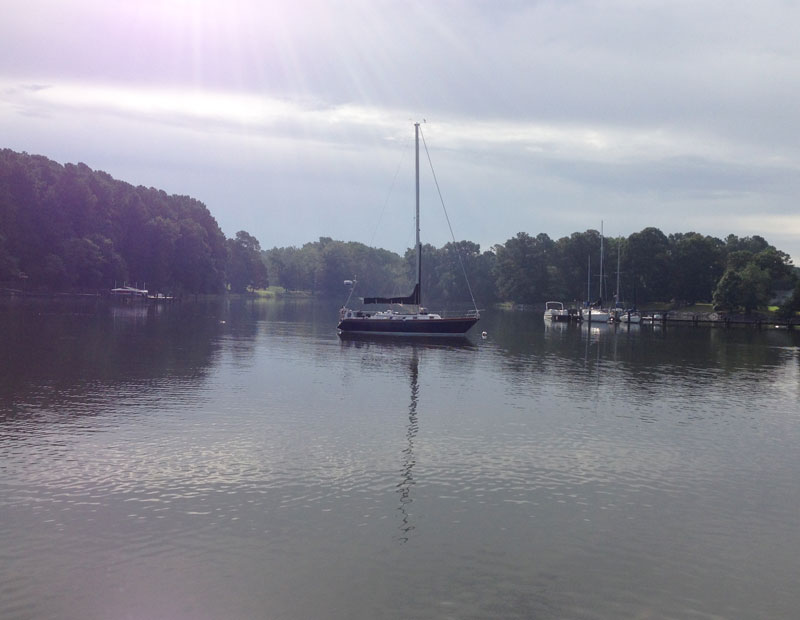 Most August days, the June vision seems like a fantasy. Spring and autumn months are when the odds are best that the sailing life will live up to the expectations we've freighted it with. The temperature will be pleasant; the wind will be optimal; our outlooks will be optimistic. By the end of the summer in Chesapeake country, it's hot, humid, and windless; something on the boat has broken down; and we find ourselves watching the weather obsessively to make sure we don't need to tie up in advance of a tropical something-or-other. Spirits flag.
Given that Rick and I treat Calypso as if it's our vacation home, we seldom leave town during the summer months. And we are not content to leave her at the dock, unused and neglected. So we slog out into conditions that might scare away the less intrepid.
In fairness to August, it isn't always wind-free, and we've had some fantastic sails in perfect breeze. Sometimes, we manage what we've dubbed a "cocktail breeze"—enough wind to propel us on our stately way, but not so much that our guests spill their drinks. But it comes with a caveat: it only feels good upwind, when apparent wind serves to provide the illusion of comfort. Anything aft of the beam feels stagnant and hot. I don't mind heat too much; my clothes and constitution can handle it. But the sweat streaming off my brow gathers up the sunscreen clogging my pores on its way into my eyes, combining with my contact lenses to create an unholy stew of optical misery.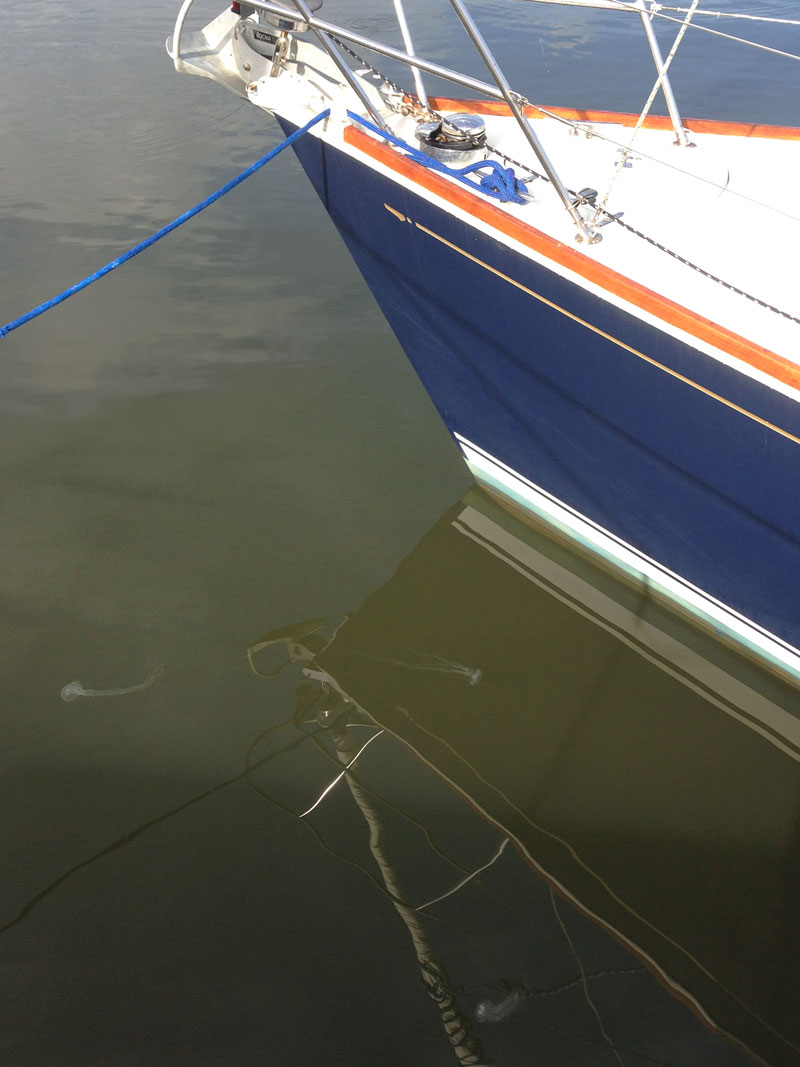 Weather and the chance of pop-up thunderstorms notwithstanding, I'll often want to anchor out in August. But as we approach our anchorage, I carefully scan the water (polarized lenses are key for this exercise). Sometimes, the sea nettles are so thick that you feel like you could walk on water on their slimy heads; where they choose to congregate is a mystery. On those memorable occasions where there are no visible nettles, I'll be the first to jump in the water for a cooling swim, but every weed that slides along my skin sends a shiver up my spine, convincing me that it's a renegade nettle, leading a charge of many others.
As darkness falls, as it inevitably does without any marked cooling of the air, an internal debate rages within my seared brain: Do I suffer the noise of the cabin fans (which will keep me awake)? Or do I suffer with the heat (which will keep me awake)? Ultimately, I'll sleep badly, if at all, and be a cranky first mate on the way back to the marina. Once safely secured, the first thing I'll do is grab the big yellow cord, plug in, and turn on the AC-powered air-conditioning (and hope the system doesn't suck up a jellyfish, as it once did, shutting it down).
Oscar Wilde is famously noted as having said "[s]econd marriage is the triumph of hope over experience." So it might be said of August sailing. We've had enough good August days on the water that we keep trying, though the probabilities don't favor us.
by Eva Hill