Some of the year's best sailboat cruising
While sailing on the Chesapeake offers year-round enjoyment, the twilight weeks in November add a special magic to the Bay's charms with crisp air, reliable breeze, and vibrant colors. These last days before buttoning up for winter bring some of the year's best cruising with inviting possibilities such as rendezvous with friends, chilly days and nights snuggled under blankets, and echoing calls of geese wherever they might be flying. Here are five reasons why you shouldn't miss this special time of year aboard your boat before bidding adieu to the season.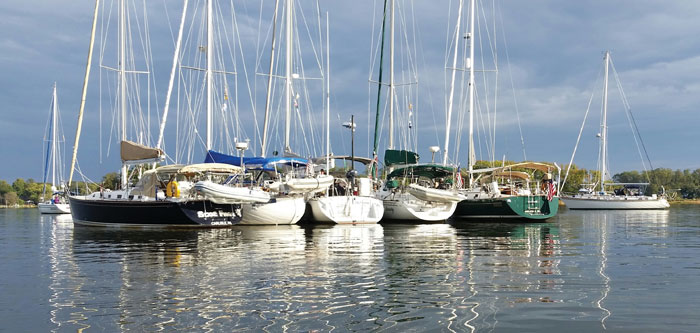 Warm waters moderate the cooler air temperatures
Sailing in fall's steadier breezes and anchoring in calm harbors makes for a cool, but not frigid experience. It is the opposite of that first spring sail, which is invariably bracing and invigorating. Late fall cruising is cuddly and cozy, a relaxed wind-down after a satisfying season.
Kate Lee, who sails her 31-foot Pacific Seacraft Green Dolphin, says, "Fall is my favorite time for sailing on the Bay. The wind tends to be more favorable and predictable, and we sometimes are blessed with remarkably warm daytime temperatures."
Ann Ducca, who sails with Jim Kevern aboard their Outbound 46 Ubiquitous, agrees: "There is usually more wind for sailing and cooler temperatures for sleeping."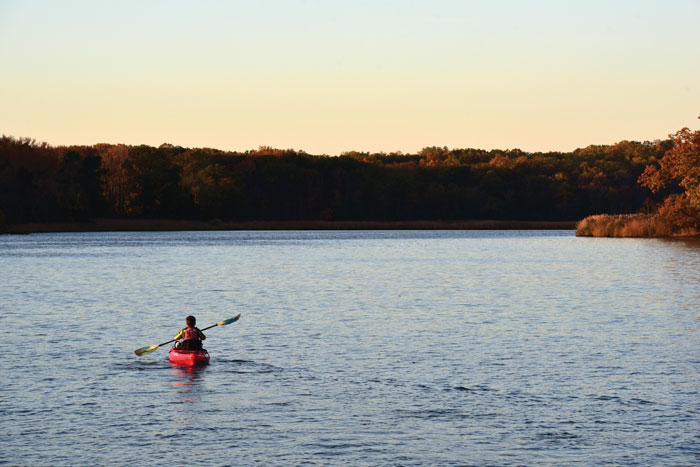 Popular summer anchorages now have plenty of space
Anchorages that are popular with powerboaters, waterskiers, and summer revelers are deserted, which can make them even more appealing.
Lee notes, "There tend to be fewer boats on the water, and anchorages that may be bursting with boats in the height of summer can be transformed into relatively secluded weekend getaways. One of my favorites in the fall is the Rhode River. During the height of summer, it's a very popular destination, and I only go there if I'm able to sneak away mid-week."
John Day and Tessa Muehllehner have spent the last several Thanksgivings celebrating with their family at anchor on the Wye River aboard their Farr 50 Tenho. Day says, "In the seven years we have done this, we have seen only one other boat anchored during the four days we spent on the Wye exploring the island."
Kevern and Ducca have taken a "goose cruise." They sailed far up into Warehouse Creek in Eastern Bay, where they spent the night at anchor surrounded by geese. Kevern notes, "It turns out to have been ideal for goose watching. There must have been a thousand or more spending the night on the lawn of some grand estate nearby. We found it interesting that in the morning groups would take off, fly around a bit, then come back and land." Ducca adds that she loves the sound of their honking. "It always reminds me of fall," she says.
Seasonal drinks and food warm up the days and evenings
A warm meal and a hot drink can take the chill out of the crisp fall temperatures. When reminiscing about cruising in the fall, Ducca mentions, "I always had a 'cozy' feeling about going below to make dinner. It was cold and dark topside, but nice and warm below. For dinner time in the summer, I enjoy the openness of the cockpit, but the warmth of a dinner below in the fall is also a nice experience." Lee echoed that sentiment when remembering a fun night eating pizza and cookies at anchor with friends. The warmth from the stove did double duty by taking the chill out of the air.
Lee also prepares for the cool fall days with warm drinks and extra clothes. "I don't have a dodger and I don't use my portable propane heater underway, so for crew comfort, I have some warm tea or coffee in a thermos and make sure I have plenty of warm layers to offer up to crew members who may have misjudged the effect of the wind chill," she says.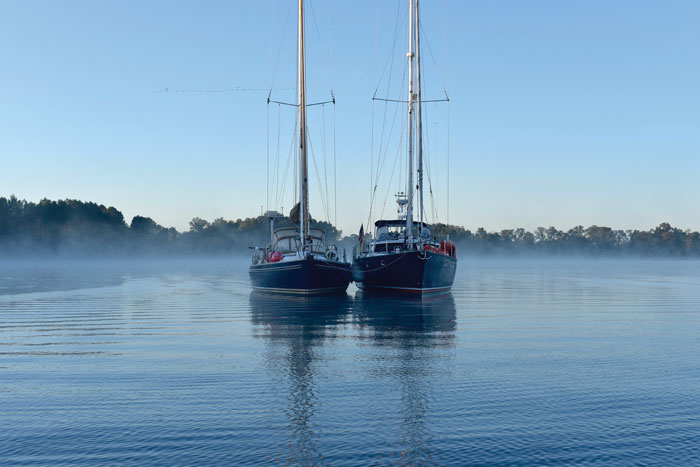 Rendezvous with friends and family
All of the warm food and drink are even better shared with friends. Raft-ups and rendezvous large and small make for a great time to hang out. Richard Ewing and Idarae Prothero, who sail their Beneteau First 42 Molto Bene, suggested that warm cider with spiced rum and hot chocolate shared in the cockpit complement the cool fall nights.
The Bay's natural beauty shows off its autumn splendor
The Bay wears its shades of red, orange, and yellow in November, and the quiet creeks and rivers offer a great opportunity to see this beauty up close. Leaf peeping by kayak or standup paddleboard makes for a refreshing morning outing. With the sun down going down early, exploring the shoreline in the dark becomes a possibility to embrace.
Day describes some of their nighttime explorations by dinghy: "A great thing to do at night at this time is dress warmly, get in the skiff around 10 p.m. and slowly spotlight along the shore. We have seen dozens of fat raccoons, deer, foxes chasing muskrats, and night birds. The best part is that deep in the dark Wye in late November seems like a million miles from our home on Capitol Hill." Really, that seems like the best reason of all to get out on the water in the late fall.
By Tracy Leonard
Are you an autumn sailor? Here are 10 tips for safe fall sailing.