After many miles logged sailing, four destinations worthy of the bucket list
I've been sailing for 65 years. I've cruised all over the East Coast of the United States, the Bahamas, and Central America. My logbook shows over 40,000 coastal and bluewater miles. I've dropped the hook in hundreds of anchorages, some I'd like to forget. Others I invite you to visit.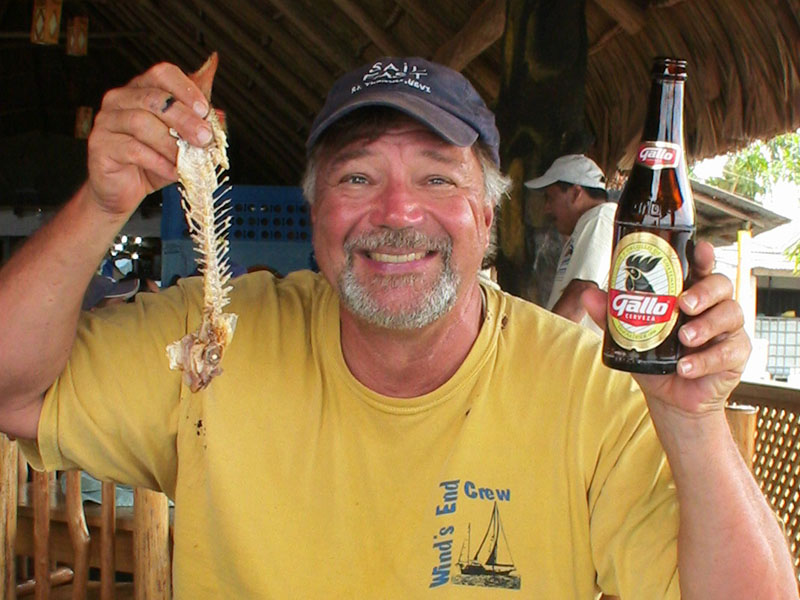 What follows is an abbreviated "Ligibel's List" of spots I recommend visiting. I can vouch for each and every destination, although I must admit the ravages of time may have diminished my recollection of specifics of some locales while at the same time leaving me with mostly fond memories of both the voyages it took to get there and the enjoyment I and my crew had while in their confines.
Little Cranberry Island, ME
44.2605° N, 68.2317° W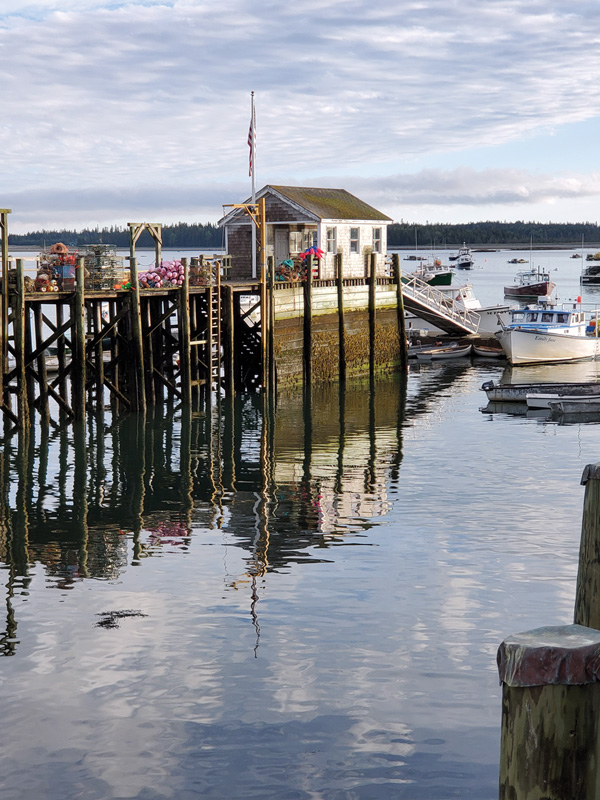 Little Cranberry Island is on the southeastern side of Mount Desert Island near the entrance to Somes Sound. It's an easy five-mile sail from Southwest Harbor. Fewer than 65 hardy souls call this little island of 200 acres their year-round home, yet permanent residents profess their love of the island's history, solitude, and cuisine. My wife and I visited friends whose families had made the island their Maine residence for two generations.
The island beats to the throb of "lobstah" boats coming and going early in the morning and into the evening hours. A stroll through the lobster coop reveals baskets of bait fish ready to be plunged into the frigid waters in the attempt to lure the spiny crustaceans from their watery homes.
Lobstering has been tough the past several years. Prices have plummeted, while the cost of fuel, bait, and labor have skyrocketed. Mainers being Mainers, however, the boats go out rain or shine, cold or hot.
Some of the sea's bounty finds its way to Little Cranberry's premier dining experience, the Islesford Dock and Gallery, on the waterfront. You just can't get lobsters any fresher.
On one trip to Southwest Harbor, I cajoled a lobsterman to take me and a buddy out while he picked pots off the bottom of the rocky shore. Charles Gertruidus was a fourth-generation lobsterman. A man of few words, he wondered why a couple of sailors would want to go out with him on this blustery April evening. I told him we wanted to get to know more about lobstering.
"Times are God awful tough," he told us. "Prices for lobsters are rock bottom, and prices for everything else are sky high. Why do we do it? We don't know nothing else."
Back on Little Cranberry, our island friends had prepared a feast for us at their seaside home: lobsters, to be sure, plus fresh picked corn and coleslaw, all washed down with a crisp chardonnay. Life for this sailor was pretty darn good on that epicurean night on Little Cranberry Island.
Tobacco Caye, Belize, Central America
44.2605° N, 68.2317° W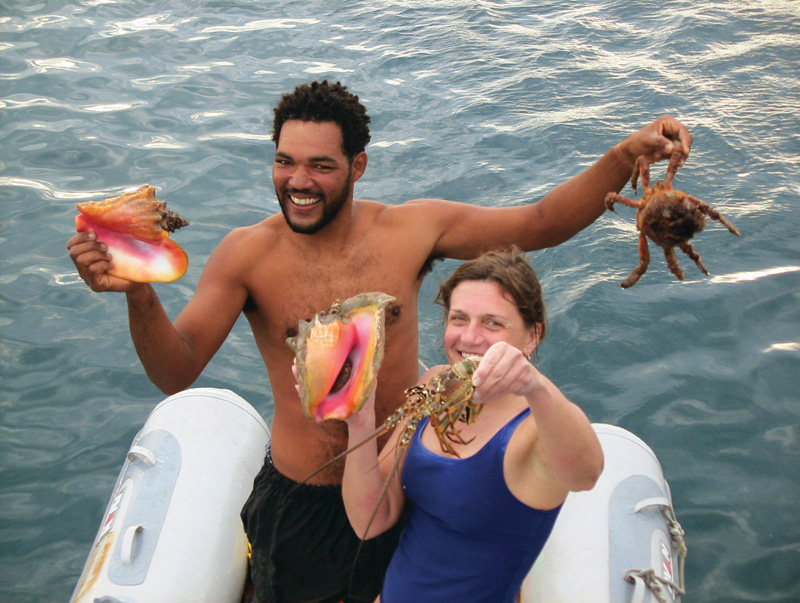 The sun was just coming up as we swung the nose of my 43-foot Endeavor ketch Wind's End into the friendly confines of the 10-foot-deep Tobacco Caye anchorage. Located just inside the Mesoamerican reef, Tobacco Caye was our first port of call after having made a nerve-wracking journey from Mexico's Cozumel, 300 miles to the north.
Finally, the tiny three-acre island was something other than a little dot on an electronic chart. We were really here, swinging on the hook with a veritable palm-tree lined paradise not 100 yards off our bow.
Just as we settled down for a little shut eye (after an all-night sail through the reef that guarded the placid water of the Belizean coastline and past the bright lights of Belize City), we heard a tapping on the hull and the welcoming voice of Diedra who, as it turns out, is the unofficial welcome wagon of Tobacco Caye.
"Welcome to Belize," she said with a gap-toothed smile. "Tings are good here. Wat time you want dinner at da bar? We have lobsters and snapper… and cold beer."
"Sign us up," Chad hollered. "You tell us when, and we'll be there."
From a football field away, Tobacco Caye was an island paradise. As our dink got closer, however, a few warts became obvious. The 20 or so huts were a little ramshackled, and there were piles of plastic bottles littering the beach.
To get to Belize, we had run the gauntlet of a hasty escape from the captain of the Port of Cozumel who threatened to impound our boat and us for not checking in and for anchoring in a restricted area close to the cruise ship docks.
We also had dodged waterspouts, a balky fuel system, and a fierce lightning storm off the coast of Cuba. But we'd been treated to some spectacular sailing in the 9200-foot deep Yucatan Channel, including a morning sail where we hit the trifecta: we jumped a marlin on the line we were trailing from the stern; we were surrounded by a pod of spinner dolphins that wanted to play and that even let Chad hang from our bow pulpit and touch their backs with his feet; and we were treated to the too-close-for comfort blow of a whale as this 40-foot long creature greeted us along with the morning sun.
Dinner on Tobacco Caye was outstanding: grilled lobster, conch fritters, and cold beer.
We retreated to the confines of Wind's End to contemplate our good fortune. During our stay on the little island, we gave each islander a little flashing shamrock as a token of our appreciation. Now, looking at the island from Wind's End, we could see little flashes of green light all along the shoreline as our new-found friends strolled around their village proudly displaying their flashing treasures. Sometimes even paradise can benefit from a little glitz.
Lake Titicaca, Peru
15.9254° S, 69.3354° W; elevation 12,500 feet above sea level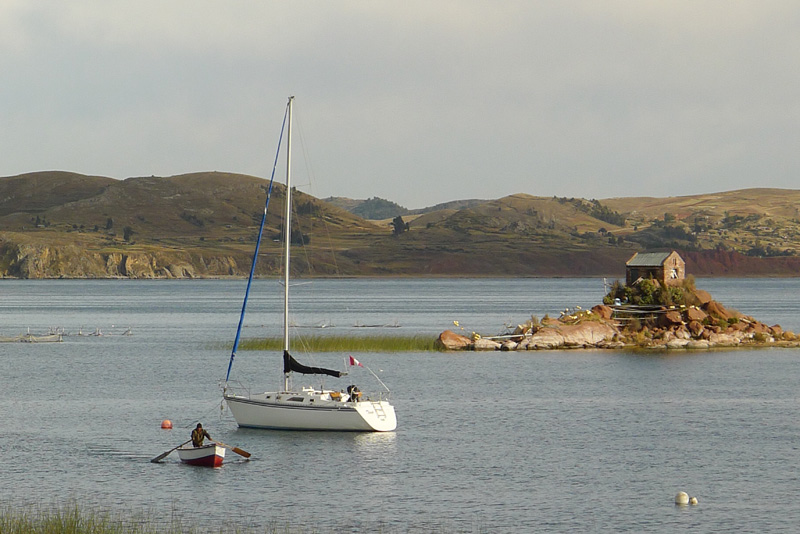 Welch sailor and adventure writer Tristan Jones battled snipers off the coast of Africa, slogged 3000 miles against the mightiest current in the ocean, survived the ravages of jungle diseases too numerous to mention, and, oh yes, dragged his 17-foot keel boat Sea Dart over some of the roughest country in the Andes, all to claim the title of having sailed in the highest navigable body of water in the world: Lake Titicaca.
In April 2011, my daughter Betsy and I went to Lake Titicaca in search of the Tristan Jones legend. We found that while much had changed in the ensuing years, much remained the same.
We were slated to accompany two young Peruvian sailors, Renso and Rafael Verand, who operated the only sailboat charter business on the lake. Their 31-foot Hunter Thaya had been trucked over the mountains from Lima in much the same way that Jones's boat had been conveyed. Its deep draft, forgiving sail plan, commodious cockpit, and spacious belowdeck accommodations made it an ideal boat for the Lake Titicaca charter business.
Our first port of call was Uros Khantati, an island in a series of 40 or so three-acre floating rafts made of woven totora reeds. The totora plant, which grows in abundance in the shallow waters around Lake Titicaca, is related to the giant bullrush sedge.
The construction of the islands themselves is ingenious: two-foot cubes of peat are lashed into sections about 20 feet by 20 feet. These sections are joined to form an island the size of a football field. The entire surface is covered with a build-up of up to 20 layers of totora reeds. Each island is secured to the shallow lake bottom with stakes driven into the muck. The footing is firm, but there is a slight give underfoot. Sometimes, whole chunks of the islands break off and residents can find themselves floating hundreds of yards away from where the rest of their island had been tethered.
We shared a morning coffee with the sailing brothers, who were eager to show us what their Hunter 31 could do on the lake's expansive waters. The young entrepreneurs told of easy day sails and gut-wrenching crossings into Bolivia.
"The winds can come up quickly. One minute, you are coasting along and the next, working to windward in 30-knot winds," Rafael said. "While we have had a good reception on the lake, the charters have been slow to come. The locals have welcomed us with open arms as long as we do not snag their fishing nets."
Sydney to Hobart Ocean Race
From Sydney, New South Wales at 33.8688° S, 151.2093° E
To Hobart, Tasmania at 42.8826° S, 147.3257° E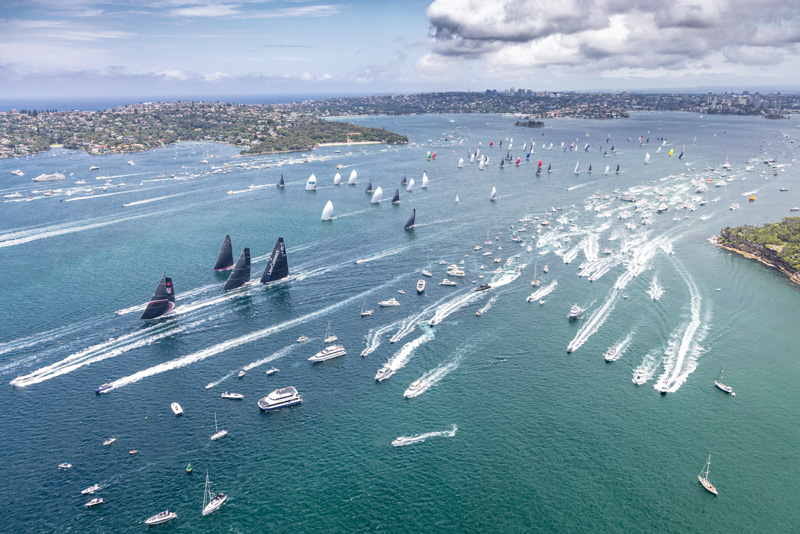 Okay, okay, so I haven't done this race and probably never will, but it's on my Bucket List because it is a race that a dedicated sailor with good credentials aspires to. The race is 630-nautical-miles long. It starts on Boxing Day, December 26, in Sydney Harbor and finishes in Hobart, Tasmania, after a wild ride down the Australian coast, across the dangerous Bass Straights, up the quirky Derwent River, with a final berth at Hobart's Constitution Docks. The Sydney to Hobart is not for the faint of heart.
Shortly after the commencement of the 1998 Sydney to Hobart Yacht Race, a super cell storm stirred up massive seas in the Bass Strait. The storm cut through the fleet, resulting in the drowning of six sailors (from New South Wales, Tasmania, and Britain). Seven yachts were abandoned at sea and lost.
Today, a number of outfitters offer an alternative to driving your own boat in this race. For the modest sum of $10,000, you can buy a berth on a fully outfitted charter, which includes three weeks of pre-race training in Sydney. The most respected outfitter is Flying Fish Charters.
Russell Bonner, director of operations and a multi-race Sydney to Hobart veteran, tells SpinSheet that spots are non-existent for the 2022 edition of the race, but now is the time to put your name in for 2023. I plan to photograph the race from the safety of a chase boat this year and may even fly down to welcome the racers as they dock in Hobart. Who knows—perhaps I'll be reporting from the deck of a participating vessel in the years to come. One can only dream.
by Craig Ligibel