The final leg of an 18-month journey
For some sailors, there is trepidation surrounding departure and the beginning of a long voyage. For me, the homeward-bound leg has always been a much greater source of anxiety. This is particularly true if the voyage to date has gone smoothly. Can't good fortune be used up? Boats have met with disaster only a couple of hundred miles from their homeport and the finish of a circumnavigation. Thanks to heroic rescuers, they are just lucky to be alive.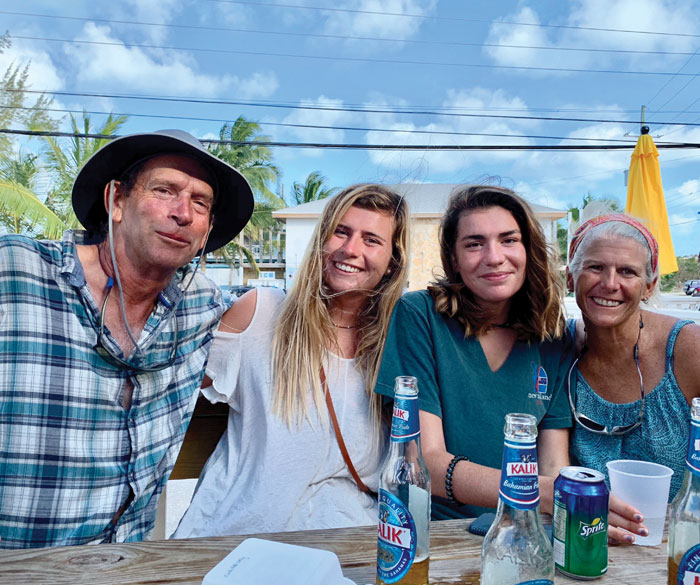 So, when looking for a window to make the final offshore leg of a recent 18-month circumnavigation on our 62-foot cat, Elcie, my imagination had to be reined in. The passage from the Abacos to the Chesapeake can be a tricky one with easterlies changing to westerlies and a Gulf Stream crossing in the middle. Oh, and then there is Cape Hatteras aka "the Graveyard of the Atlantic" to round. I found ways to combat my fears. I refused to cut off the quickly unravelling "lucky bracelet" bought from a street vendor in Bali. I didn't allow myself to visualize a celebratory approach to our home dock. And I hadn't even given anyone an ETA or notification when we departed from the Bahamas.
Something worked because as it happened, the 650-mile hop in early May from Man O' War Channel to the Chesapeake was easy with no more than 15 knots of wind. We even had to motor for about 36 hours. The Gulf Stream added two knots to our speed. We caught four mahi mahi and enjoyed lovely starry nights.
Home to the Chesapeake Bay
It only became hectic once we approached the Bay entrance downwind under sail at 4 a.m. and had to maneuver to avoid a tug with a long tow. Then, we met an outbound freighter directly over the north Chesapeake Bridge-Tunnel entrance. They are huge at close range! The adrenaline created by dealing with ship traffic is far better than caffeine for staying awake on night watches.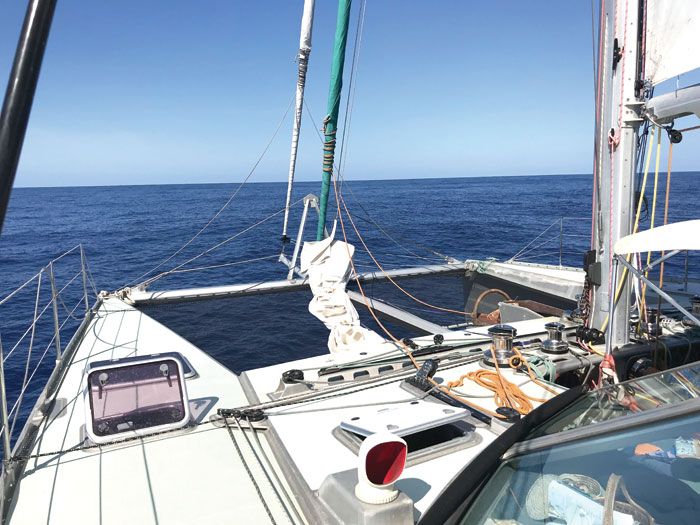 Once in the Bay, daylight revealed the familiar scene of scattered crab pot buoys and small boats tending them against a backdrop of low-lying land. Of the nine crew aboard Elcie, four had never sailed in the Chesapeake before. It is easy to take for granted this 200-mile long estuary, the third largest in the world. Returning from a nearly 32,000-mile voyage to 35 countries and seeing it through the eyes of our crew made our return to the Bay sweeter than ever.
With some time to linger, we called in at Reedville on Virginia's western shore. If you've been to Reedville, you'll know that the wind direction can make all the difference between a pleasant anchorage and one filled with the foul stench of oily menhaden. No worries this time as a light northerly breeze made the spot we chose in Cockrell Creek perfect. Classic Chesapeake watercraft were everywhere and particularly at the Reedville Fisherman's Museum which was closed, but the grounds and dock were open to the public. Some of our crew hitchhiked to the closest food store which wasn't close. They were impressed at how friendly everyone was and that rides were readily offered to three burly and unshaven sailors. Okay, the ride was in the back of a pick-up truck, but still…
A typical Chesapeake predicament
In the morning, we headed north and immediately found ourselves in a typical Chesapeake predicament. Shallow Ingram Bay was thick with crab pots. Eventually, one passed directly under the port hull. Our rudder-propeller arrangement, designed to deflect fishing lines, failed to work this time. There was a loud THUNK! I went to neutral almost immediately, so the tangle was minimal.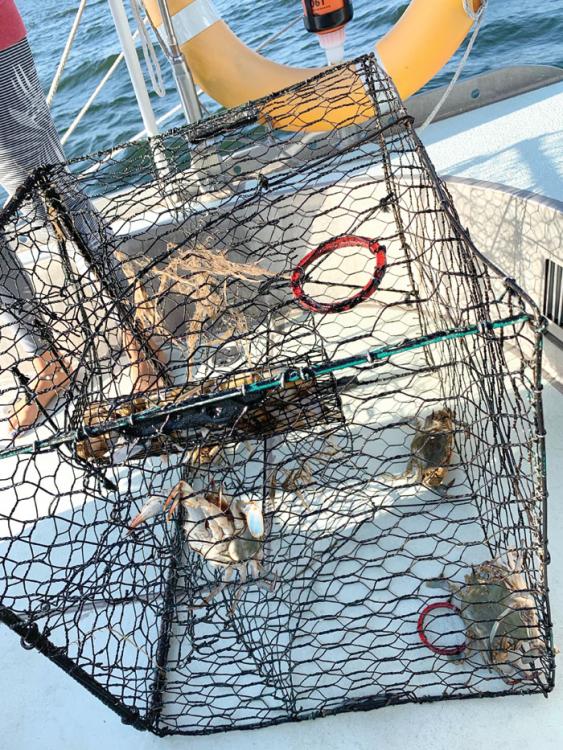 Still, someone had to get in the cold, early May water. Sails came down, and my husband Richard went over the side. Soon we were freed and on our way again. That crabber will probably wonder why one of his pots was a couple hundred feet away from the rest of his line. Or maybe not. From then on, we steered a slalom course through the pot markers while we found our way to the deep shipping channel.
We sailed close to Smith Island, and all marveled at its lack of elevation. High-fives were shared when we crossed the Maryland line. For the umpteenth time, I took collision bearings on the wreck used for bombing practice before realizing once again that it was hard aground. There's a reason it didn't show up on the AIS! For a Friday afternoon, there seemed to be loads of boats out fishing and cruising around. It was good to see so many folks enjoying the Bay.
Elcie passed James Island and made the slow turn into the Choptank River. Just seven miles from Oxford, we could have made it by nightfall. Instead, we chose to spend our last night aboard in one of our favorite spots: Leadenham Creek is a tranquil anchorage with few visible houses and plenty of wildlife. The setting sun silhouetted a row of loblollies creating a backdrop for a meadow dotted with grazing deer. A pair of osprey noisily alerted us to their nest-building pursuits on a nearby duck blind. And just like clockwork, the tiny biting midges appeared at dusk and chased us all inside the screened deckhouse. Welcome home!
Like a kid on the last day of summer, wanting to soak up every bit
In the morning, sunlight shimmered across the water. The osprey were already peeping at us. A crab boat worked a trot line off our starboard side and moved to a second line farther up the creek. While taking that first sip of coffee, I felt both invigorated and melancholy. This is why I love to sail and cruise, and this simplicity of life is what I would miss. I felt like a kid on the last day of summer, wanting to soak up every bit, knowing that it would soon be over.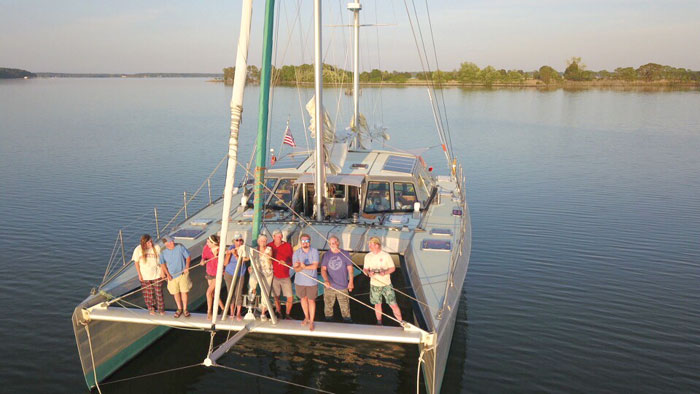 A calm morning, we motored the remaining miles to Oxford and dropped the anchor just outside of Boone Creek. Our daughters, Emma (18) and Molly (16), had been texting friends, making weekend plans while coming up the Bay. Our friend and neighbor, Ron, came out in his Whaler and offered rides ashore. The girls jumped aboard without hesitation, and just like that, our 18-month around the world odyssey with them came to an abrupt finish.
Elcie would have to wait another five hours for the tide to rise enough to enter our shallow creek. Richard and the crew sounded out and staked the deepest water. It is always a guess when we return from a long trip as to whether our dynamic creek mouth has changed too much to allow us back in. However, by midday, Elcie was back on her dock. Moonlight, the ship's cat, took great joy in being home. I'm sure I heard him singing as he stepped off the dock onto grass and sunk his claws into a tree.
Now, the boat has been emptied, raising the waterline a full five inches. Though sounds echo more loudly in her emptied hulls, Elcie contains for me all the memories of our 81,000 miles sailed together. Our family is now enmeshed in overlapping schedules of work and friends and summer camp counseling and yard work. Emma is off to university in August, and these family adventures will be harder to organize. I'm sure the wanderlust will eventually regain its grip on me, but for now we are Chesapeake Bay Eastern Shore land dwellers. It is not a bad place to be at all.
by Jessica River Johnson