Someday Is Here! Casting Off Your Lines for a Long-Term Cruise
Their motto says it all. The "Someday Is Here" tour kicked off for Lisa and Alex Tarlecky on Hahalua last fall as they cast off their lines for long-term cruising into the Caribbean.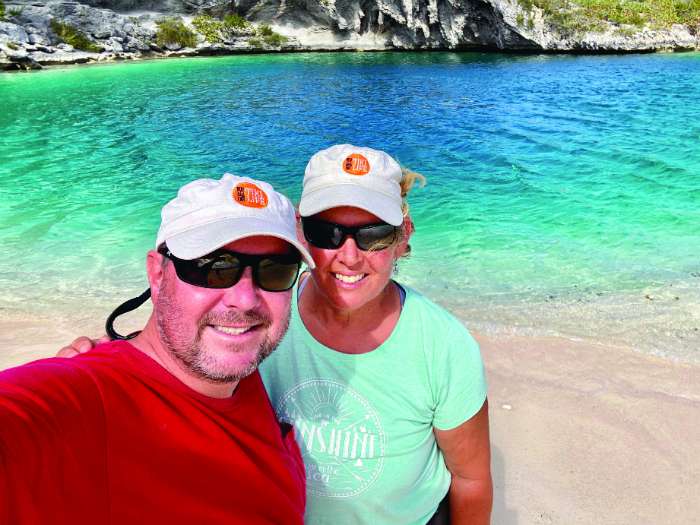 These two are not newbies to this life—this is year 10 living aboard and cruising shorter hops between the East Coast and Bahamas. They started on a Cabo Rico 38 called Tiki Trek, which they sailed for seven years, living aboard full time and cruising part time as work allowed. The couple upgraded to a Manta 42 catamaran two and a half years ago. They named her Hahalua which means Manta in Hawaiian. Everywhere they go other cruisers call her the prettiest boat in the anchorage. She's clad in a Polynesian-inspired wrap with bright greens and blues all over, standing out in a sea of white hulls and beige canvas.
Starlink allowed the Tarleckys to unleash into longer term cruising, both in terms of how far they sail and how long they will be away without returning to the United States. Lisa is the official planner onboard and says she knows how to stock up for the long haul.
"I tend to provision so that I can 'shop my boat' for most anything I might need that's not fresh," says Lisa from Grenada where they're spending hurricane season. "For the Bahamas I have a six-month figure in my mind. For the Caribbean I had the challenges of provisioning in the Bahamas ingrained in my head. I am a couponer and sale shopper, so I sourced a minimum of one year of toiletries, a year of medications, and so on. Alex stocked multiples on any kind of filter we might need. We carry back-ups on a good majority of our boat parts."
Stocking up was the right thing to do, but the crew of Hahalua quickly learned that unlike the Bahamas, the rest of the Caribbean is better stocked with everything from basic ingredients to specialty foods to boat parts.
"When you get to Puerto Rico, you have access to Walmart and Costco. You can restock there. St. Martin is another great place to stock up, and duty free."
Good food and boat parts aren't the only things needed to make long-term cruising work. Every part of your life requires teamwork and perseverance. Alex has always worked remotely in a traditional 9-to-5 job as a program manager for a computer software company. He says it takes discipline to stay focused on work when you know your friends are out snorkeling and hiking.
"We've found that when he has an extended lunch period or a break in his day that a 30-minute swim off the back of the boat can make a world of difference in being able to enjoy where you are," says Lisa.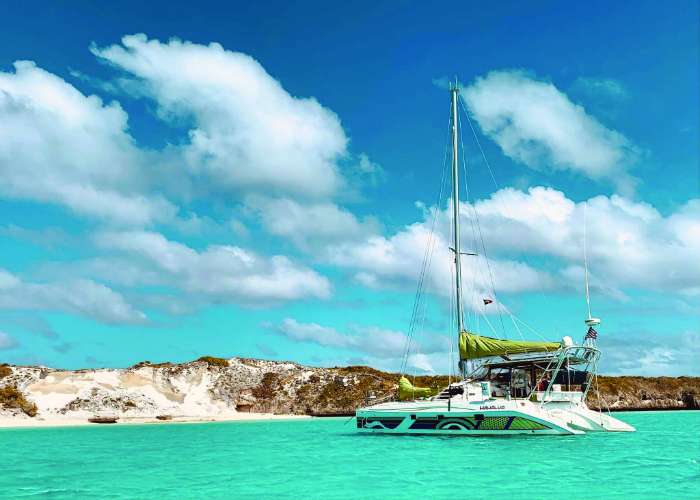 Lisa's work as a social media manager is more flexible, but they try to balance the work and play. The couple makes it a point to savor the little things that make the cruising life special, such as sitting out on deck to watch the sunset at the end of the day. As a former event planner, Lisa is the ringleader for setting up outings with other cruisers. She makes sure that when the workday is done, they make the most of having fun wherever they are.
Alex and Lisa have many resources they lean on to make the most of long-term cruising. There are apps, paid weather services, social media groups, and gadgets that all make the cruising life easier and more enjoyable. Lisa jokes that sometimes it's as simple as a good coffee pot and a working autopilot. Despite the explosion in tech and gadgets, they still feel more than anything, it's the people you meet.
"Like-minded people who share their experiences have been invaluable. I try to do the same to keep our karma bucket balanced," says Lisa. "It's true on social media groups and more so via personal interactions with friends."
Lisa and Alex understand how difficult it is to cast off the dock lines for long term voyaging. Their first piece of advice is to get Starlink (satellite internet access). At the risk of sounding like a broken record, it's a game changer. Their other advice is to commit: set a date, and make a plan. Lisa is a natural planner, and not every crew has that gift. You can hire a cruising coach, such as Sailing Totem, to help you get rolling. Or you can do something as simple as write it on the calendar, start making lists, and tell people your goal so they can support you.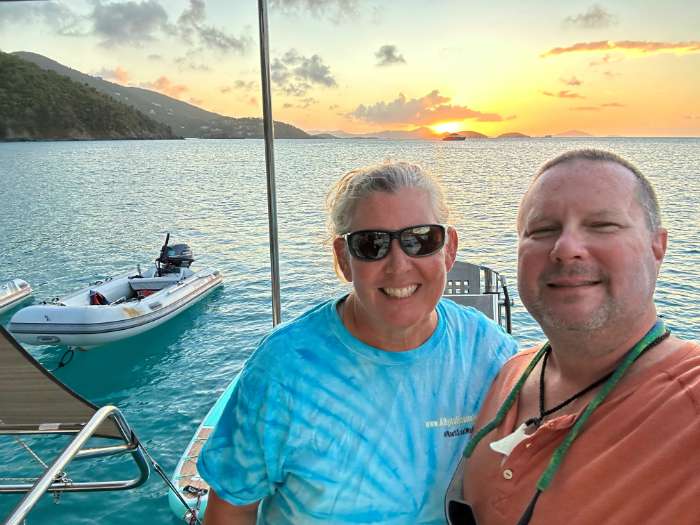 Lisa and Alex are known among the cruising community for leaving a clean wake and helping others along the way. One tradition they came up with is to have a champagne toast for each new country they enter. Sometimes it's just the two of them, salty and tired. Sometimes they toast with a group of buddy boats who arrived at the same time. Each toast is a reminder of how far they've come. Nobody ever feels "ready" to cruise long term. But someday is here for Hahalua, and that's a reason to raise a glass and be grateful. You can follow their champagne toasts and their cruising adventures on Instagram and Facebook @SVHahalua.
Kickstart Your Long-Range Cruising With These Resources:
Subscribe to PredictWind and learn how to use it.
Subscribe to Noonsite.
Get familiar with Active Captain.
Subscribe to Chris Parker weather services. There are many levels from group reports to custom passage planning. Long range cruisers have used them all at one time or another.
Check the cruiser›s nets. There are VHF nets in many harbors and online groups on Facebook.
Talk to other humans. Online groups are great, but other cruisers will always be your greatest resource.
~By Cindy Wallach
Find more great cruising articles here.