A Legacy and Tartan Partner
Just imagine Mike Titgemeyer as an eight-year-old playing in a dingy with a 1950s era Johnson outboard motor and then 40 years later sailing in the Newport Bermuda Race on Kyrie, a Tartan 4100, taking first place in her class and 11th overall. Today, Mike is the owner of Crusader Yacht Sales, the official dealer of Tartan sailboats on the Chesapeake Bay, and a longtime supporter of the Chesapeake Bay Tartan Sailing Club (CBTSC).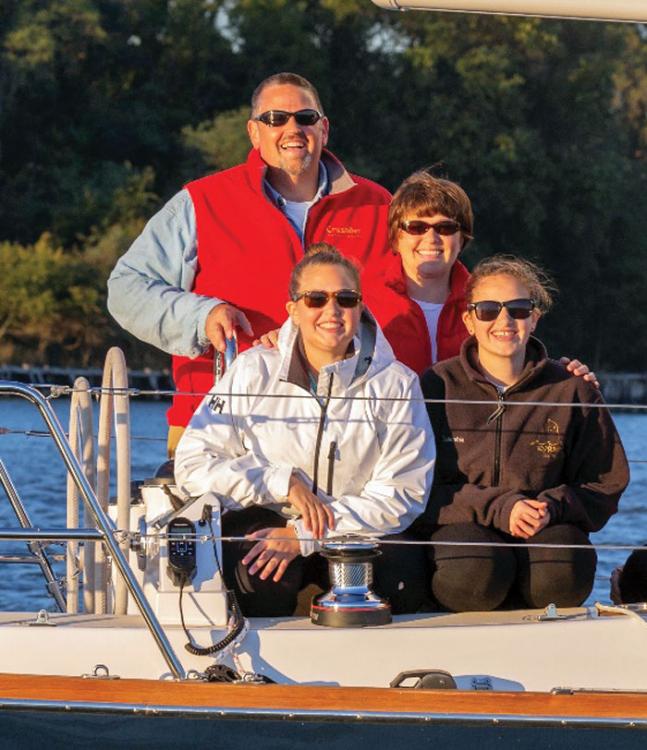 Mike's involvement with sailing began at a very early age, at just eight months old Mike was swinging in a miniature hammock suspended in the bow of his father's Thistle, while sailing on Lake Erie in Ohio. The Thistle was designed by Ray McLeod and Sandy Douglas, who also designed the Flying Scot, the Highlander, and more significantly went on to build the larger Tartan 27 sailboats beginning in 1961.
Mike grew up sailing at Mentor Harbor Yacht Club (MHYC) which is just seven miles west of the Tartan factory in Fairport, OH. At the age of 16 after a brief stint learning how to lay asphalt, Mike took a summer job in a rigging shop in Fairport on the Grand River, where he began building rigging for Tartan sailboats.
He continued to build Tartan rigging all through his time in college, first at Ohio State University (OSU) and then at Cleveland State University (CSU) where he graduated with a degree in accounting. He took on additional side jobs in college working with racing legend Greg Fisher in his Columbus sail loft and graduated from CSU in 1992. Mike still maintains ties to OSU and says he is a huge OSU football fan.
In 1996 Mike began working for Tartan Sailboats as customer service manager. As the Tartan company expanded, acquiring C&C Yachts, so too did Mike's role with the company, as national sales manager before moving to Annapolis in 2001 to start Tartan C&C Yachts of Annapolis, and then finally purchasing Crusader Yachts from Nancy Cann in 2011.
A leader in the U.S. sailboat industry
Mike started big boat sailing at the age of eight, aboard his father's 1960 Van Dam designed yawl, on which he was responsible for the mizzen main, mizzen spinnaker and mizzen staysail, graduating at the age of 12 to manage the foredeck on a number of bigger and bigger boats. He has competed in three Newport Bermuda races and one Marion to Bermuda race; he's also raced extensively in New England and on the Chesapeake Bay.
Mike is a leader in the U.S. sailboat industry. He currently serves as the president of the Yacht Brokers Association of America (YBAA), the governing body of America's boating industry, and he is also active in Sail America and the Annapolis Sailing Industry Association. He's a member of Eastport Yacht Club and our own CBTSC.
Mike met his wife Tia sailing at the Edgewater Yacht Club in Ohio; she was sailing a J/22, and Mike was on his J/24. They married nine months after their first date and have been married for over 21 years and live in Annapolis with their two daughters Emma (15) and Margot (17). Mike and Tia love living in Annapolis and joke that one day they may be able to afford to live there. Mike raced J/24s for many years, racking up wins in local, regional, and national events. Most often his crew was Tia, sister Connie, and niece Caitlin. He credits these times as some of his fondest memories. Besides having had a collection of sailboats over the years, Mike collects Royal Daulton Toby mugs and reports he currently has some 80 mugs.
The voice of Tartan sailboats of the Chesapeake
As the voice of Tartan sailboats on the Chesapeake, Mike has been a long-time supporter of CBTSC and has sponsored club events every year. Not only has he helped many members find just the right Tartan, he has been an important resource for resolving issues with Tartan boats up and down the Eastern Seaboard. CBTSC acknowledges his longtime support and is grateful for his extensive knowledge and deep commitment to the Annapolis sailing community, especially to the Tartan owners he has served. We look forward to sharing another year with Mike and his team at Crusader Yacht Sales.
By Paul MacPherson