Sea Trial for a New Slip?
When we talk about what to look for in a marina, we often think of amenities, location, and slip mates. But how about the slip itself? It might look nice from land, but is it easy to get in and out of? Will you need a full racing crew to fend off? Will it become arduous with a stiff breeze or some wake from the nearby powerboats?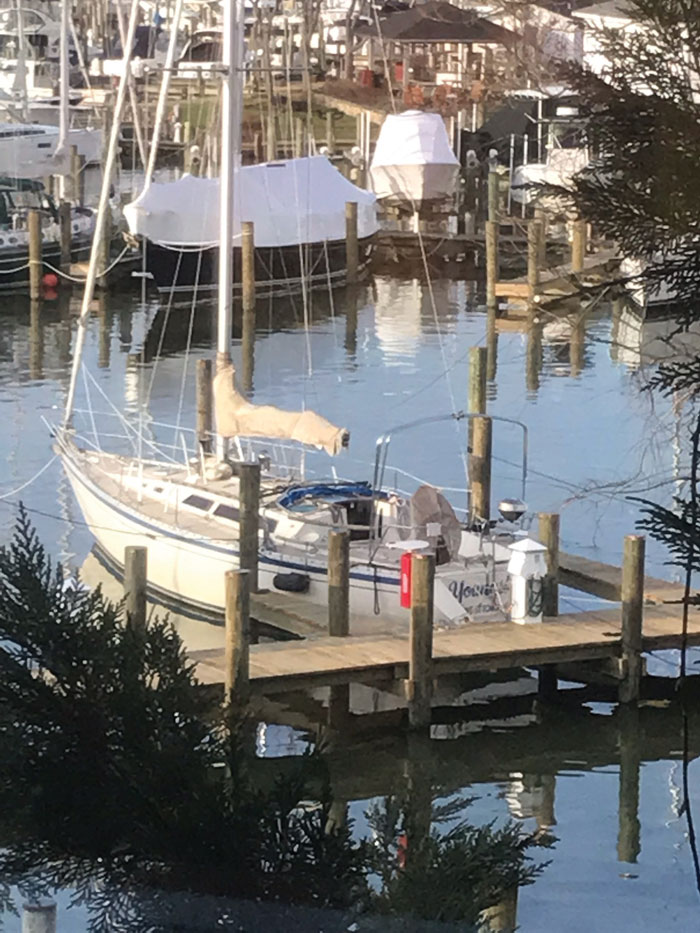 When SpinSheet friends and Century Club members John Burke and his wife Haley Varner recently needed to find a new slip for their O'Day 40, Youngster, they wanted to make sure they got it right. Once they narrowed their search down to a marina that they liked and offered a great view, John asked the manager for permission to try docking Youngster in the slip. The manager readily agreed.
"On a sober Sunday morning, with the wind blowing about 12 out of the northwest, Haley and I, with a few very experienced (we're talking captians' licenses and thousands of ocean miles), sailing friends, headed out to give the slip a test run. As we made our approach on the water, we were all lined up nicely on the runway, and things looked good. But with the wind in the wrong direction (for this particular slip), things got squirrely. Like most boats, Youngster has significant propwalk, and the boat got turned around. We ended up needing all three sets of hands to fend off."
Burke and his crew that day made two full passes and decided this wasn't the slip for them, especially since John and Haley usually sail shorthanded. "After having visited several times, we had been very bullish on this particular slip. We thought 'a boatslip's a boatslip.' But the water-based excursion proved that to be incorrect. We certainly were glad to have had the extra hands on deck and to have tried the slip on a day that wasn't dead calm."
So the next time you're shopping for a new slip, in addition to considering the view, amenities and location, check in with the marina manager, and ask if you may give the slip a test run.