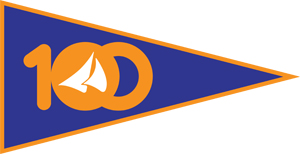 Think you can be on the water 100 days this year? We do too. So join the SpinSheet Century Club and get rewarded for all that time on the water! We'll have a party with great prizes for all those who make it to the finish line by December 31.
Track your days. This is a group of honest folks, but we recommend keeping track using a loose leaf notebook or online calendar.
It's not just about sailing. Go windsurfing, paddleboarding, kayaking, powerboating, anything that involves watercraft. Count days on other peoples' boats. Swimming, however, does not count.
It's Not Just About the Bay. Test other waters. It's summer vacation, after all.
10 days working on the boat count as days on the water. Boat on the hard? She still needs some love and attention. Go visit her. And see #2.
Just get the boat off the dock. We're realists here, we know some days the main doesn't even go up due to lack of wind or other unforeseen issues. Still count the day.
Count your days through December 31. To officially join the club, sign up below. On social media, tag your photos with #spinsheet100. Need inspiration? Just see below: these folks know what it takes.
Register for the Century Club Here:
Pages