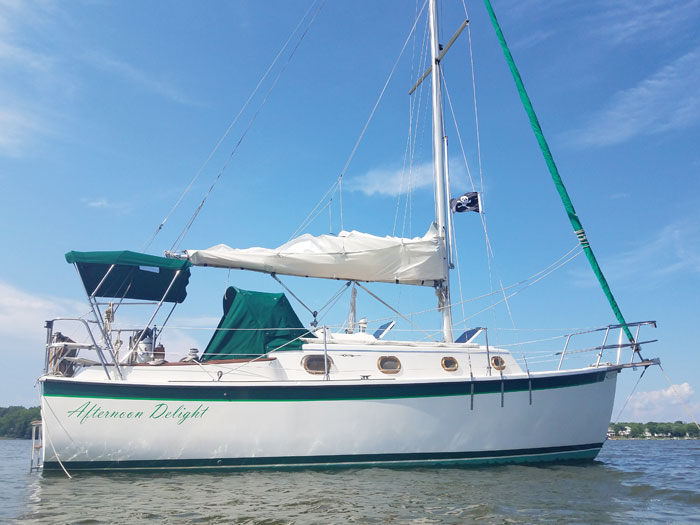 It was not simply about buying a boat, but rather it was committing to something larger and embarking on a new chapter of life. Who was better to share that moment than my brother, Jay? More than anyone, he understands the significance this boat will play in realizing a dream. She is not just a boat; she is the means to writing a new chapter of life, a chapter beginning on the Chesapeake.
As the milestone of turning 30 loomed closer, with each passing day spent toiling for a company that lost its defining values in a profession changing for the worse, and seemingly promising career alternatives falling through, it was time to pursue a dream, one requiring a boat.
The moment was surreal, standing on the dock of Gregg Neck Boat Yard when I first saw the spoon bow and little mahogany bow pulpit of the Com-Pac 27 I'd traveled all the way from Michigan to buy. That moment was the culmination of hours arranging the endless details of purchasing a boat 700 miles away from home. That moment was the realization that the dream that had sustained me through many tough days was becoming a reality. The current chapter of life was closing, and the next chapter was beginning to be written. Since my childhood days spent on Com-Pacs at boat shows, reconnecting with my brother when he came home from college, the boats have occupied a special place in our hearts. He beat me to owning one, a Com-Pac 16. Now, that facet of my dream was a reality for me, too.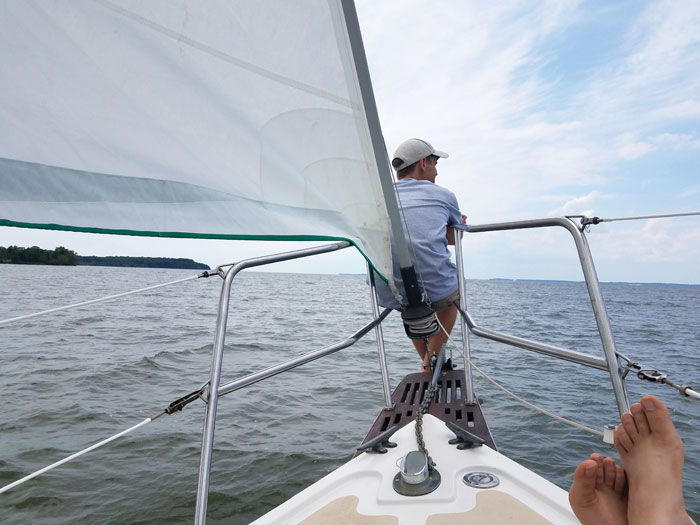 It would be an understatement to say that first sail with my brother and the seller from Galena to Rock Hall, MD, was magical. We sailed much of the way with a similarly sized boat and proved to be faster (any time two sailboats are together it's a race, right?). We later learned there were waterspouts on the Bay that day. After entering Rock Hall through the "local route," we tied up at Waterman's Crab House for dinner. From our table on the deck, the stout little mast of the boat now under my care could be seen over the restaurant's roof, a sight from which I could not divert my eyes.
The following morning my brother and I departed the slip at Waterman's, my first time at the helm, and headed for Kent Island. With the light winds, we "sailed" beneath the iconic Chesapeake Bay Bridge, arriving at the Bay Bridge Marina, where we snuggled into a slip between boats whose dinghies exceeded our insured value.
Winds exceeding 22 knots (on the nose) made for a lively sail to Deale the following day. She proved to excel in those conditions and was not overpowered with full main and headsail. Those winds, in combination with a strong current, made for a docking in Deale I would soon rather forget.
Though plagued by an electrical issue the next day, we tied a hammock from the whisker pole and used the autohelm's remote to dodge crab pots as we sailed to the Rhode River. After anchoring near Big Island, we cooled off from the 117-degree Fahrenheit heat index by jumping in for a swim. A nettle sting initiated this Great Lakes sailor to the full Chesapeake experience.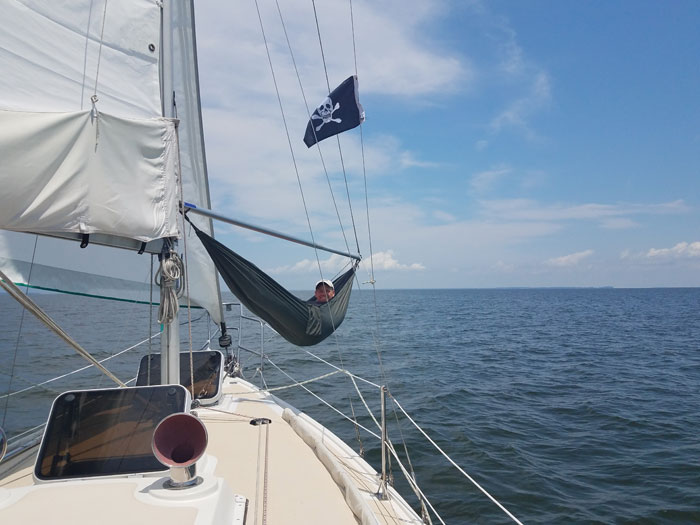 Our first night on the hook I found myself, though tired, peeking through the bronze portlights multiple times that night checking our position relative to the High Island Shoal buoy. As we sipped our coffee the next morning, we were passed by Wild Country Seafood's boat. The only thing better than oysters at Wild Country Seafood would have been a few of their Patty's Fatties in our cockpit. Sadly, we could not get their attention.
It is one thing to sail past iconic Thomas Point Shoal Light and around Annapolis on other people's boats, but experiencing entering that Mecca of sailing with my own boat for the first time the next day was perhaps the highlight of this extended delivery sail. After navigating through a gaggle of Optis, we motored past the Annapolis Yacht Club webcam, so our parents could share in this experience. We headed to Pussers for lunch, and making the mistake of handing the bow line to a stranger, had a crunching docking.
After lunch and a few pics of my little Com-Pac sharing the wall with the beautiful Schooner Woodwind sisters, we made the trip up the Severn where we tied on the same dock as my brother's Com-Pac. It was a fitting ending to a magical trip and a prelude to a much larger trip; this boat I have dreamed about since childhood and I will sail through her home waters on the Chesapeake as part of the Great Loop.
By Jonathan Tromp