Posted September 15, 2022
Finding a rhythm for boat and life
It was dark when I eased my car through the entrance to the boatyard. Gravel crunched under the tires. I wound my way through the boats toward my 1967 Rawson cutter sailboat Ave del Mar. She stood at the edge of the yard under a cone of blazing white light that shone down onto her decks, silhouetting her against the dark of night. I was back. Another midnight arrival. Another road trip done.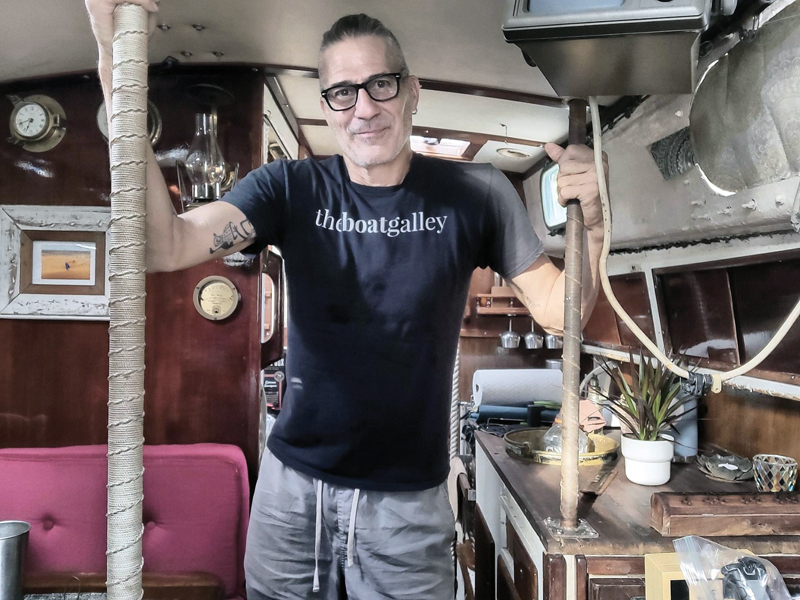 I tumbled out of the car, a collection of stiff joints and rattled brains that comes from too many hours on the road. Crumbs littered my seat. Empty Gatorade bottles covered the floor. A few lost French fries lay lodged in the seat's track. I shook my head at the mess—but moved on. These things are, after all, just consequences of life on the move.
How fabulous this vagabond life must look from the outside—returning to the boatyard in the dark of night, a man and his boat, days spent on projects, and winters whiled away in the Caribbean. But where in the story does it mention the stale, steamy inferno that is the midnight interior of a boat left closed up too many consecutive days on the hard, reeking of diesel and lamp oil? Where does it speak of having to drag my bags yet again up the ladder when I am too tired to do so, or of the locker door that won't slide open after swelling in its tracks in the humidity while I was gone?
My cockpit cushions and a mountain of coiled lines were all stowed safely on my bed in the v-berth, where they were out of harm's way but right in sleep's path. It made sense to just toss the whole lot out into the cockpit so I could get to bed, but the cockpit was full of scrap teak, acetone, denatured alcohol, and resin. It was a chess game that frustrated an already tired me. It was boat-version Tetris. There was something in every place where each of these things needed to go.
A logic-loop at the boatyard
There is a certain rhythm you achieve in a DIY boat yard, a logic-loop of deployment, use, and subsequent stowing-away of tools and supplies, a balance between projects and progress and life. But that rhythm is delicate. It doesn't allow for trips away from the boat. It doesn't care about your kid's wedding, about your daughter being nine months pregnant, or that you might need some time to put Dad into Hospice. So, the boatyard rhythm becomes sacrificial. When it's time to go somewhere, you just go. There is no elegant way to do it. You go, and you offer all due attention to important non-boating parts of life, knowing that the boat will be waiting for you when you return, stale, disorganized, and too hot to sleep in, even if your bed weren't covered with stuff that doesn't belong on it.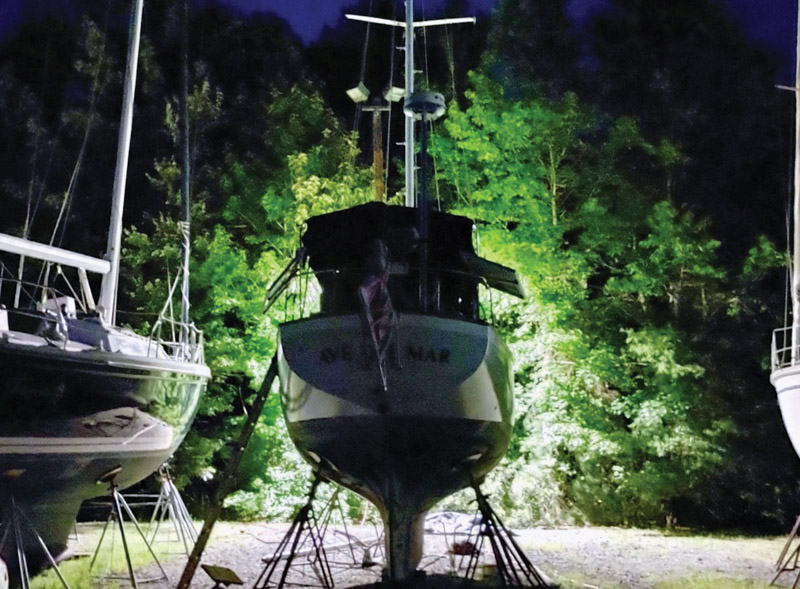 In the morning I wondered if, in that Wal-Mart in some town I've never heard of at 11 o'clock the night before, I had made the right decisions when I had stopped to buy coffee, bread, bottled water, and peanut butter. I just needed a few quick things to make sure I wouldn't starve. But there is no rhythm to food, either, when you come and go from the boat. Was there coffee in the canister when I left? Did I turn the propane off at the tank? How much potable water do I have? At 7:30 in the morning I just want coffee and some quiet time—recovery time, if you will. I need it after every trip away from the boat.
There is no water for my coffee on the boat. The water from the tap in the boatyard is yellow and smells like rotten eggs. The clean water I brought with me is still in the car. I trip over the boom gallows which had been left on the cabin sole to protect its fresh coats of varnish. Stop. Breathe. Rearrange your life—again. The boom gallows goes out on the coach roof. Grab the clean water from the car. Up and down the ladder I go, happy to be back on the boat but cranky, disorganized, and unrested.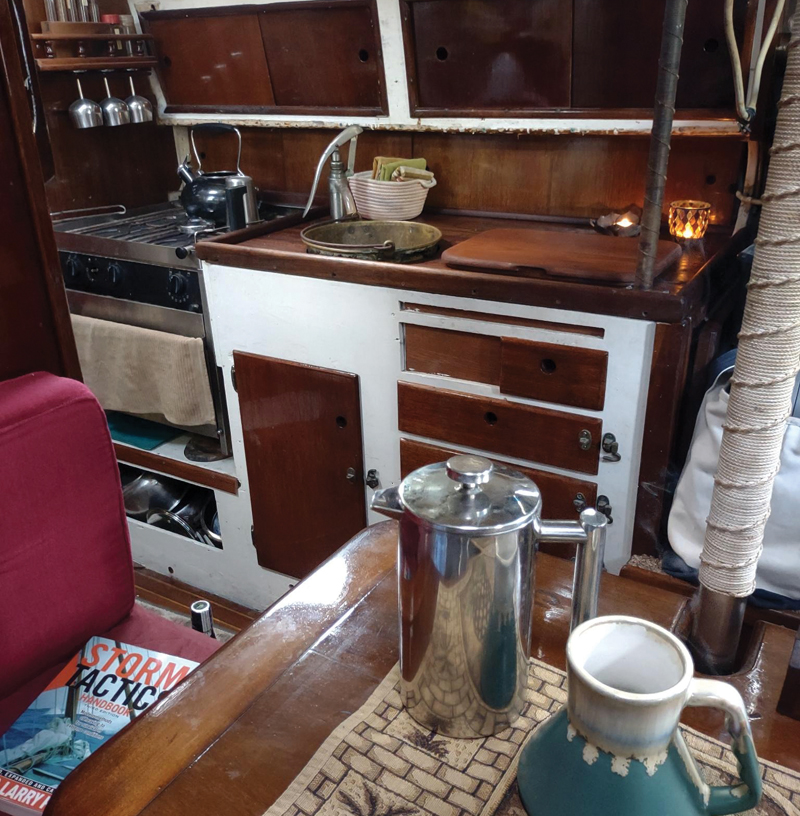 A precarious, beautiful balance
The balance of life on a boat in a boatyard is precarious but beautiful. I remind myself that the balance between life on the boat and life outside the boat—weddings and grandkids and Hospice, holidays and funerals and doctors' visits and family reunions—is precarious, but beautiful, too.
Boat life and life life both deserve a fair amount of attention. Both need time to find rhythm. The boat will still be there when I come back, stale, hot, disorganized, and just as beautiful as she ever was.
by John Herling
About the author: John Herlig lives aboard his Rawson cutter, Ave del Mar, teaches at Cruisers University, and is the host of the podcast Remarkable Stories. Find him on Instagram @sailing.ave.