A little town that's too tough to die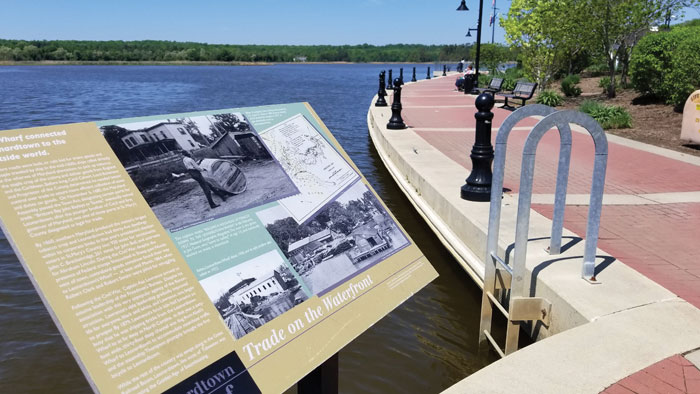 Situated just off the Potomac River, Leonardtown, MD, is a little town that is too tough to die. You might even say Leonardtown has more lives than the proverbial cat.
When the steamboat line that had anchored the town's waterfront pulled up stakes in the 1920s, naysayers thought the town couldn't possibly recover. The ice plant that had been a mainstay of the town shut down sometime later. Then, in the late 1980s when state highway engineers rerouted Route 5 with a new bypass that diverted traffic away from the Leonardtown Square, a number of downtown businesses shuttered, leaving a once-thriving downtown to the mercy of boarded up storefronts and a depressing malaise that permeated the little burg of less than 2000 people.
Similar body blows have knocked out a number of small towns across Maryland, but not Leonardtown. Thanks to a couple of progressive mayors, a resourceful town administrator, visionary businessmen, and a "never say die" community spirit, the county seat has reinvented itself as a thriving community with lots to offer residents and visitors alike.
The waterfront where the steamboats once docked has been rejuvenated thanks to a $5.5 million public-private initiative that has resulted in a quarter-mile long river walk, a public park, tie-up accommodations for small boats, and a kayak trail that ends at the dock after meandering three miles through a wilderness wonderland that starts at the town's winery.
Where to dock
Of special interest to visiting sailors and boaters, plans are in the works to build 14 slips in a new floating dock configuration due to be up and running this time next year. For the time being, boaters drawing less than three feet can tie up at the wharf. Those with deeper drafts can anchor out just off shore in six to eight feet of water in Breton Bay.
Town Administrator Laschelle McKay puts it this way: "Leonardtown has always been about the water. The Leonardtown Wharf project took eight years from concept to completion. We were resourceful in obtaining funding from various public and private resources. Today, it's a fitting welcome mat to a community that is the fastest growing town of its size in Maryland."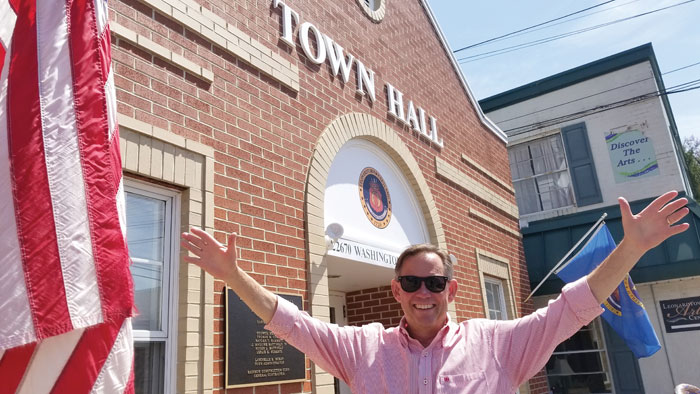 Open for business (plus a little history)
Second-term Mayor Dan Burris is enthusiastic about Leonardtown's future. He and his administration are continuing to implement the vision first enunciated by his predecessor, Mayor Chip Norris. Burris says, "I've been fortunate to inherit a vision for the City that was hewn from the hard work of a lot of local people who want the town to succeed. When you walk around town, there's energy everywhere. The only storefronts that are closed are those that are undergoing renovation. Not many communities our size can boast of a 100 percent occupancy rate for its downtown businesses. Why, we even have a number of condo and apartment renovations happening downtown. That's unheard for a city our size."
Leonardtown's compact town square is anchored by the county courthouse with its 1876-era jail and circa 1634 canon nearby. The town was founded around 1654. Fifty years later, the mayor of nearby St. Mary's City, which is Maryland's colonial capital, designated 50 acres of land at the head of "Brittons Bay" to be divided into 100 lots. He further ordered that one lot be set aside for a county courthouse to be built at an expense not to exceed 12,000 pounds of tobacco.
The town had a decidedly Southern allegiance. In the 1860 presidential election, 920 residents cast ballots for the secessionist candidate. Only one voted for Abraham Lincoln. The lone Northern sympathizer was waylaid on his way home. He presumably hightailed it out of the area. During the War Between the States, a Union Naval contingent occupied the town, searching homes for contraband destined to be smuggled across the Potomac to Southern sympathizers. The area teamed with intrigue, blockade runners, and spies. Locals arrested for disobedience were imprisoned at Point Lookout.
Where to eat (and drink)
Today, the Town Square is a short walk up the hill from Leonardtown Wharf. There you will find a number of eateries, local shops, government buildings, and even the 41-room recently renovated Park Avenue Hotel (executiveinnparkavenuehotel.us). This reporter can personally vouch for the food at Ye Old Towne Cafe, where hash-slinger Mike Marshall serves up one of the meanest Reubens you'll ever sink your teeth into. Just down the street is the decidedly decadent Heritage Chocolate Company, with more than 30 varieties of handmade chocolates for sale.
Around the corner on Fenwick Street is The Social Coffeehouse & Speakeasy, another local favorite for a cup of joe or a light lunch. On your way out of town, the venerable Front Porch Restaurant is reputed to serve some of the best food in the area. Town Administrator McKay highly recommends the maple glazed salmon and the grilled flank steak bruschetta. For bar food with a flair, and with local music, you can also try The Rex, right on the square. For a little bit of funk, try Big Larry's Comic Book Café. A new Mexican restaurant is opening soon on the square as well.
If fresh seafood is more your thing, take an Uber a couple of miles out of town to Kevin's Corner Kafe. Here, Kevin Thompson offers an ever-changing menu of fresh seafood. Kevin's offers carryout platters, too. so you can enjoy some of St. Mary's finest seafood from the cockpit of your boat. Be sure to call before you go, because hours at Kevin's are somewhat quirky.
A great spot to spend a lazy afternoon is the town's winery. Only one of two winery co-ops in the country, Port of Leonardtown Winery on the outskirts of town is another example of Leonardtown's "nine lives" attitude. When the tobacco settlement effectively took Maryland farmers out of the tobacco growing business, Leonardtown saw an opportunity to put together an incentive package to purchase some land and build a building which could serve as a cornerstone of a unique wine-growing cooperative. They also fronted the cash to buy the initial batch of wine barrels and stainless-steel tanks. Today, more than a dozen local farmers plant around 38 acres of grapes, all of which are transported to the winery and turned into a number of award winning wines by winemaker Lauren Zimmerman. The winery produces about 3500 cases of wine a year, and the tasting room does a brisk retail business. The outdoor venue is the perfect place to sample the local vintages under the shade of bright-red umbrellas.
Getting out in nature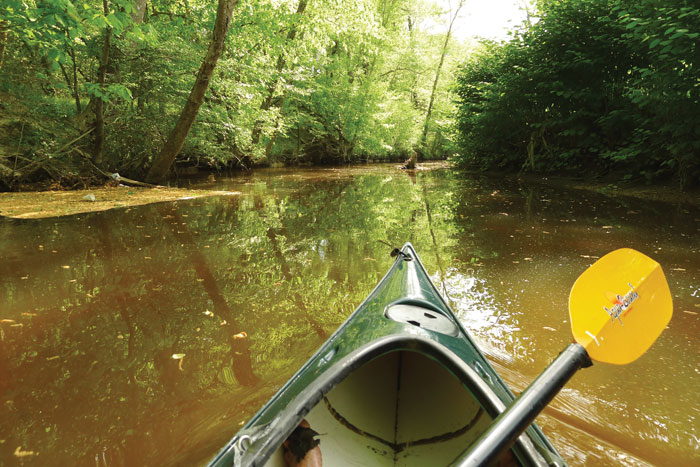 If you're a kayaker, you can stroll down the lane from the winery to the Patuxent Adventure Center and arrange a leisurely paddle down the McIntosh Run, where you will end up at the city dock just in time to uncork a bottle of wine in the cockpit of your boat. Not a bad way to spend an afternoon. Be sure to ask about the tides. Your reporter got stuck a couple of times in the muck as he attempted to paddle downstream with a falling tide.
A side trip to nearby St. Clements Island State Park is also worth a stop. The park preserves the site of the March 25, 1634, landing of Maryland's first colonists, who had sailed from Cowes on the Isle of Wight in England four months earlier. The island can be reached by ferry from nearby Colton's Point. Or you can dock at one of two facilities on the island. The dock on the south side of the island is more convenient to transient boaters.
Mayor Burris invites sailors to come and enjoy everything Leonardtown has to offer. "Pull up to our wharf. Anchor out. Stroll up the hill or catch an Uber. And if you are bringing a group to our waters, give me a call, and we'll roll out the red carpet," says Burris. His office number is (301) 475-9791.
If you need emergency boat repairs, two nearby facilities can render appropriate aid: Combs Creek Marina is the closest to Leonardtown. A little way down the Potomac is Cather Marine.
One stroll around the town's meticulously-kept square will show you why Leonardtown is a town that's got a lot of its nine lives left. A host of information complete with a virtual tour of the town with an interactive map can be found here. Find more information here about St. Mary's County.
by Craig Ligibel