Seven Prep Tips for World Circumnavigation by Jessica Rice Johnson: We failed on our first attempt to complete an 18-month circumnavigation. Departing in late 1997, we sailed back into our homeport of Oxford, MD, nearly three and a half years later and with an extra wee crewmember onboard. Apparently, we failed at family planning, too. Eight months pregnant, I opted out of the final, long transatlantic passage and have never officially closed the loop.

Now, 16 years later, we are in the throws of planning our second attempt at an expedient circumnavigation to get that same, but now grown-up, crewmember home in time for college. The full-time crew for this upcoming voyage on our 62-foot sailing cat, Elcie, includes me, my husband Richard, our two daughters, Emma and Molly, and a third watch leader/tutor. The crew is excited about sharing the experience with classrooms via a website at sailtosee.org. As for past trips on Elcie, expense-sharing expedition members are invited to join us for legs of the voyage.
It's an ambitious itinerary, one more often undertaken in the company of a rally having the benefit of a fleet coordinator to arrange the clearance procedures, fuel, provisions, and laundry at every port. These things do take time. We've learned a lot from that first trip around and a few more trans-Pacific crossings. I'll lend our thoughts on the planning here for the curious or readers considering a similar though perhaps longer voyage.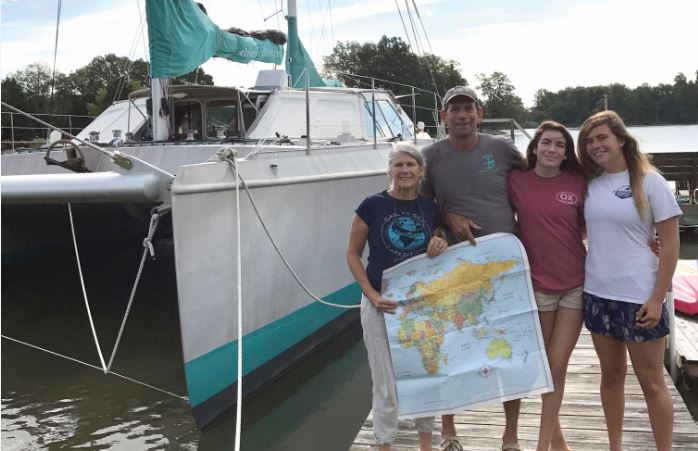 1. Setting the Route – With ice melt, there are more options than ever before for doing a shorter circumnavigation. Being warm weather folks, we prefer to stay closer to the equator. We'll begin, as many boats, with a transit of the Panama Canal before crossing the expansive Pacific. Without enough time for a dip down to New Zealand or a stop in Australia, we'll be carrying on to Indonesia and Thailand when most boats are holing up for the southern cyclone season.
A long passage across the Indian Ocean, broken up by a few islands, will bring us to South Africa. Rounding the Cape of Good Hope and sailing across the South Atlantic will find us back in the familiar cruising grounds of the Caribbean. That sounds easy enough—on paper.
For reference, we've researched the tracks of the Yankee Schooners that, under the command of Irving and Exy Johnson, successfully completed seven 18-month (to the day) circumnavigations. They did this between 1933-1958 using only celestial navigation and without the benefit of Jimmy Cornell's Noonsite (global cruising website resource) or cruising guides. How to navigate in these modern times? We use a combination of Navionics on an iPad, GPS, and paper charts. Radar is a terrific tool for coastal navigation, squall avoidance, and nighttime approaches. Two sextants and all the necessary publications to reduce sights are onboard. Redundancy is important.
For boats with the luxury of time, I recommend no set schedule other than keeping to the proper seasons, as inevitably stories of magical places from other boats will lure you off course and create delays. This is, of course, how we turned 18 months into 42 the last time!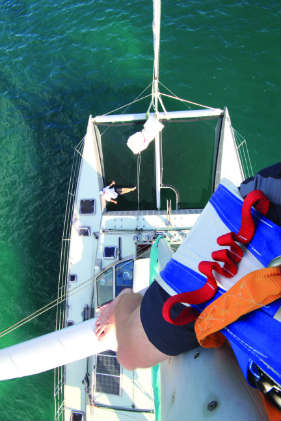 2. The Boat – Okay, this is important. Having confidence in your boat really is key to undertaking a successful long voyage. Elcie, our aluminum catamaran, is comfortable and strong and was purpose-built for long-distance sailing, but there are many suitable boats. Read sailing blogs and see what boats are out there crossing oceans. We chose a multihull this time around for speed, comfort, and especially for the shallow draft.
3. Systems and Gear - Right up there with picking the right boat are the gear and systems one chooses to have aboard. Generally, our philosophy is to keep things simple. Reliance on complicated and unfamiliar systems can lead to frustrating days spent in port trying to find a mechanic while your friends sail off to another amazing destination. Also, by keeping the systems simple, valuable locker space is not filled with compressors, plumbing, and ductwork, and there is more room for food, spares, and other supplies.
Saying that, we are adding some gear for this trip. A watermaker alleviates having to find or buy potentially skunky water in port. Schaefer Marine has helped us add a beefy roller furler for our jib. An AIS transceiver at the chart table has been on our wish list for a while. I long for a clothes washer and dryer but am going to settle for a bucket, plunger, and old-fashioned fabric wringer with rollers and a crank.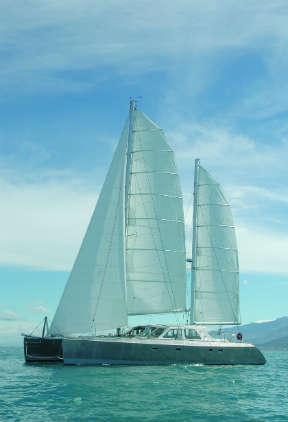 4. Safety Gear – Check the service date on EPIRBs, life rafts, flares, fire extinguishers, and PFDs. Research and pack a ditch kit with additional safety gear and fresh supplies. Seek advice on assembling a medical kit from a travel doctor or in our case, a doctor we know who has done long-distance cruising. Research vaccinations for the crew well in advance, as some require a booster six months after the initial dose. Make sure prescription meds, especially antibiotics, are current and are suitable for all aboard.
5. Ship's Documents - The ship's document or registration must be up to date. Keep the original onboard in a safe place near or in the ditch kit. A color copy looks as good as the original for clearing-in purposes. A crew list form can be updated and printed as needed. A computer printer is an important piece of boat equipment these days. Buy courtesy flags for the first dozen or so countries on the schedule, and then find or make the rest of them.
6. Provisioning - Buy and stow as much non-perishable food as possible before leaving. It's never going to be easier than when the boat is at a dock, with your own car to use, and local knowledge of the surrounding stores. There are many good resources for provisioning lists. Eventually, a boat has its own list, customized to the likes (and dislikes) of the crew. Find an egg farm from which to purchase a few flats of unrefrigerated eggs. They will last a month or more if stored in a cool place and turned once a week. Store dry goods with bay leaves to keep the weevils and pantry moths away. Plan on catching fish. In the end, bread and peanut butter can be found everywhere, so there is no need to fret about going hungry.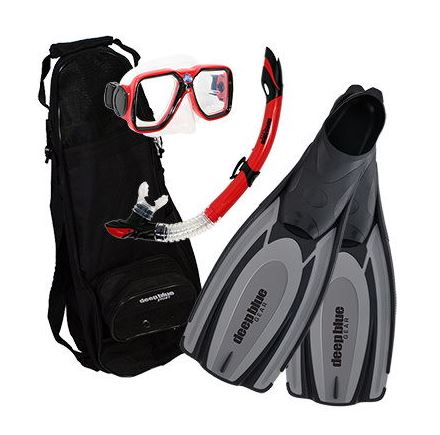 7. Toys and Entertainment – Water toys add to the fun at anchor and also help keep the crew fit. A well-fitting mask, snorkel, and fins open up a whole new world below the surface. Stand-up paddleboards and kayaks give the crew a means of transportation to get ashore and to explore. Surfboards, kite boards, and scuba gear are all good if there is ample room aboard and in the budget. A bicycle or two makes it easier to cover miles ashore when shopping or touring.
After all that activity, the crew will be looking to chill. Sailors might be some of the biggest pirates when it comes to the sharing of eBooks and digitized TV and movies. Have a large hard drive handy to store these on. Cards, backgammon, and chess have filled many an evening on Elcie. With more than one crewmember on watch, a Scrabble game on the iPad can get very competitive and helps make a four-hour watch go by quickly.
This is obviously a distilled version of the steps we are taking to plan and prepare for a circumnavigation. In reality, it can sometimes feel daunting, and the work lists ebb and flow as the departure date approaches. Hanging onto a vision of the places Elcie will travel and the adventures ahead helps us to stay focused. Until then, there will inevitably be late nights and setbacks, but the reward comes when the dock lines are taken in and off we go. As we like to say, there really is no way like underway.
About the Author: Jessica Rice Johnson owns and operates the charter catamaran Elcie, along with her husband Richard Johnson. Elcie is a 62-foot Custom Bluewater catamaran departing on an 18-month circumnavigation in November. Those interested in joining as expense-sharing expedition members on six- to 31-day legs can find information at elcieexpeditions.com.